Water, an essential part of our daily lives. One way to enjoy it while considering our health and the environment is through the use of water bottles. By using water bottles instead of disposable plastic bottles, we can reduce waste and enjoy the benefits of a healthier choice.
In this article, I will introduce my recommended Thermos water bottles! I'll share the advantages of using water bottles, such as the ability to keep drinks at the desired temperature, the variety of designs available, and the positive impact on health and the environment. I hope this article will be helpful for those who are looking for a new water bottle.
Reducing Disposable Plastic Use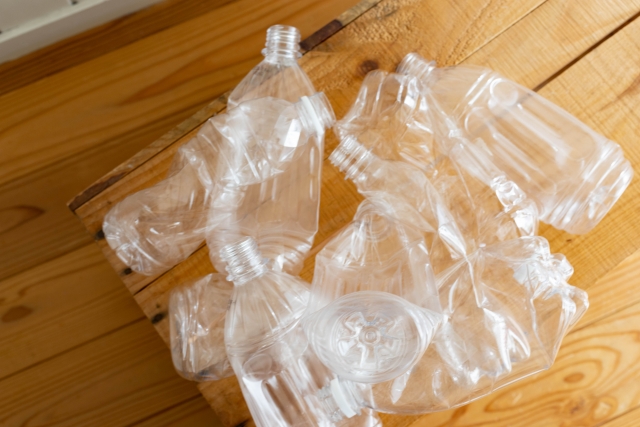 In our modern lives, we are surrounded by convenient yet environmentally harmful disposable plastic products. Plastic bottles and containers, in particular, generate a significant amount of waste for the sake of short-term convenience.
"Carrying a water bottle"
can make a significant contribution to reducing plastic use and save money! It's an easy step to take in our daily lives and also friendly to our wallets. Although it may seem like a small change, over the years, it can lead to a considerable reduction in plastic waste. Let's take action to reduce disposable plastic and protect the beautiful nature, ensuring a better planet for future generations!
Keeping Drinks Comfortably Long-lasting! Water Bottle's Insulation and Cooling Function
A water bottle not only serves as a portable container for water but also comes with insulation and cooling functions. This means you can enjoy warm drinks in winter and cold beverages in summer with ease.
1. What Are Insulation and Cooling Functions?
The insulation and cooling functions of a water bottle refer to its ability to maintain the internal beverage at a constant temperature for an extended period. The insulation function keeps hot drinks (such as hot coffee or tea) warm for an extended time, while the cooling function keeps cold drinks (like iced coffee or juice) cold for a prolonged duration. This allows you to enjoy your drinks at a comfortable temperature whenever you want.
2. Advantages of Insulation Function
– Perfect for Outdoor Activities: During outdoor activities, camping, hiking, etc., you can enjoy warm drinks in cold environments. It becomes a reliable companion to keep you warm.
– Convenient for Office and Commuting: Whether during long office hours or commuting, you can enjoy your coffee or tea at the desired temperature. It adds comfort to those moments you want to relax.
– Ideal for Warm Activities: Drinking warm beverages is considered beneficial for health as part of "Warm Activity" (温活, warmu katsu). Carrying a water bottle with insulation function can help make warm activity a habit.
3. Advantages of Cooling Function
– Cooling Down in Hot Seasons: During hot summers, you can cool down your body with cold drinks. It's perfect for refreshing yourself while on the go.
– No Worries about Ice Melting: A water bottle with a cooling function prevents ice from melting and diluting your drink. It keeps your beverage cold for an extended time.
– Enjoying Healthy Drinks with Ease: By chilling juice or fruit-infused water and carrying it with you, you can enjoy healthy and delicious beverages effortlessly.
Choosing the Right Water Bottle for You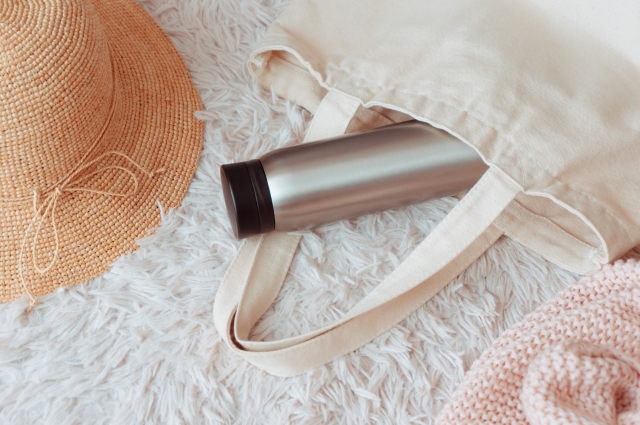 The criteria for choosing a water bottle can vary from person to person. Consider what functions you want, what type of design you prefer, and choose one that suits your needs.
Capacity and Size
The capacity of the water bottle depends on how much you need to carry and the intended use. For daily carry and commuting, a compact size will be convenient, while for outdoor activities and sports, a larger capacity is more suitable.
Thermal Insulation
For keeping your beverages comfortable for an extended time, check for thermal insulation features. If you prefer warm beverages, choose a water bottle with excellent heat retention, while for cold beverages, opt for one with efficient cold insulation.
Material
Water bottles come in various materials such as stainless steel, plastic, and glass. Stainless steel offers high durability and excellent thermal insulation. Plastic bottles are lightweight and easy to carry, but their heat retention may not be as efficient. Glass bottles have a stylish appearance, but they are prone to breaking, so careful handling is necessary.
Mouth Design
The shape and width of the bottle's mouth are also essential points to consider. A straw-type mouthpiece is convenient for sports and outdoor activities, while a wide-mouth design is easy to clean and use for everyday purposes.
Lid Type
The type of lid is also essential. Consider options like one-touch open/close lids or foldable lids based on your convenience and preference.
Cleaning and Maintenance
Regular cleaning is necessary for water bottles. The ease of cleaning and maintenance is also an important factor to consider when choosing a water bottle.
Durability
Choosing a water bottle with long-lasting durability is both environmentally friendly and cost-effective.
Leak Prevention
Leak Prevention: Since water bottles are often carried around, it is essential to choose one with a secure design that prevents leaks.
Design
Having a design and color that you like is also an important point. When you choose one that matches your style and preferences, you will develop an attachment to it and continue using it with pleasure.
Recommended Water Bottle: Thermos Dishwasher-Safe Model
I highly recommend the Thermos dishwasher-safe water bottle series.
All parts are dishwasher-safe, making daily maintenance incredibly easy!
Keep it clean without any hassle.
Vacuum Insulated Carry Mug JOQ-350/480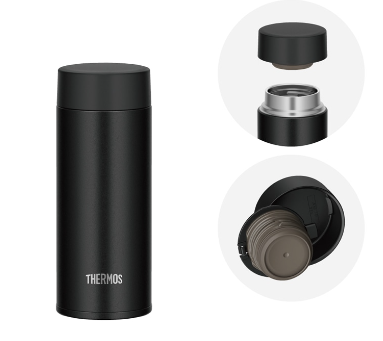 Features
Dishwasher-safe for all parts
The bottle body can also be washed in the dishwasher
Designed for easy cleaning
One-piece structure with integrated packing for effortless maintenance
Excellent heat retention and preservation
Suitable for sports drinks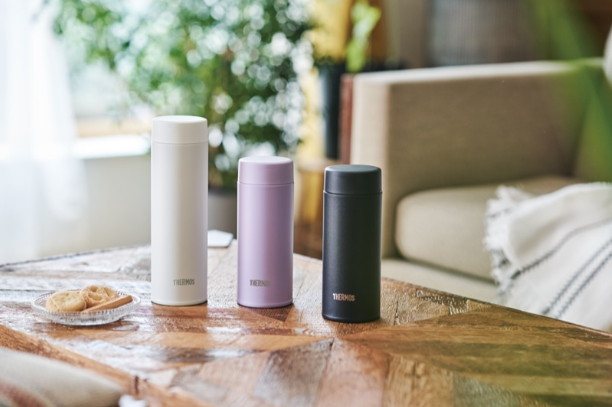 Size: 350ml / 480ml
Color: Black / White / Lavender
Vacuum Insulated Mobile Mug JOK-350/500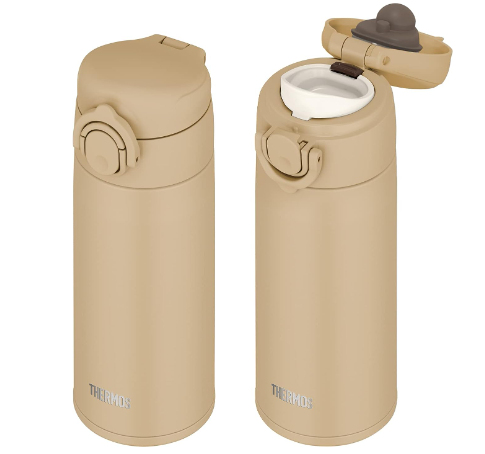 Features
All parts are dishwasher safe.
The bottle body can be washed in a dishwasher.
Easy maintenance.
The drinking spout can be removed for easy cleaning.
One-touch open.
The lid opens with a single touch, making it easy to handle even for children.
Excellent insulation and cooling performance.
Suitable for sports drinks!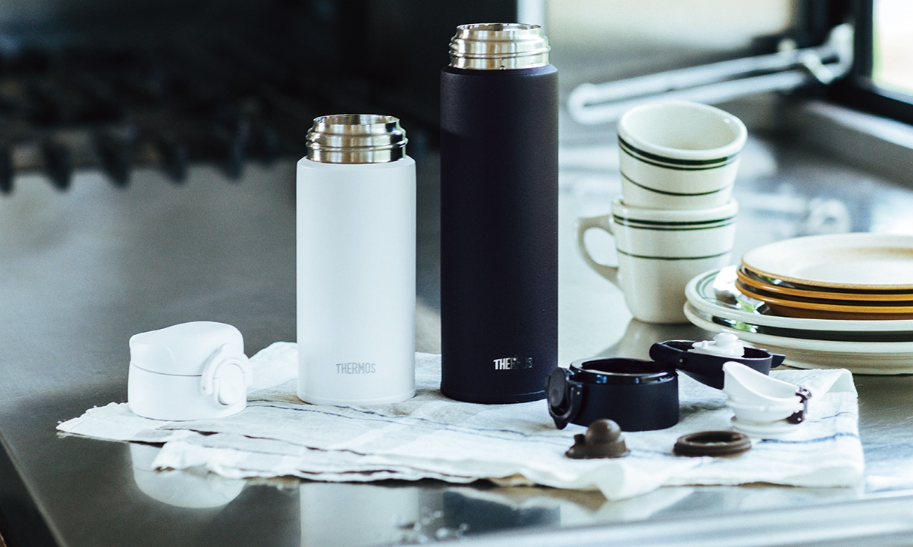 Size: 350ml/500ml
Color: Black/White/Sand Beige/Light Blue
I personally use the JOK series 500ml model. I've been using it for over a year, about twice a day, and it's still in excellent condition without any deterioration. The cooling function is also outstanding. Truly worthy of being from Thermos.
The rough and non-slip matte texture on the surface is also a favorite point. It's not prone to scratches, and the rough texture makes it easy to hold.

I love it so much that I bought the 350ml model for my child. Even at the age of 4, they can easily open and close the lid. We also put name stickers on it, but they stay on without any issues (although we sometimes reapply them as the printing on the stickers fades after washing).
Conclusion
The insulation and cooling functions of water bottles enrich our daily lives and provide us with the convenience of enjoying refreshing drinks for an extended period. Whether it's the cold winter or hot summer, using a water bottle allows us to enjoy our favorite beverages at the ideal temperature anytime, anywhere. As a reusable and eco-friendly item, I highly recommend incorporating it into your lifestyle!