You can also purchase products from Japan's 100-yen shops in Hong Kong. Aeon is a major supermarket chain primarily operating in Japan, and in Hong Kong, Aeon is an official partner of Daiso. Located in the convenient area of Causeway Bay, "Mono Mono" allows you to easily buy Japanese products, and I'll introduce it to you.
Aeon's household goods store 'Monomono,' which was established in 2017.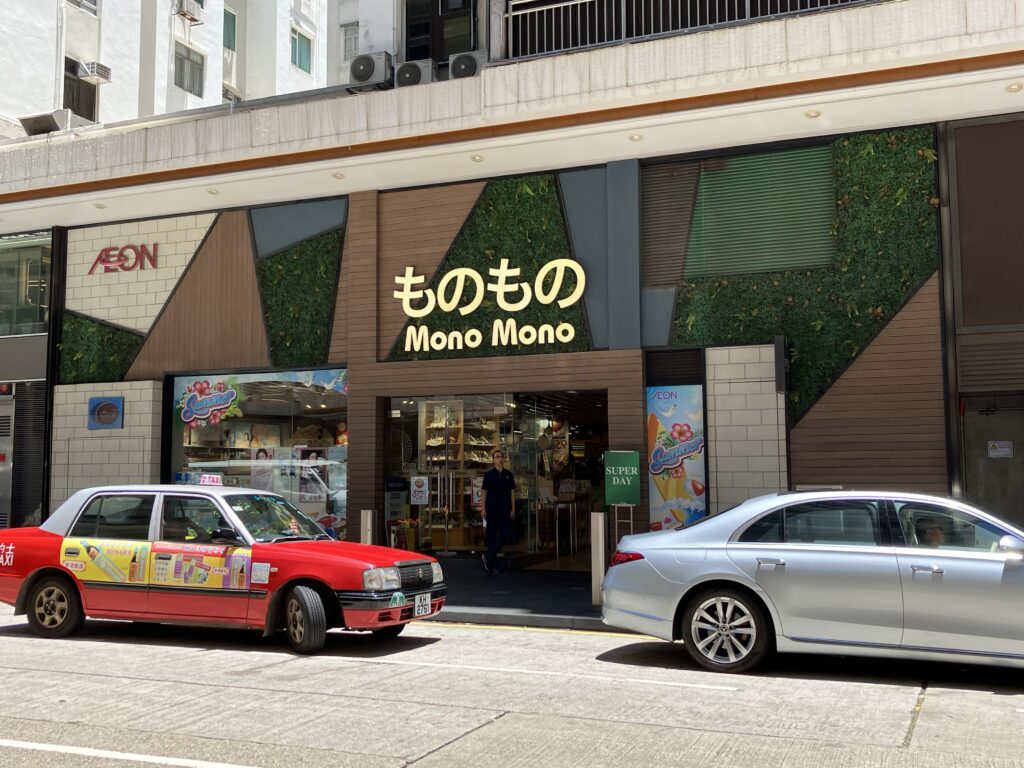 Mono Mono was born in December 2017. The building of the first Mono Mono store, "Mono Mono Causeway Bay Store", is a two-story structure with a store area of about 1,393㎡ (15,000 ft²).
On the first floor, you can find Japanese brand groceries, alcoholic beverages, cosmetics, interior goods, and small household appliances. The second floor mainly features Daiso products with a uniform price of 12HK dollars.
As it is equivalent to the 100-yen shop = 12HK dollars, the products from the 100-yen shop are approximately twice as expensive as buying them in Japan.
You can easily get Aeon's Japanese goods, cosmetics, and Daiso products here. It's convenient as you can also purchase Aeon's private label products.
Aeon, commonly known as "AEON" in Japan, is a prominent Japanese retail company that operates a diverse range of stores. It was founded in 1758 and has since become one of the largest retail chains in the country. AEON's stores cater to various needs, including supermarkets, general merchandise stores, clothing stores, drugstores, and electronics stores.
Daiso is a popular Japanese discount store chain known for offering a wide variety of products at affordable prices. Daiso is also known as a 100-yen shop. 100-yen shops ( hyaku-en shoppu) are common Japanese shops in the vein of American dollar stores.
Founded in 1977, Daiso has grown rapidly and now operates both in Japan and internationally, with stores in several countries.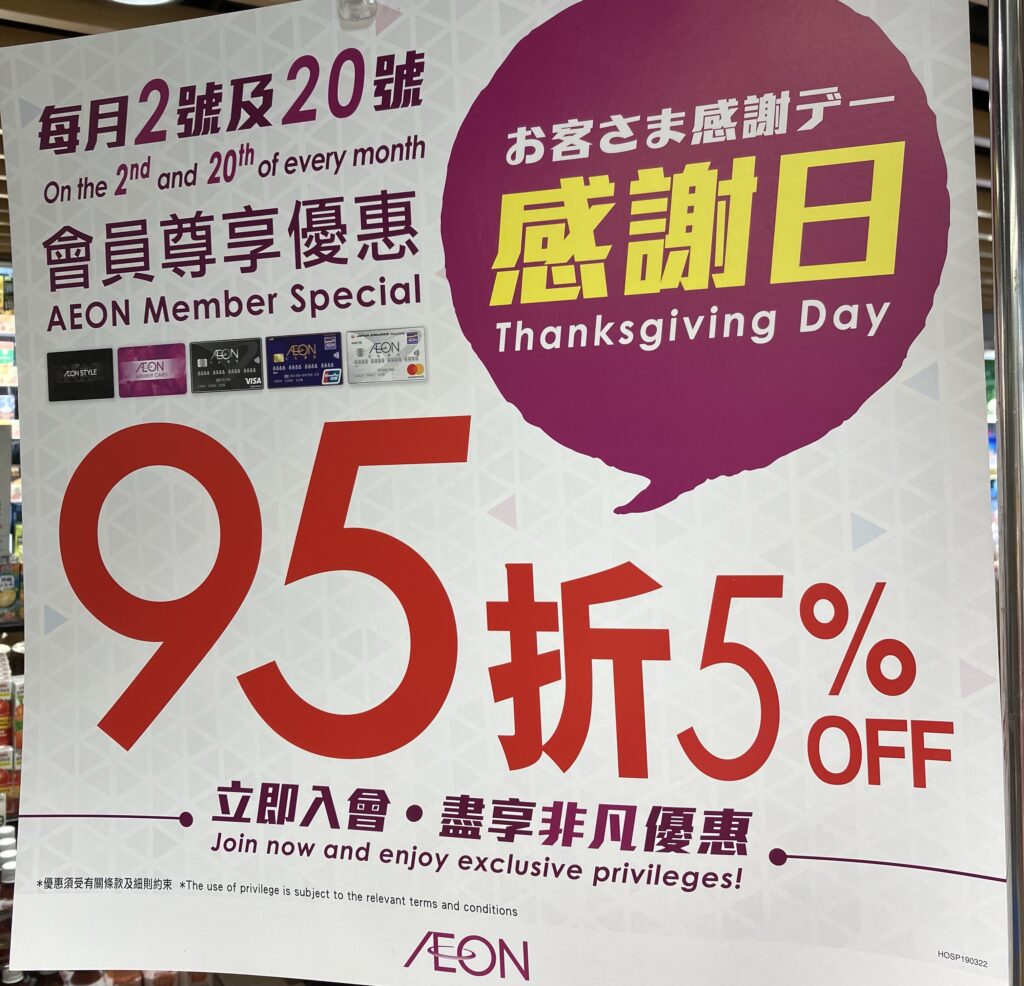 If you have an Aeon card, you can enjoy a 5% discount on Customer Appreciation Days, which fall on the 2nd and 20th of every month. (Excludes Daiso products.)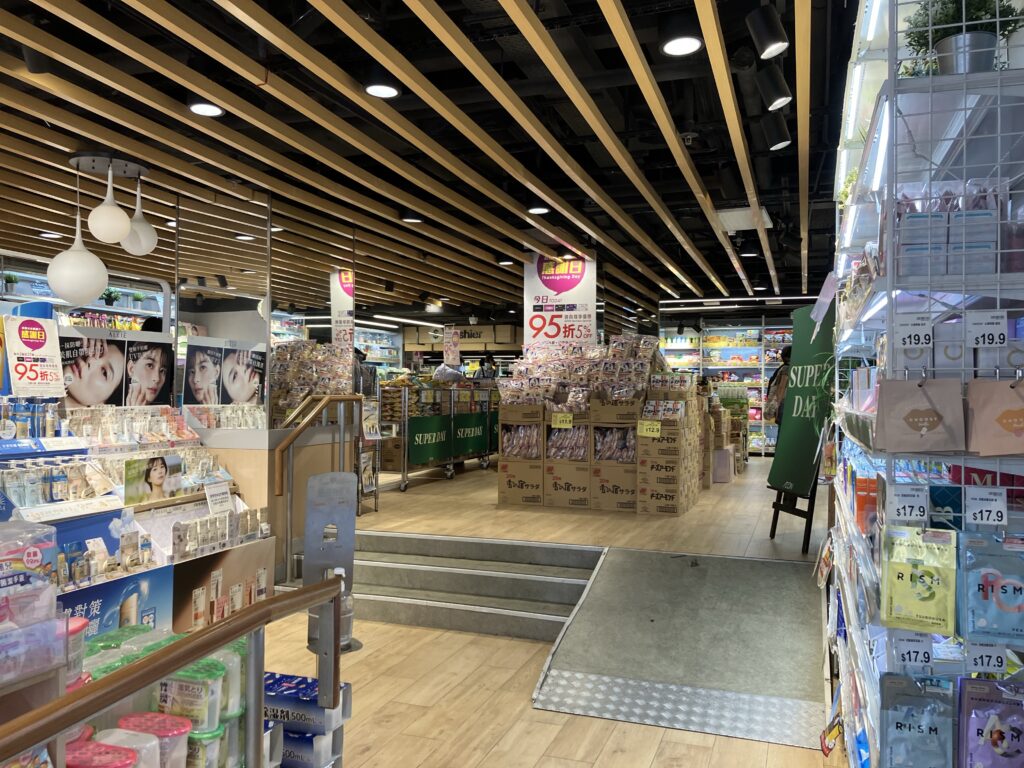 The store interior is clean and well-stocked.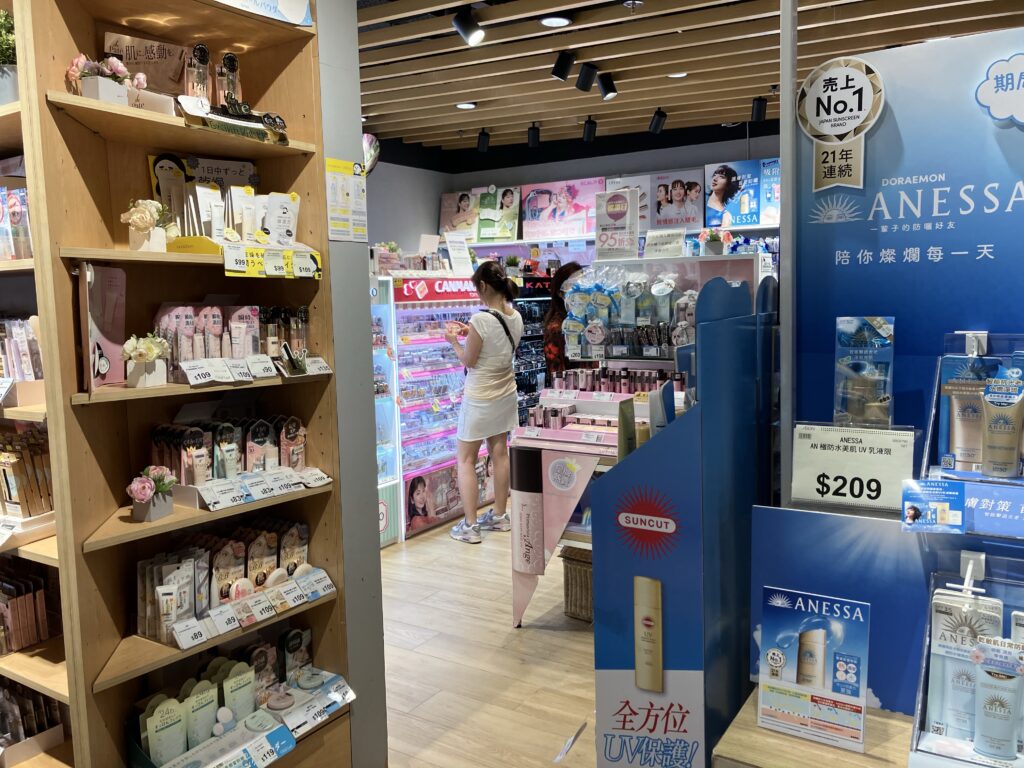 Cosmetics, sunscreens, and other products from Japan are prominently displayed.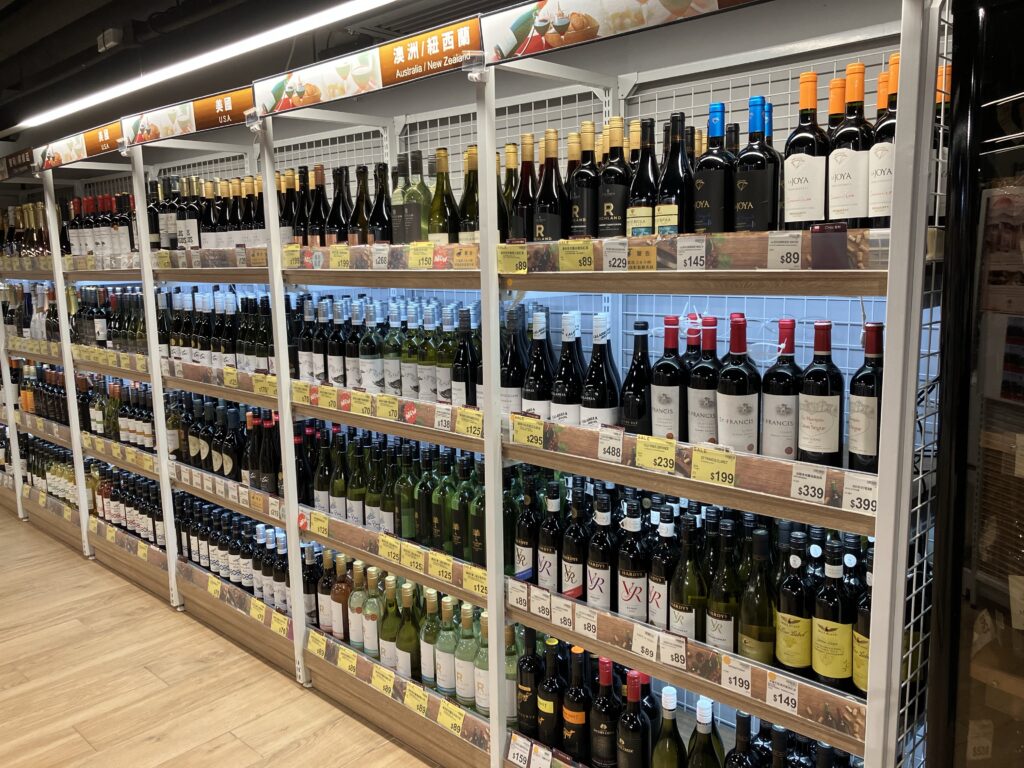 Alcohol products are also available.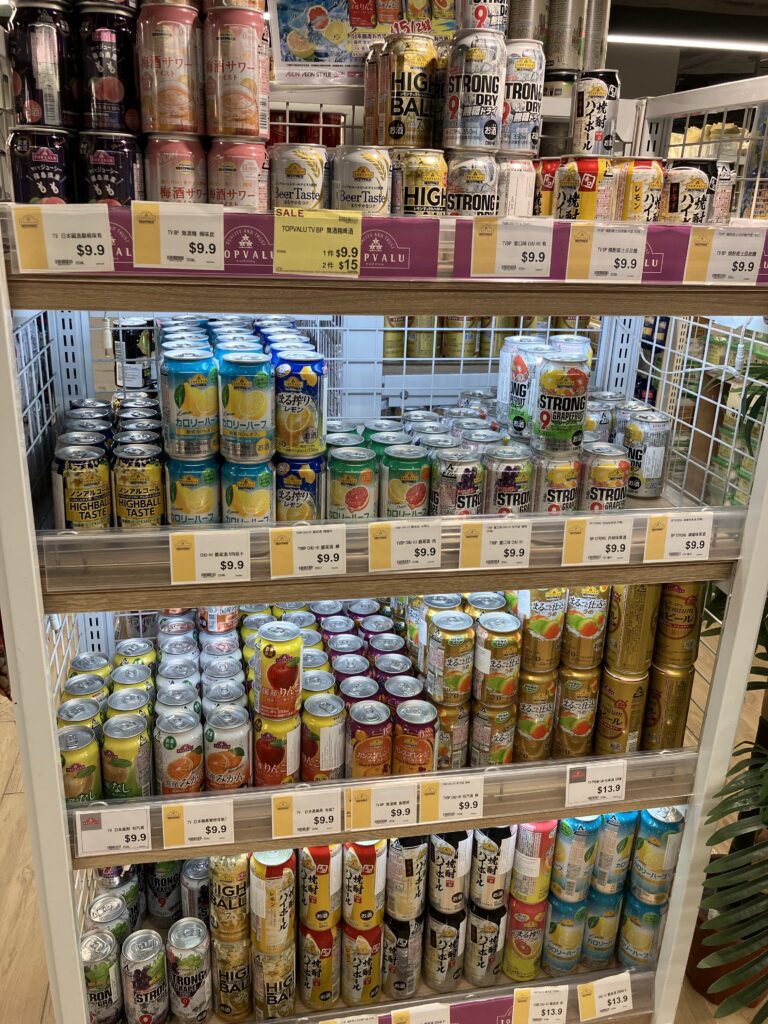 In Hong Kong, alcohol products are cheaper compared to Japan.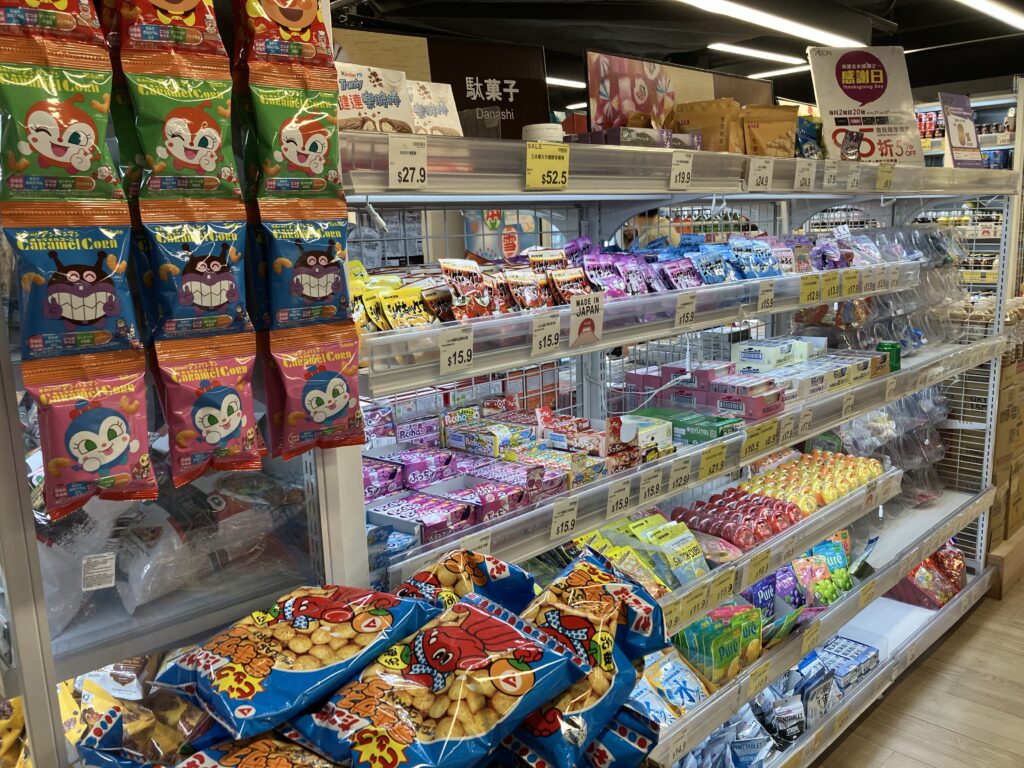 Other than the absence of fresh food products, it's almost the same as other Aeon supermarkets.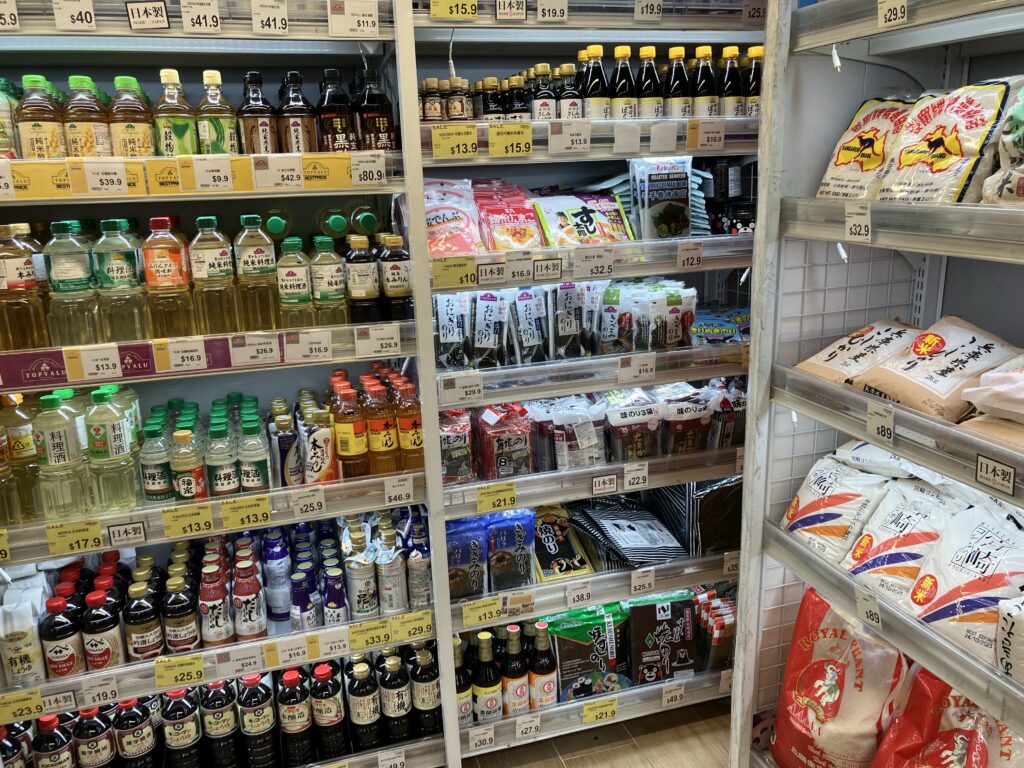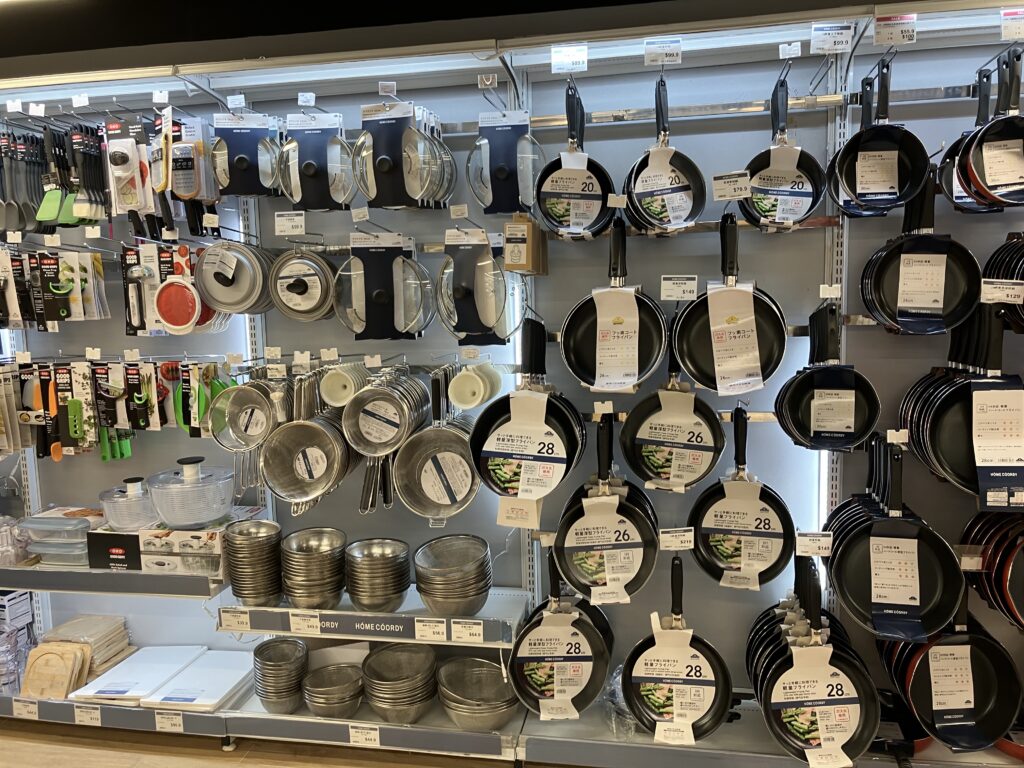 The first floor also sells daily necessities in addition to groceries.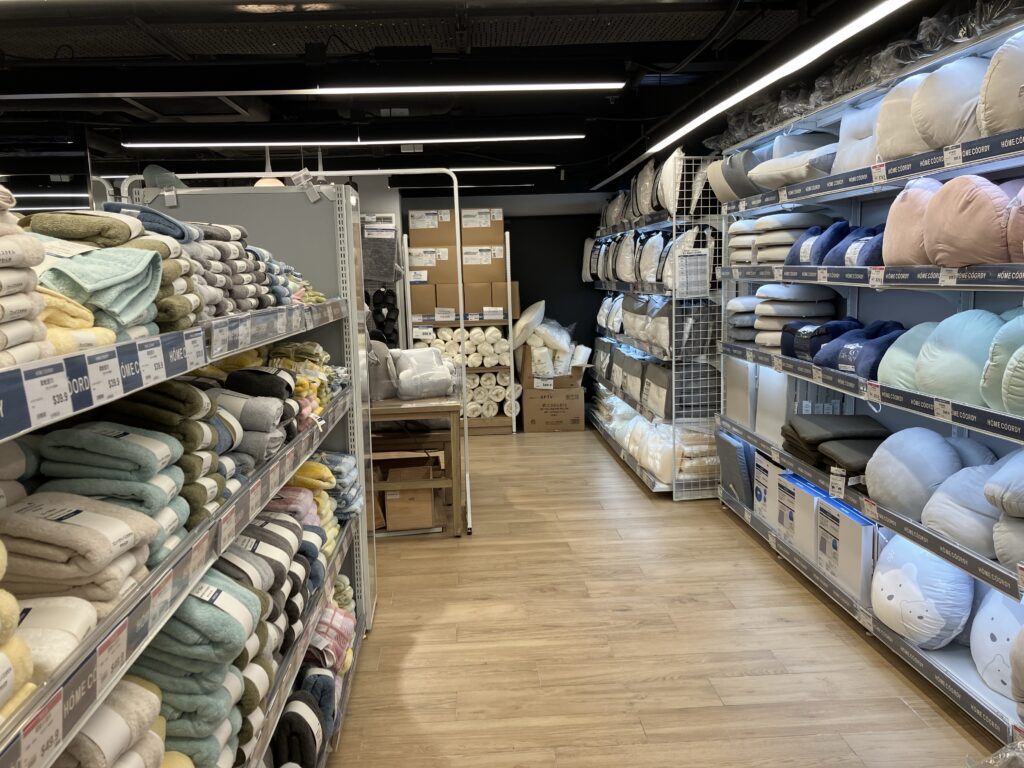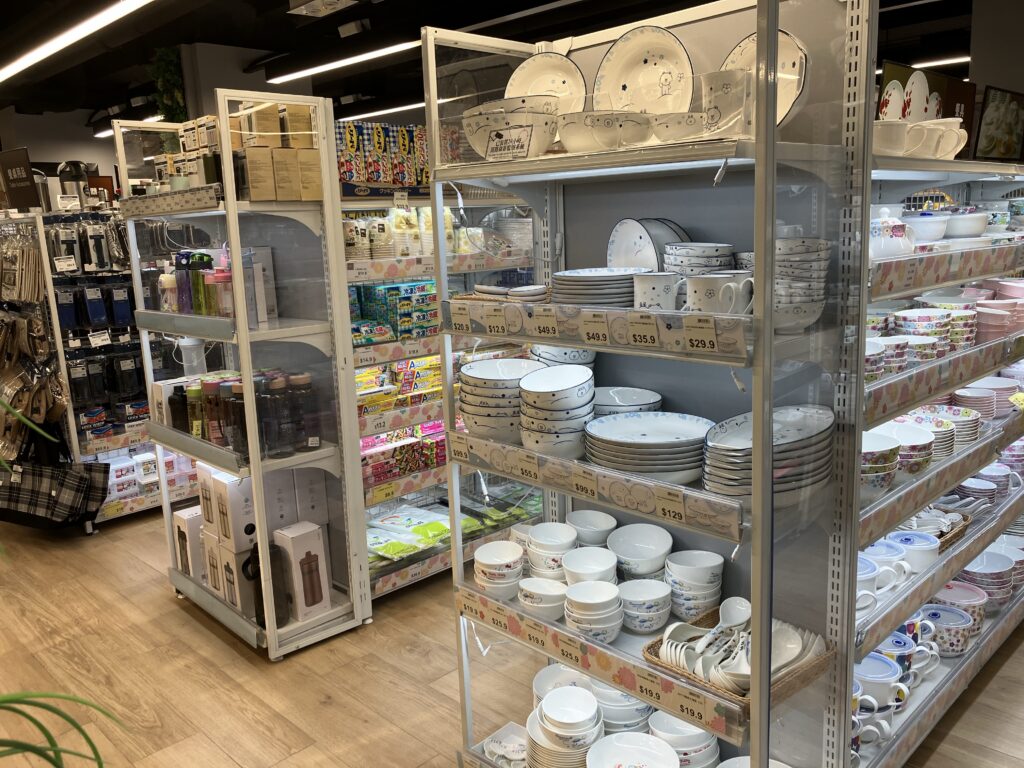 There were also small electrical appliances on display.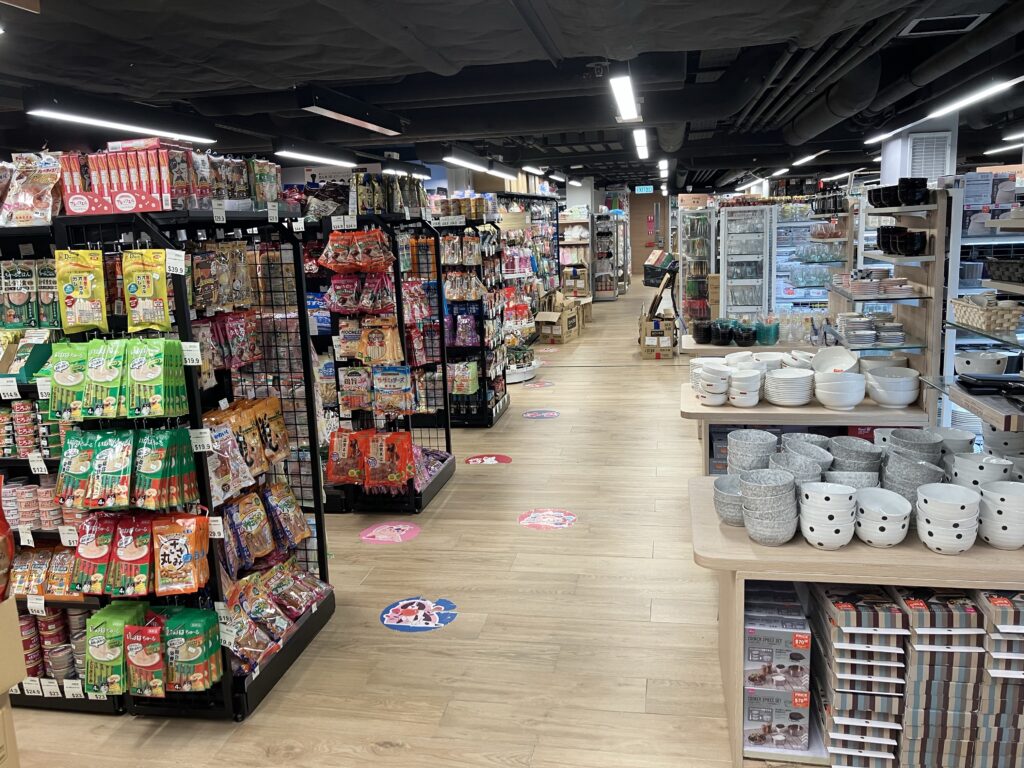 On the second floor, there is a display of Daiso products.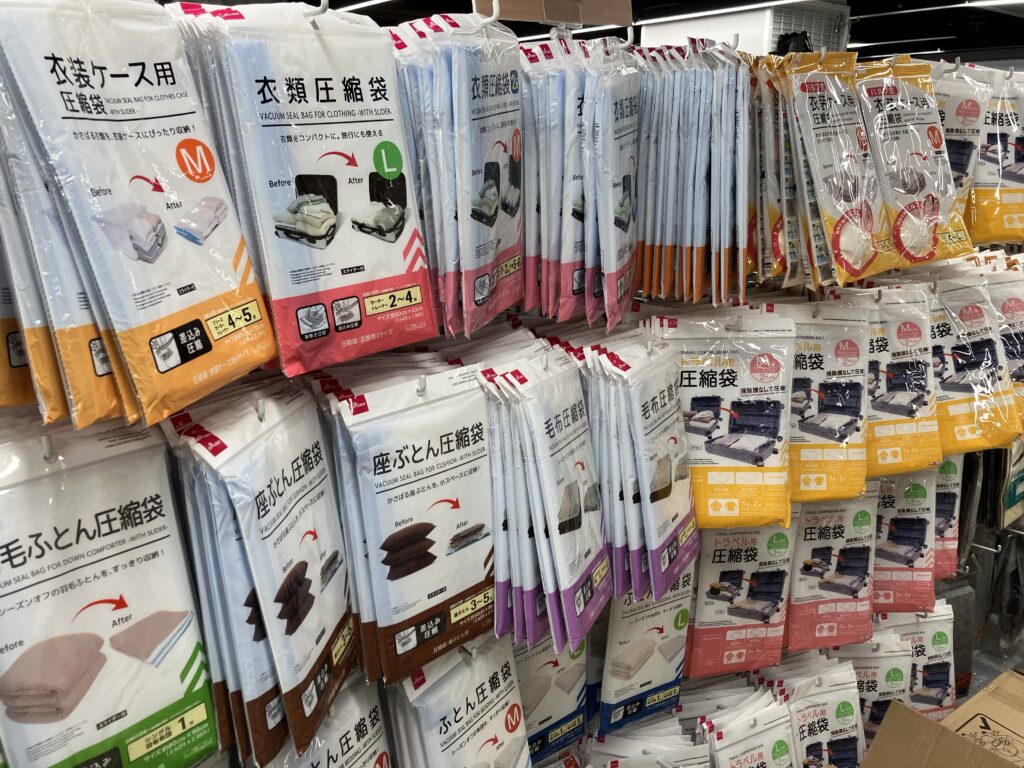 You can purchase items such as compression bags, which are useful for travel, at this location.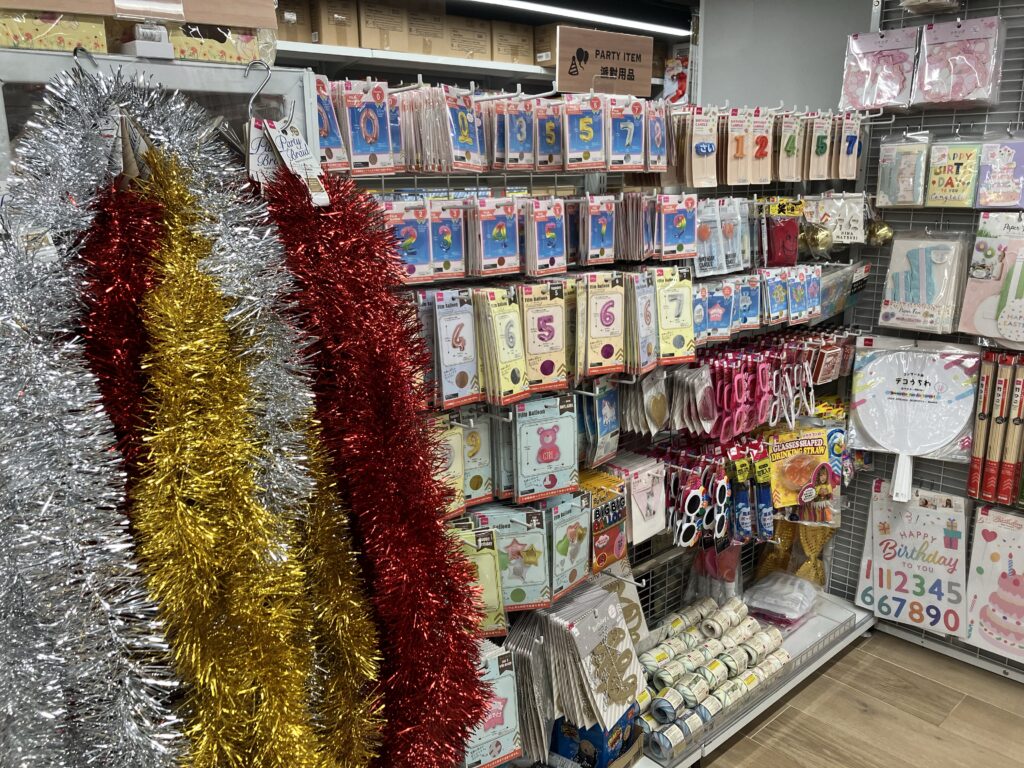 There was also a wide selection of party goods available.
Store Information
Address: 9 Kingston St, Causeway Bay
Business Hours:10:30 AM – 10:00 PM
Closed on: None (No regular holidays)
This area is called Fashion Walk. It's a trendy spot popular among fashion-conscious youngsters and tourists, as it boasts a wide variety of fashion boutiques, accessory shops, restaurants, and cafes. You can get the latest fashion items and enjoy gourmet food in this stylish neighborhood.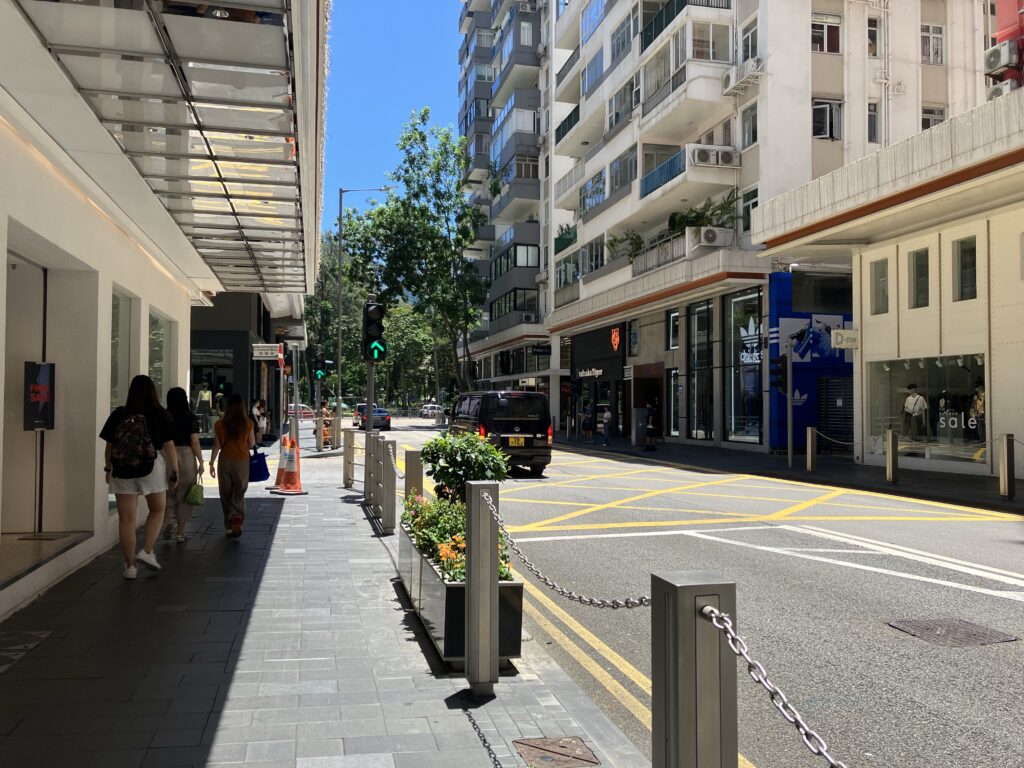 Famous brands and trendy shops line the streets.
Summary and Impression
It was a convenient, clean, and user-friendly shop. Although it may be more expensive than in Japan, it's a valuable shop for those living in Hong Kong as it provides easy access to Japanese products. If you visit Fashion Walk, be sure to stop by and take a look.
Thank you for reading today.