Hello!
I stayed at the Disney hotel that I had been longing for the other day, so I will review it.
I was able to stay at a very affordable price on Black Friday. In Hong Kong, there are periods when you can stay cheaply depending on the season, so I recommend checking regularly if you want to stay at a lower cost!
As for the hotel, the rooms were clean, and there were plenty of activities, so one night was not enough. It was really good.
I hope this review can be helpful for those who are considering which hotel to choose.
Book Now – Disney Explorers Lodge
There are three official Disney hotels in Hong Kong
There are three official Disney hotels in Hong Kong.
To briefly explain their features:
1. Disney Explorers Lodge
Among the three, it is the newest hotel. It has a similar atmosphere to Aulani in Hawaii. It offers four themed rooms inspired by tropical climates of Asia, Oceania, South America, and Africa, allowing guests to immerse themselves in the beauty of nature surrounded by lush greenery.
2. Hong Kong Disneyland Hotel
It is the most luxurious hotel among the three. It is possible to walk to the park (shuttle bus is also available). The luxurious rooms are equipped with Disney character amenities, and you can feel the Disney magic throughout the hotel. There is a maze garden, a pool, and a playground for children. You can also enjoy live music in the lobby.
3. Disney's Hollywood Hotel
It is the most affordable hotel among the three. It has a glamorous atmosphere inspired by the history and glory of Hollywood movies. There is a buffet where you can enjoy meals with Mickey Mouse, as well as a pool and a lush garden. It is recommended for those who want to save on accommodation.
Today, I would like to report on my stay at Disney Explorers Lodge.
What is "Disney Explorers Lodge"?
As mentioned earlier, it is the newest hotel among the official Disney hotels in Hong Kong, and you can feel the attention to detail in its exterior and interior design.
It is located in the middle of the three hotels, and a shuttle bus operates from the bus stop next to the MTR station to the hotel.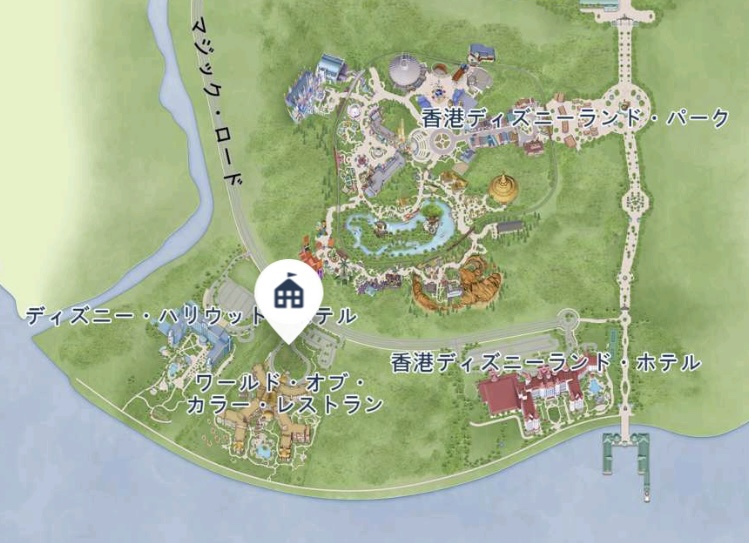 Take the Shuttle Bus to the Hotel!
After getting off the MTR, there is a bus stop on the opposite side of the park.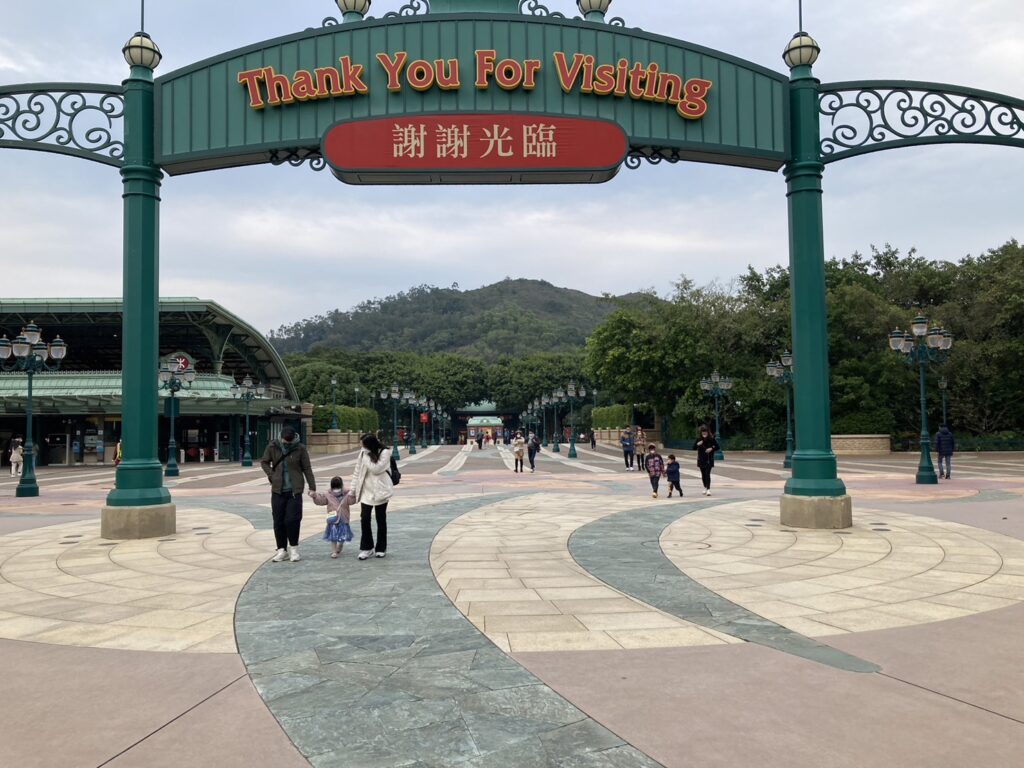 You can easily find your way with many signs.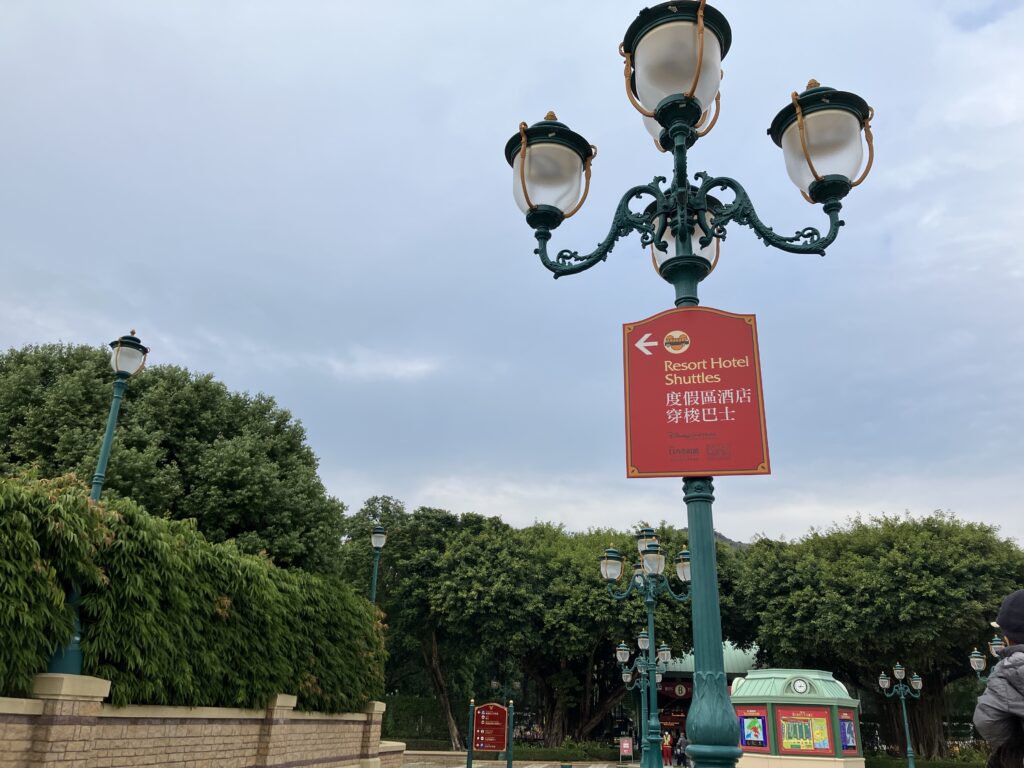 Taxis and public buses also depart from this area, not just the shuttle bus.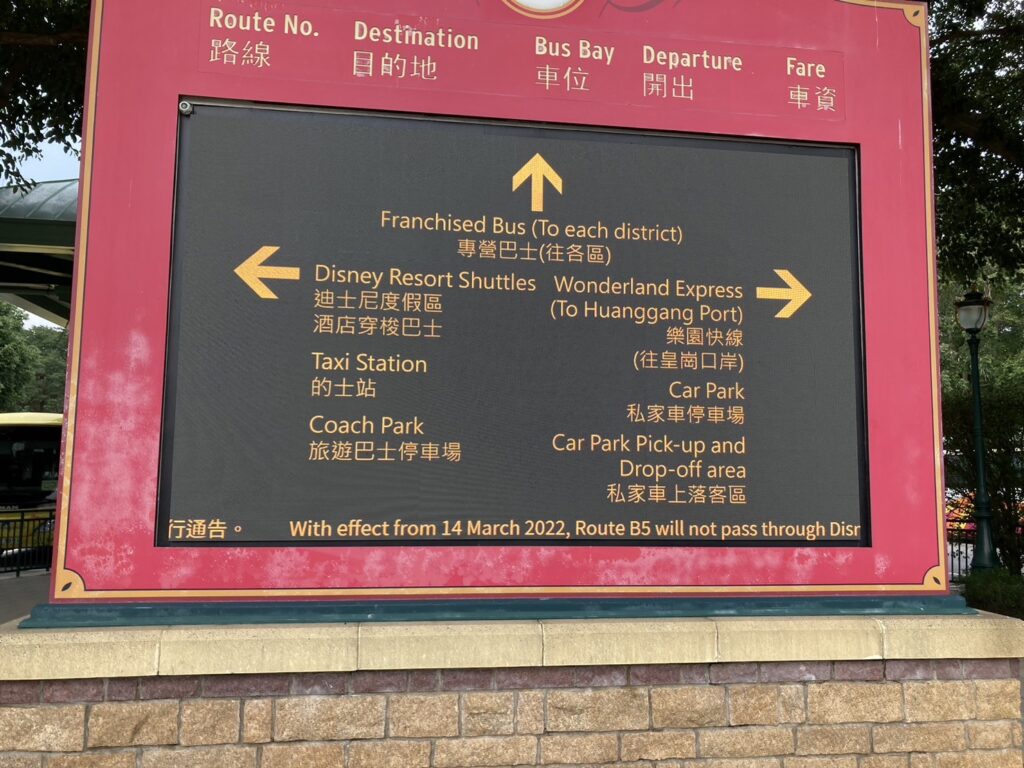 Bus stop for the official hotel.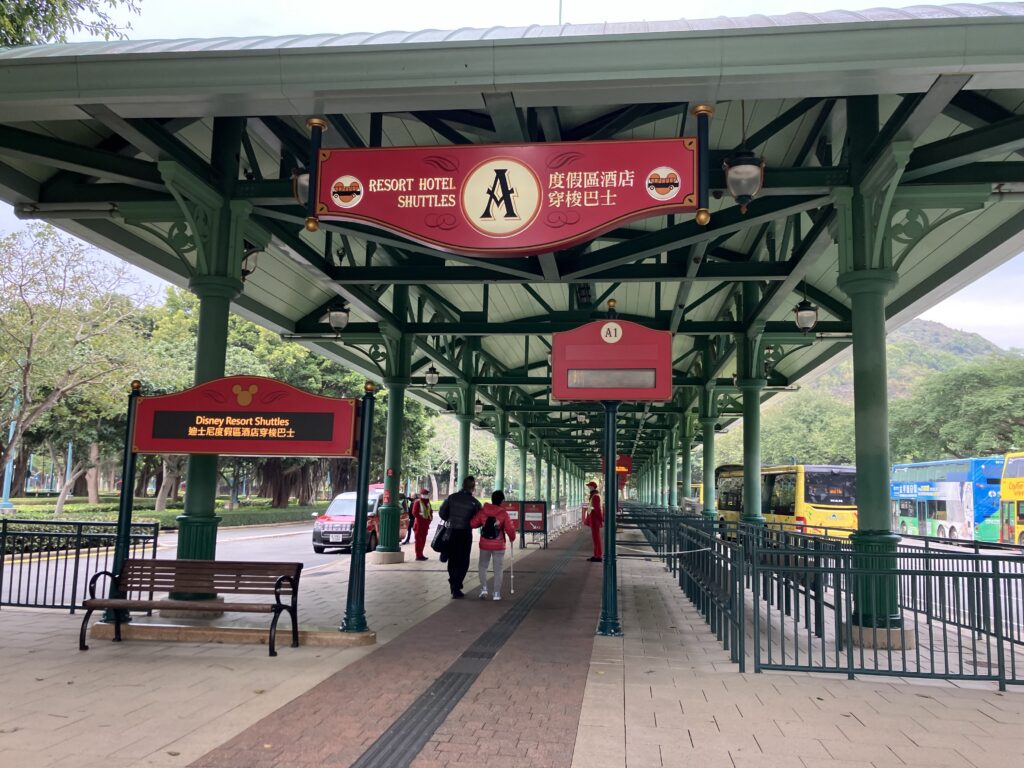 Waiting at the A4 for Disney Explorers Lodge. The buses were running at an interval of about 20 minutes on this day.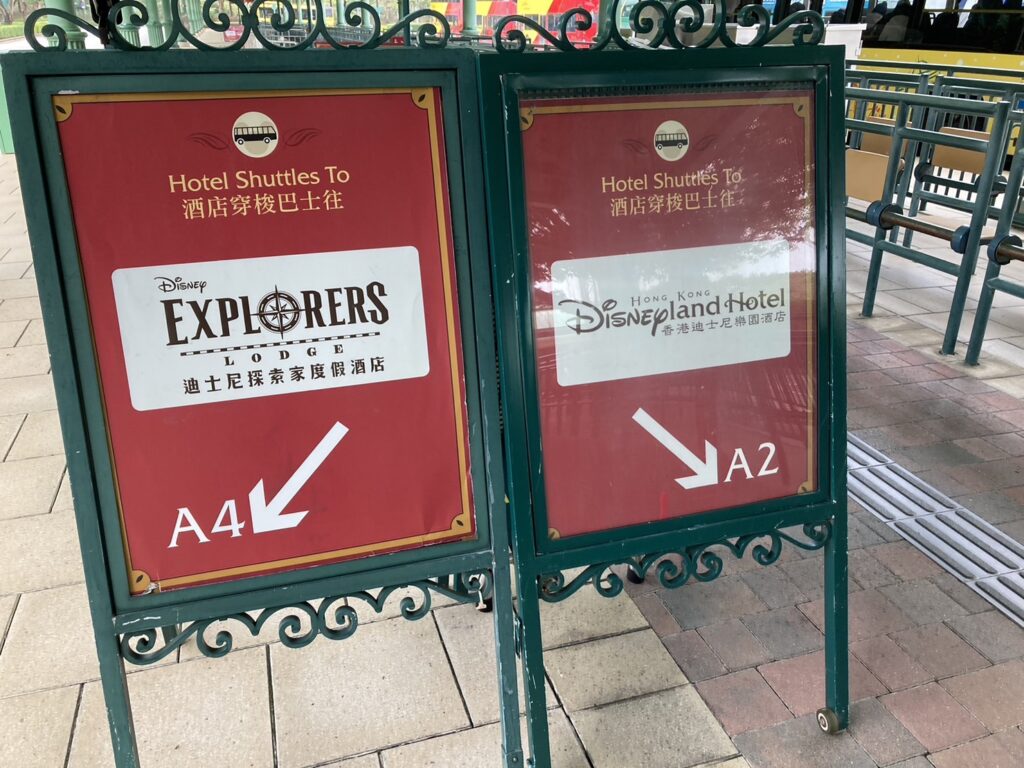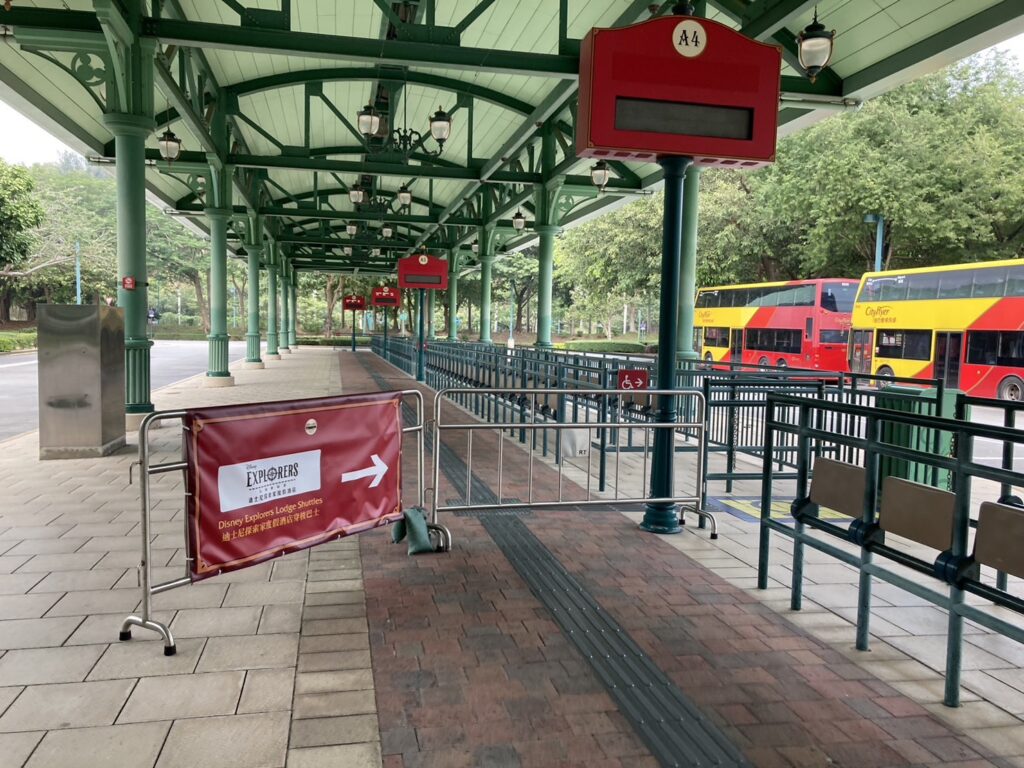 The exterior had Disney characters painted on it, but the interior was a regular bus.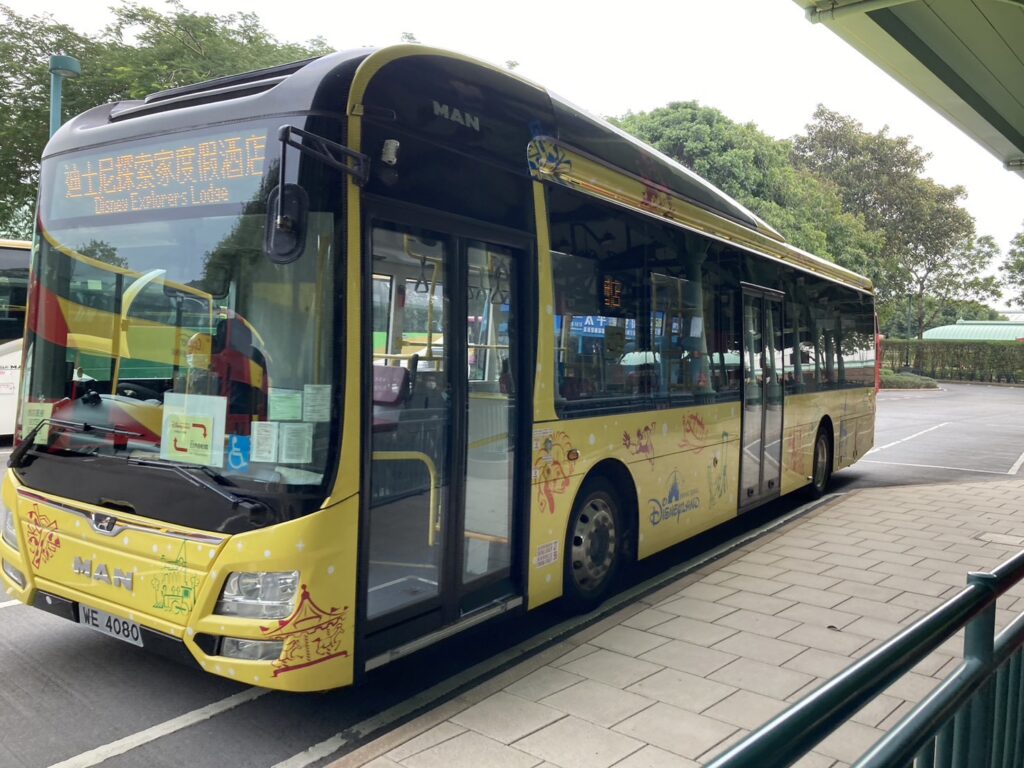 It took about 5 minutes to arrive at the hotel!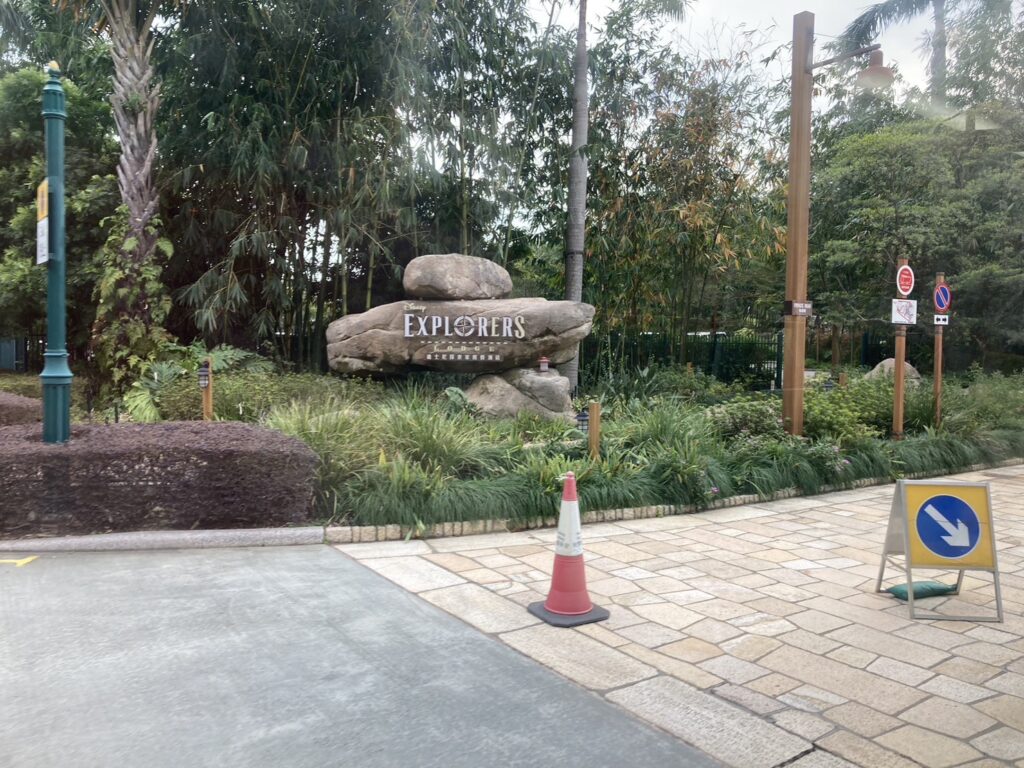 It has a tropical atmosphere!
Since it was time for check-in to start, there were many guests.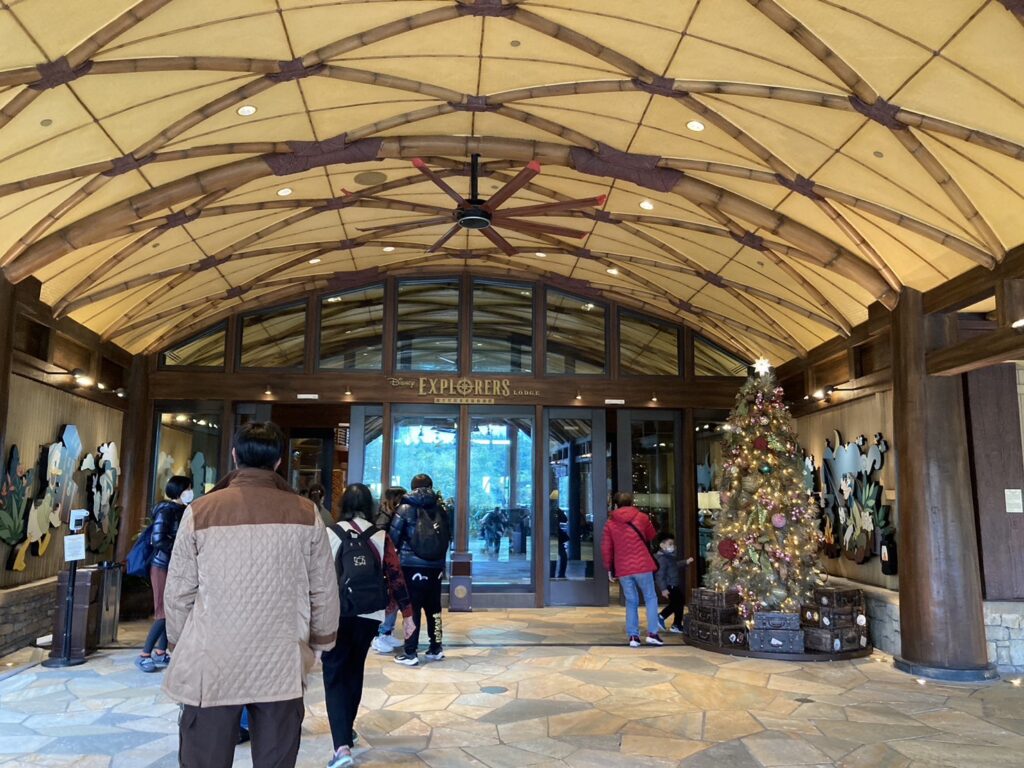 Mickey dressed as an explorer welcomes you at the entrance.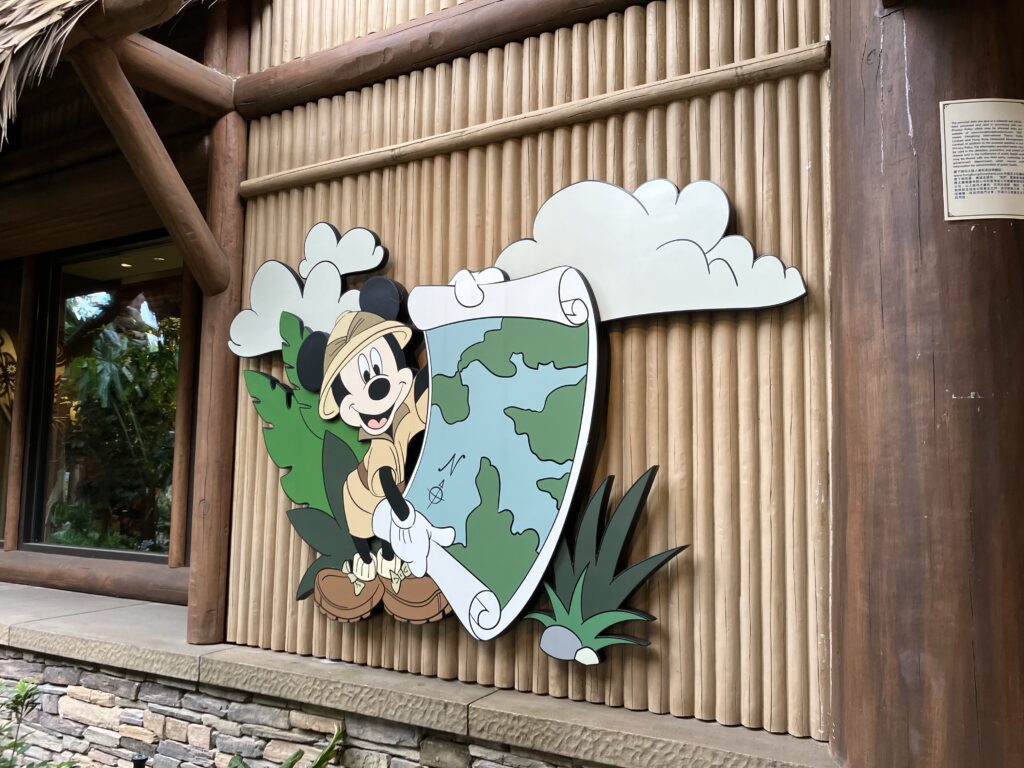 Donald and Minnie Mouse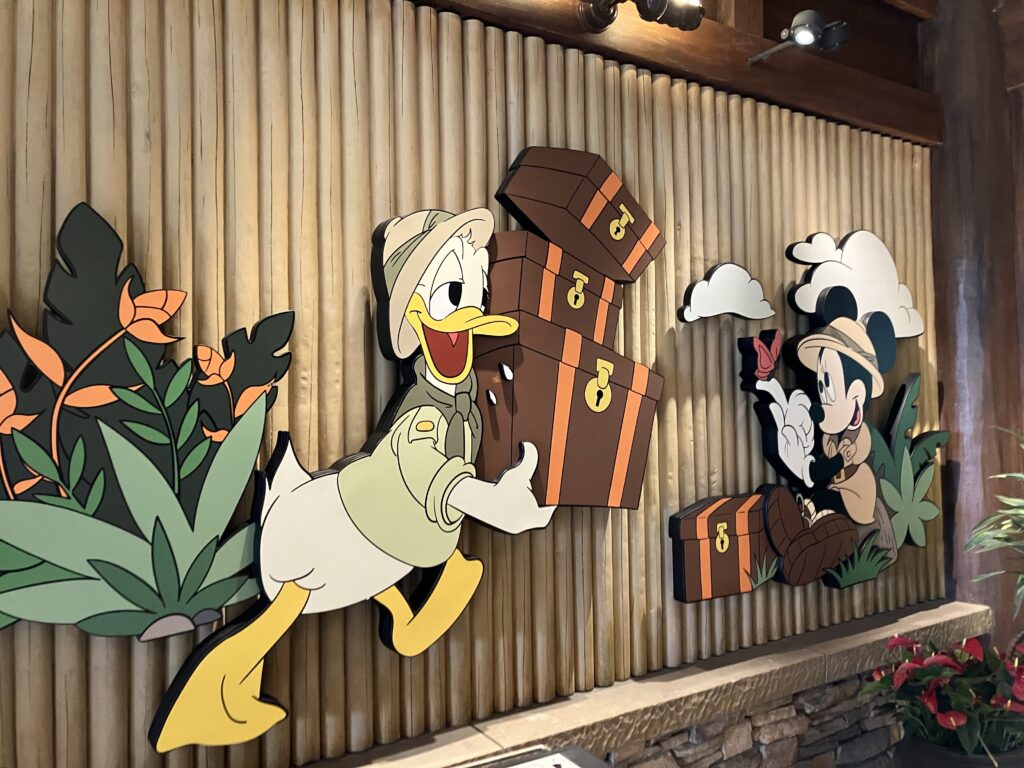 Goofy and Pluto at the campfire, perhaps.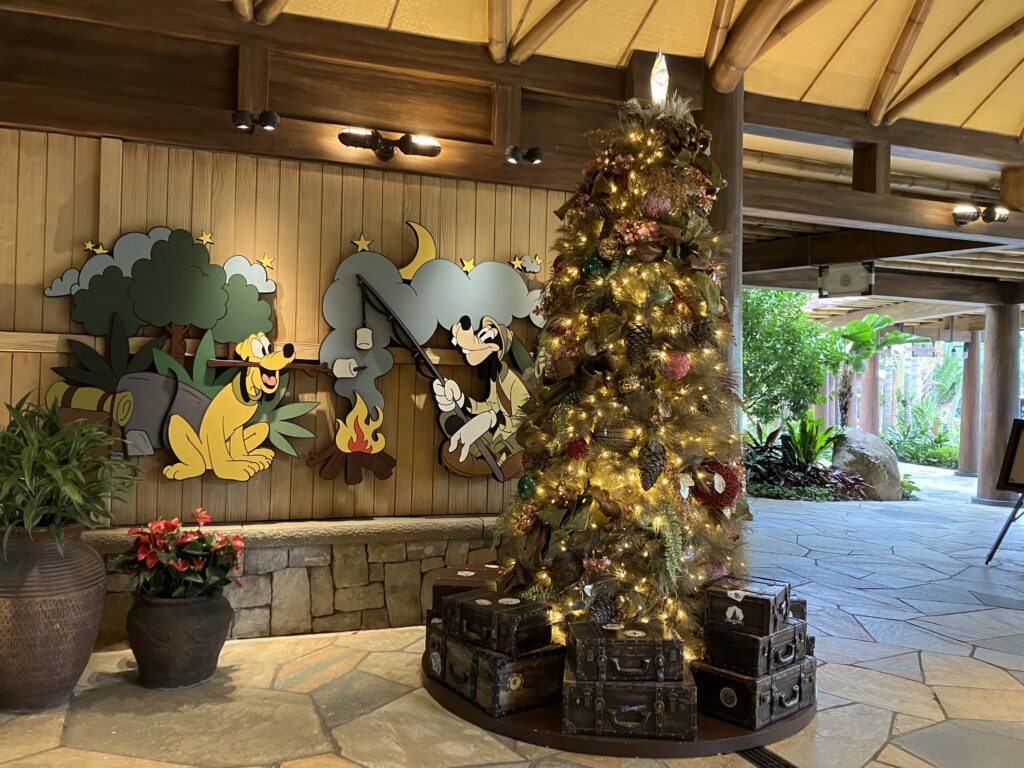 Let's go inside right away!!!!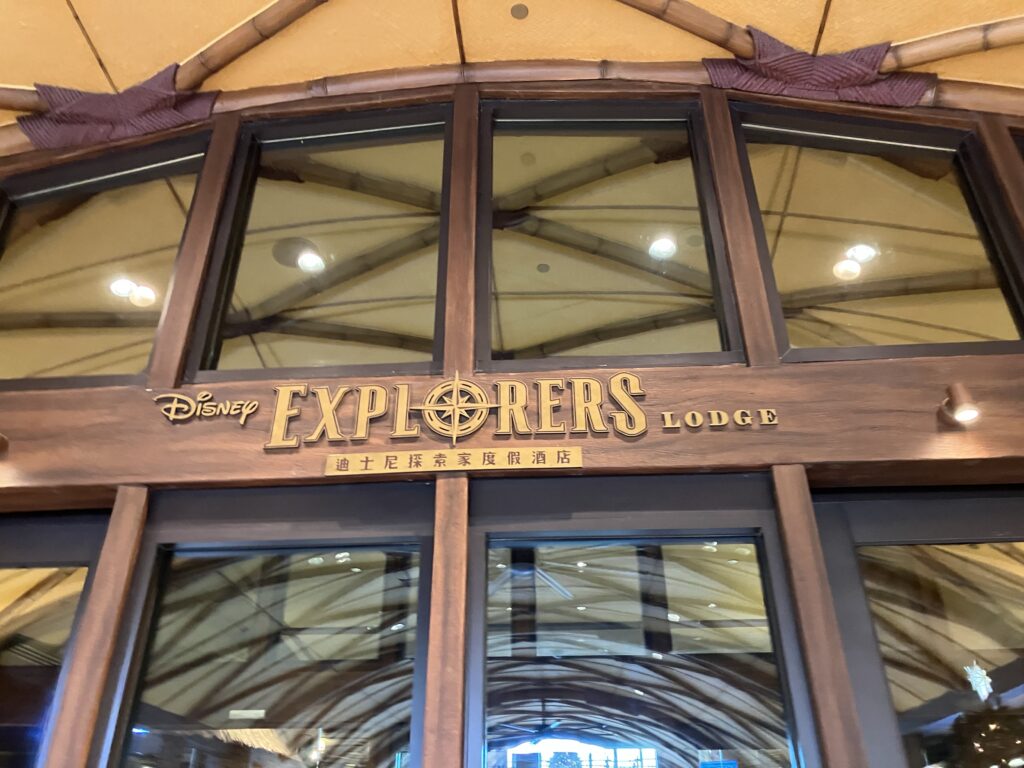 An Open Lobby!
Since it was the Christmas season, a large Christmas tree welcomed us. It's truly the Explorers Lodge. But it's not just a tree; the decorations below are shaped like travel bags and suitcases.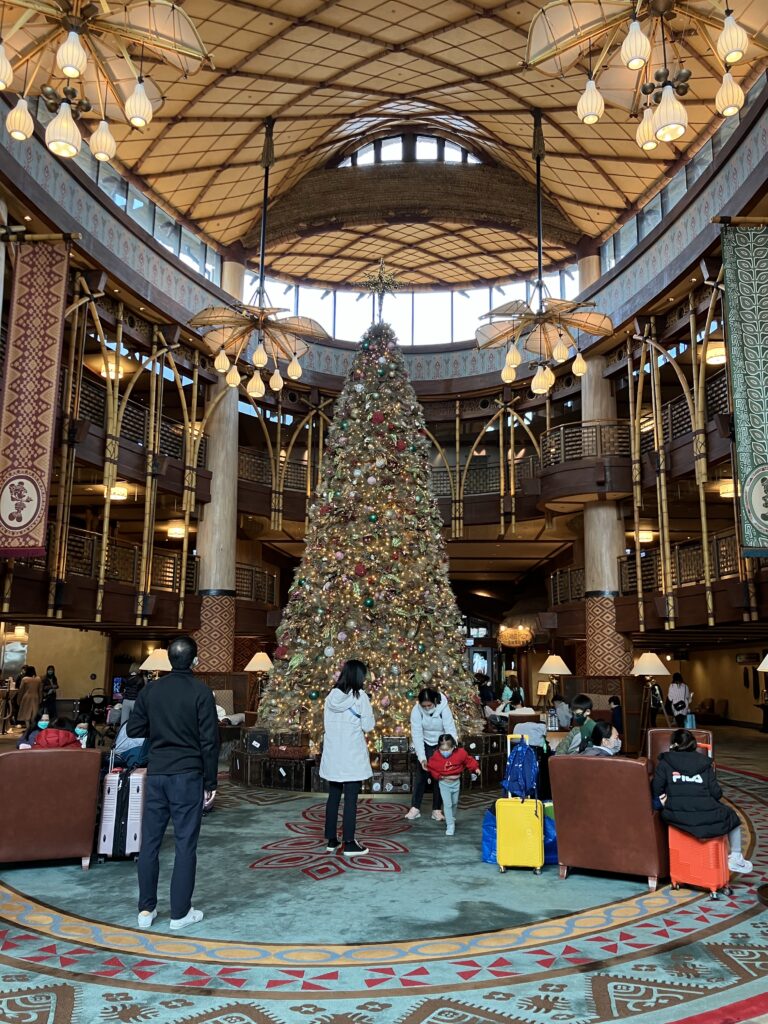 We found Japanese stickers too. It's nice to find Japan when you're abroad and see a "Merry Christmas" sticker.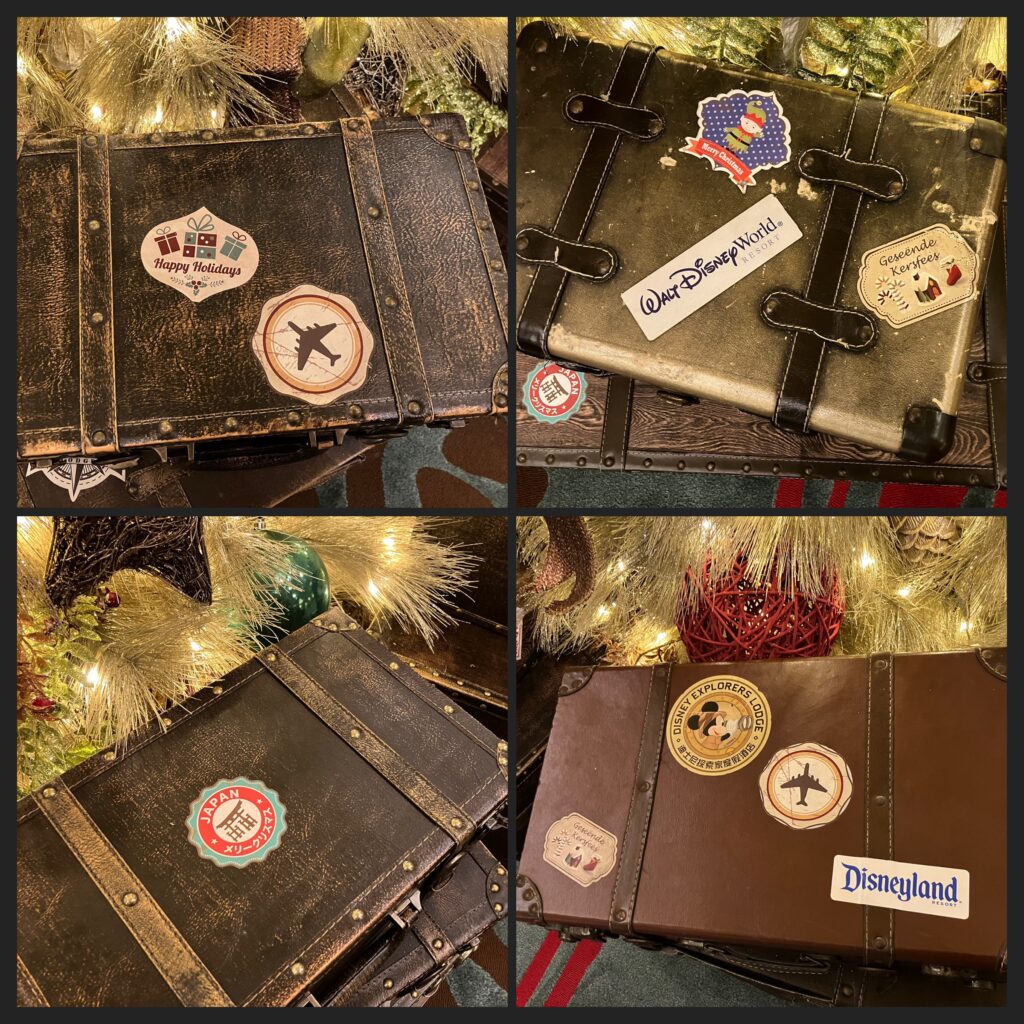 The lobby is decorated with Mickey, Minnie, Donald, and Goofy suitcases. Mickey even has Duffy inside, so you could spend a lot of time just looking at them and lose track of time.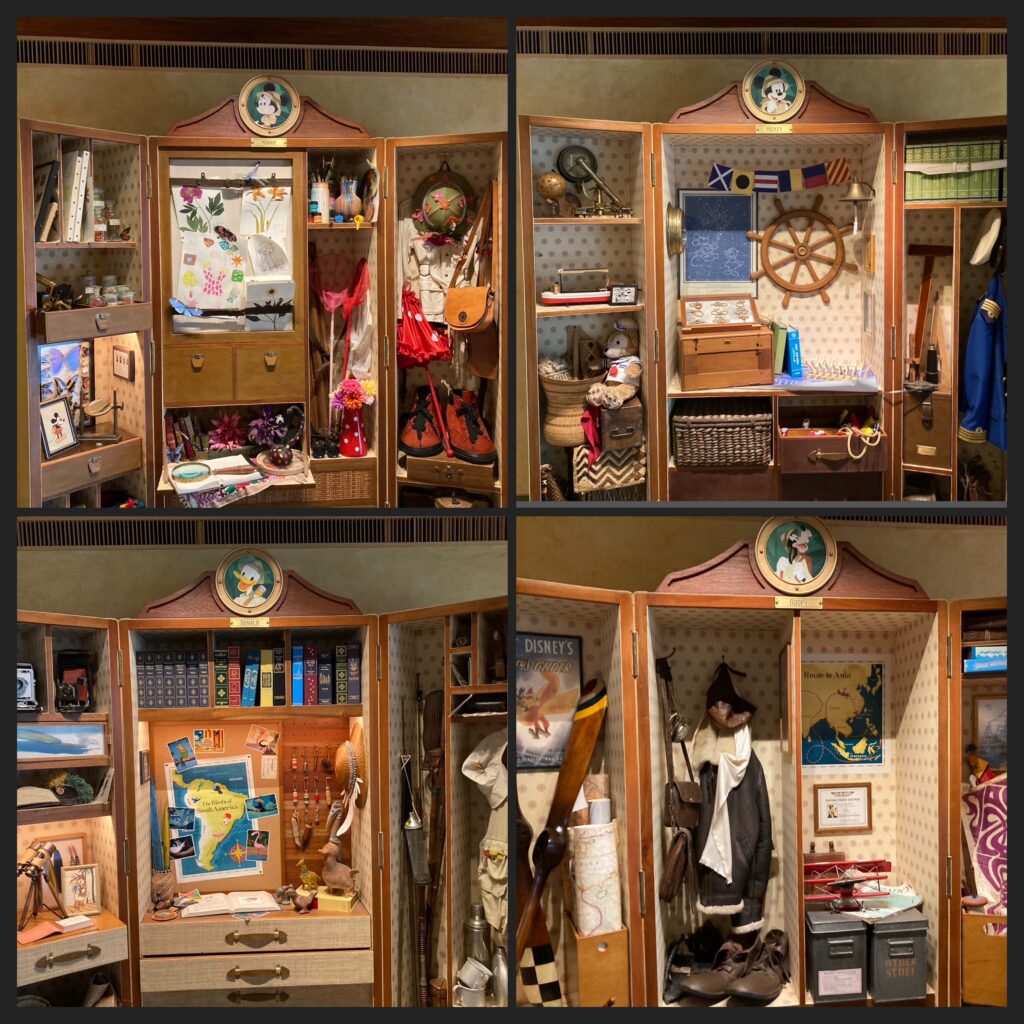 A Bit Crowded at Check-In Start!
It was crowded right after check-in started. It might be better to stagger the timing a bit.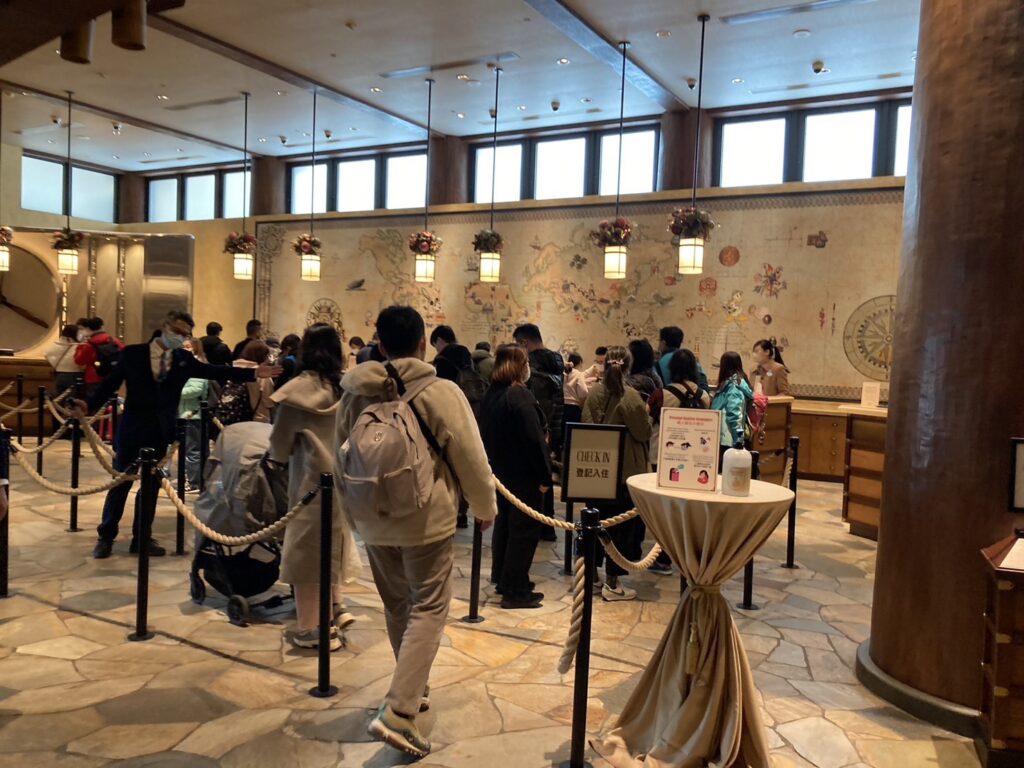 This is the check-in counter around 10 PM at night.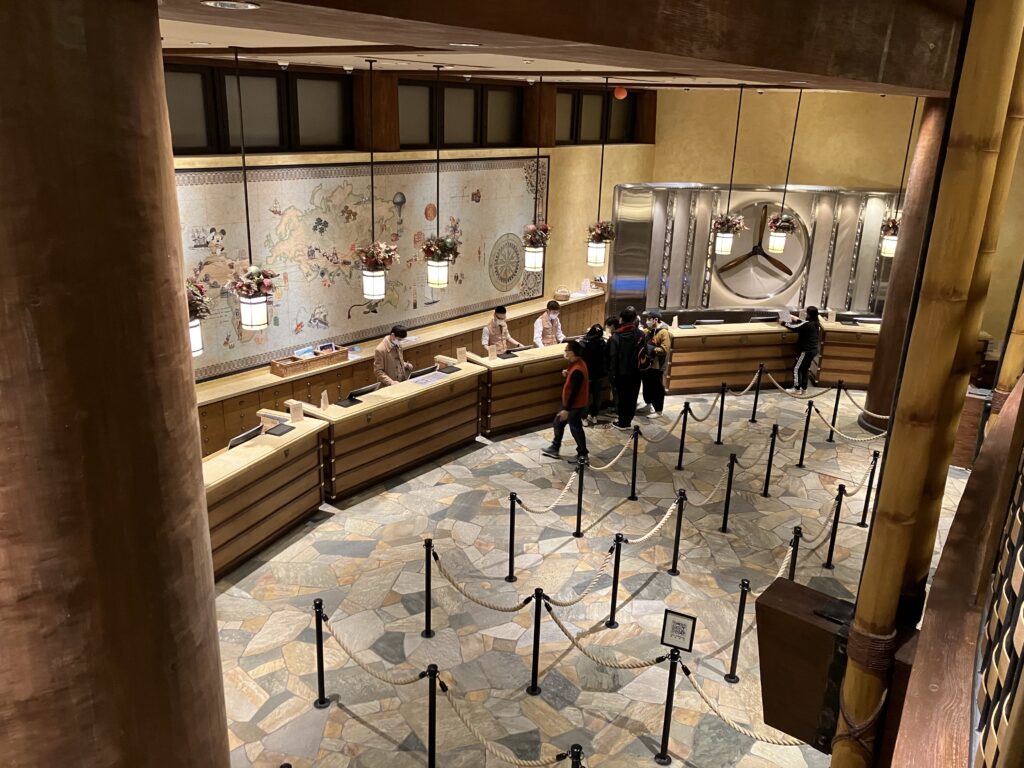 During check-in, I received an original sticker and a pin as a gift for Magic Access (annual passport) holders. It's nice to receive such gifts!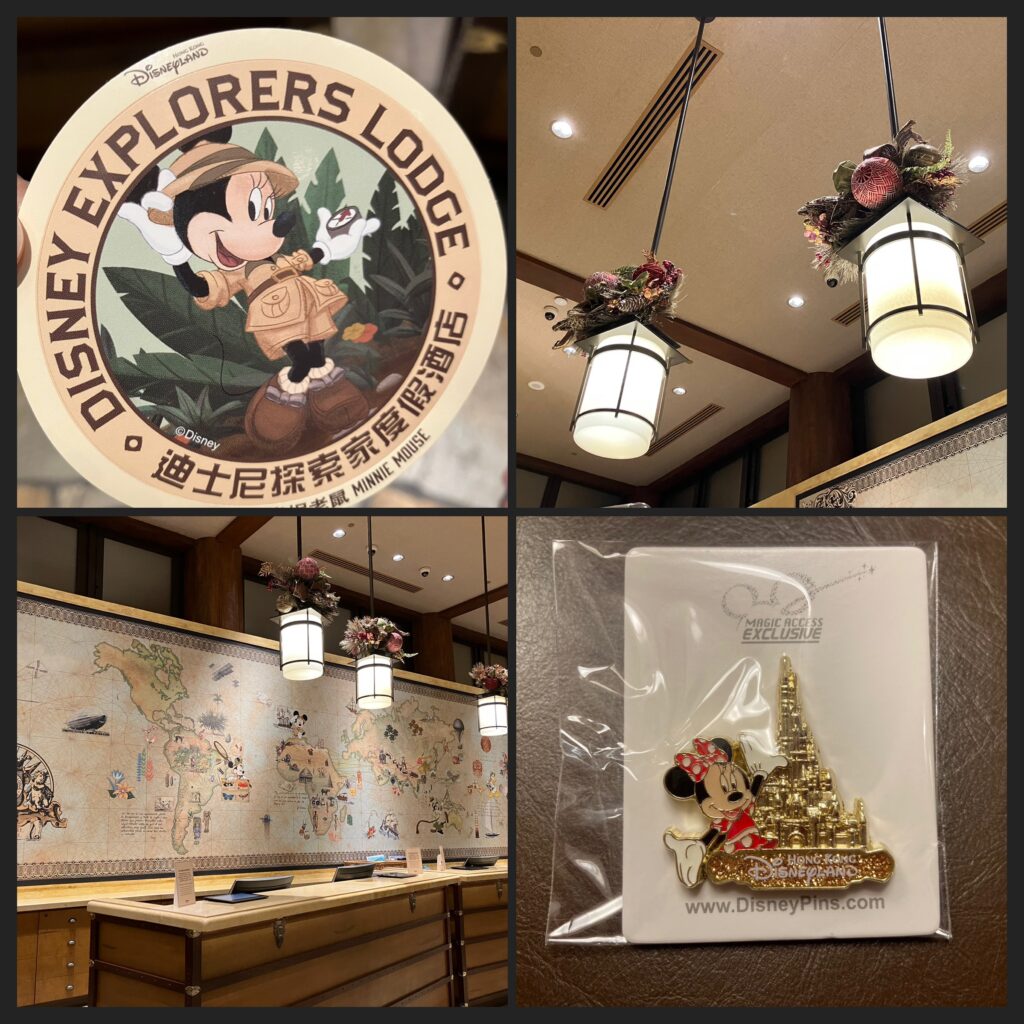 Hotel Souvenir Shop 'TRADING POST'
There is a shop located to the left just after entering the entrance. It was open from 9:00 to 23:00 on that day.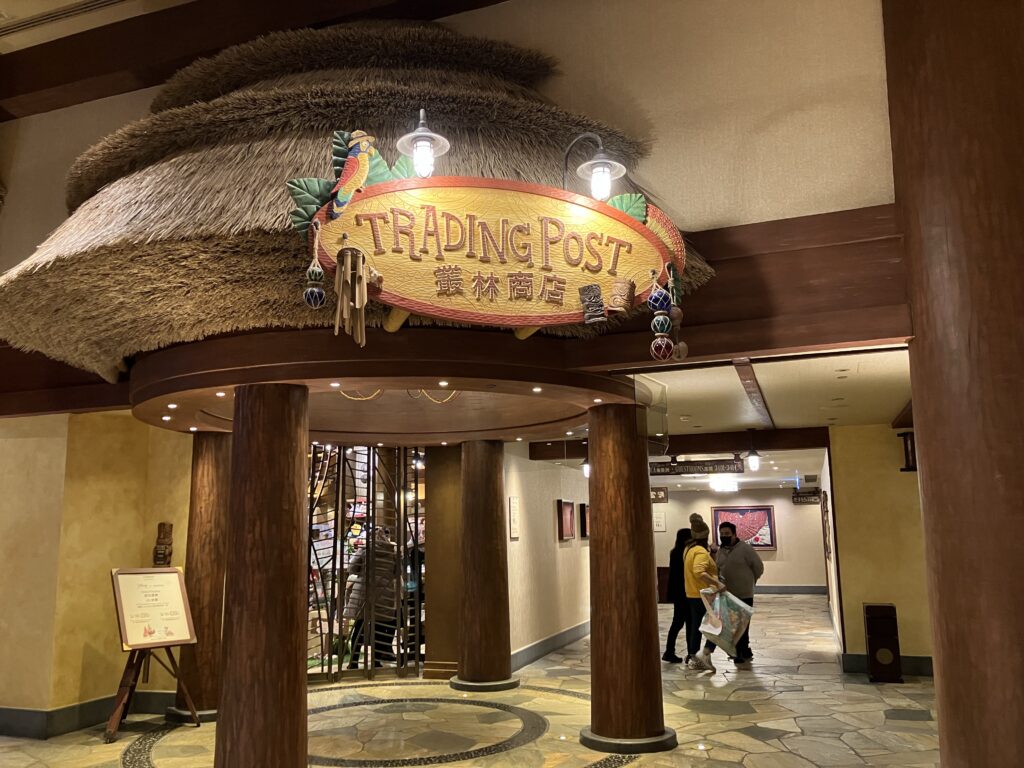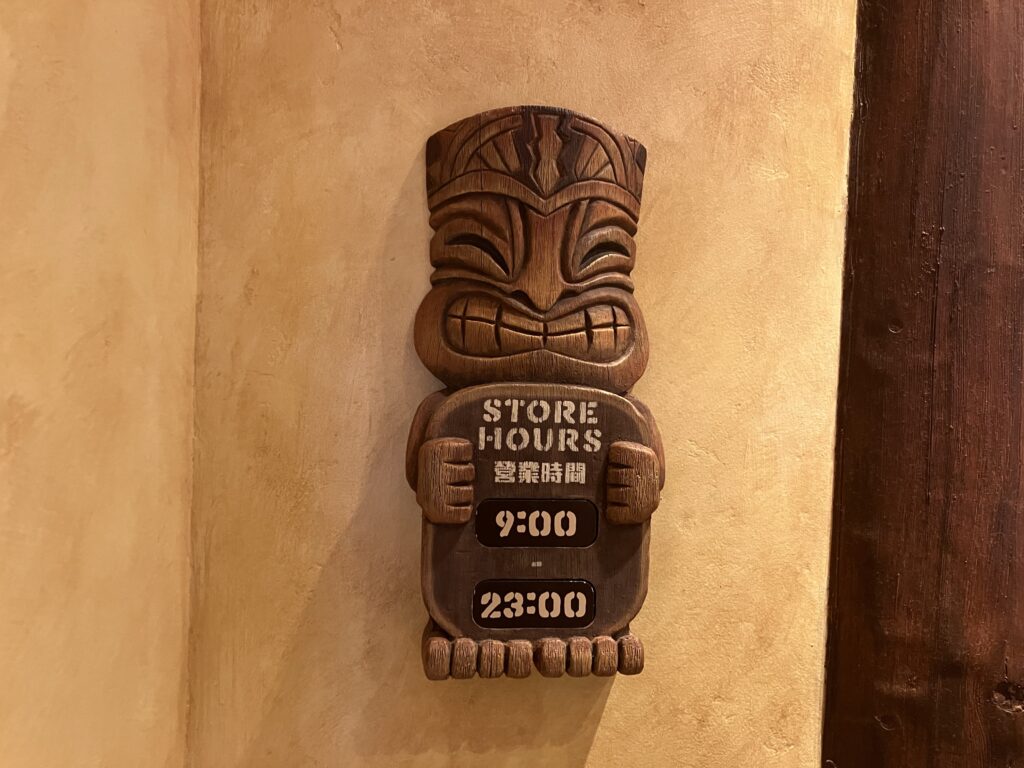 These plush toys are exclusive to Explorers Lodge.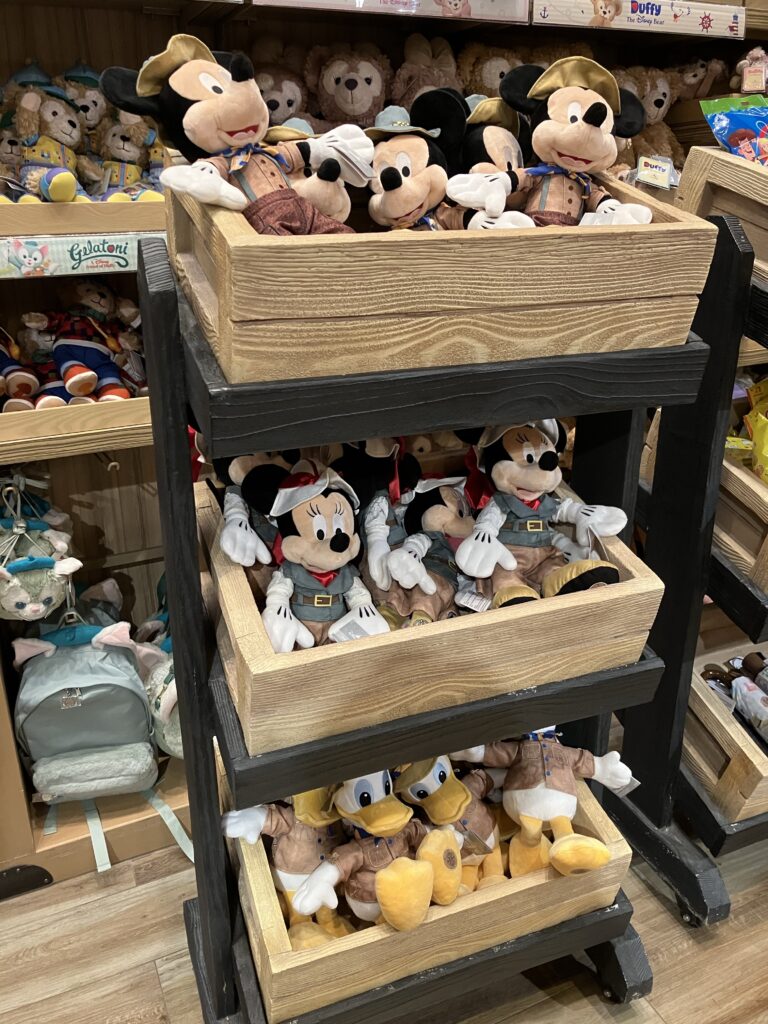 The folding umbrella is also in a limited design.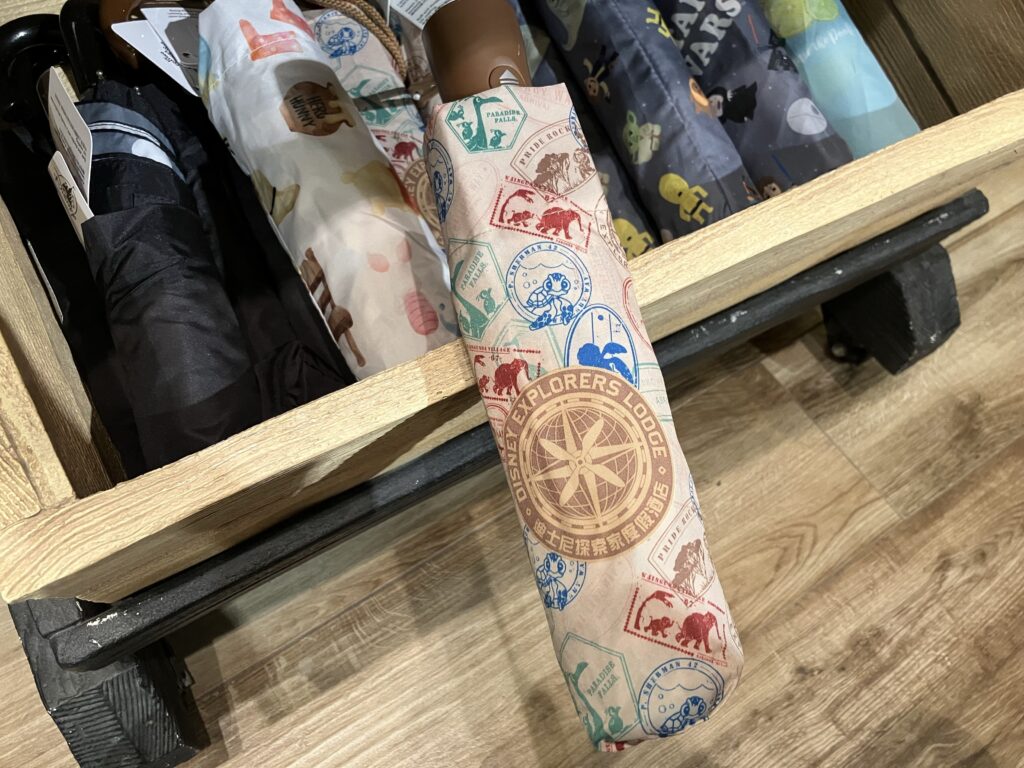 The store is spacious and less crowded than inside the park, so it's recommended to make purchases here. (There are also coupons available in the room that can be used here.)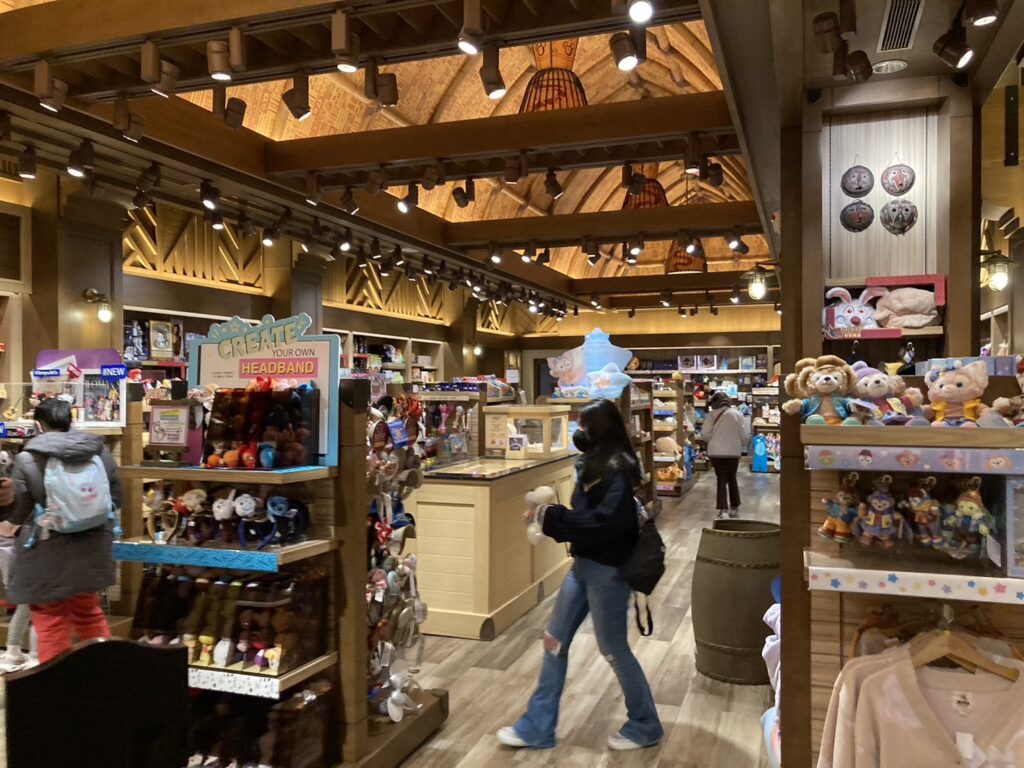 Impressive Interior Design!
The hotel is spacious, so you'll have to walk a bit to get to your room. The interior design is impressive, with characters from The Jungle Book on the light bulbs. It was quite fascinating.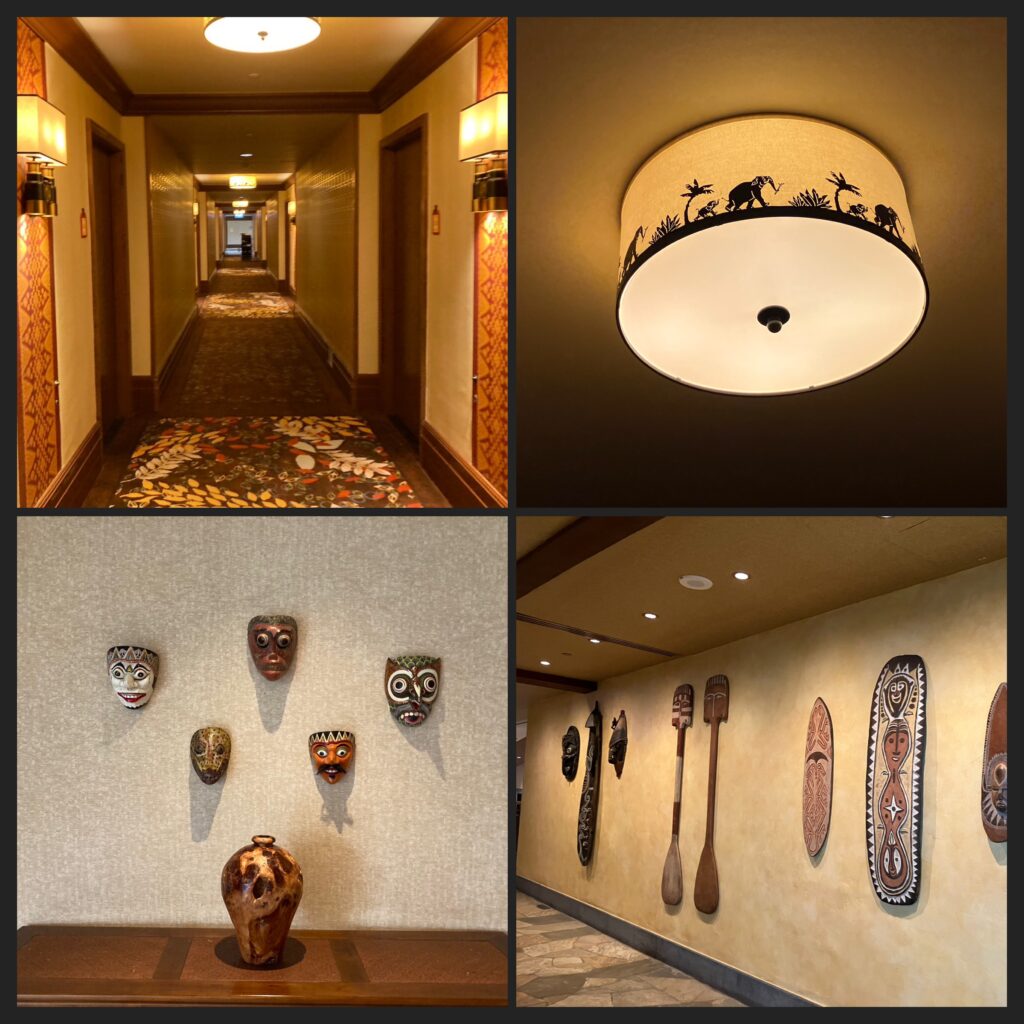 It seems like the elevators are designed like hot air balloons. Mickey's voice tells you the floor number! Since there are many elevators, there was no need to wait regardless of the time.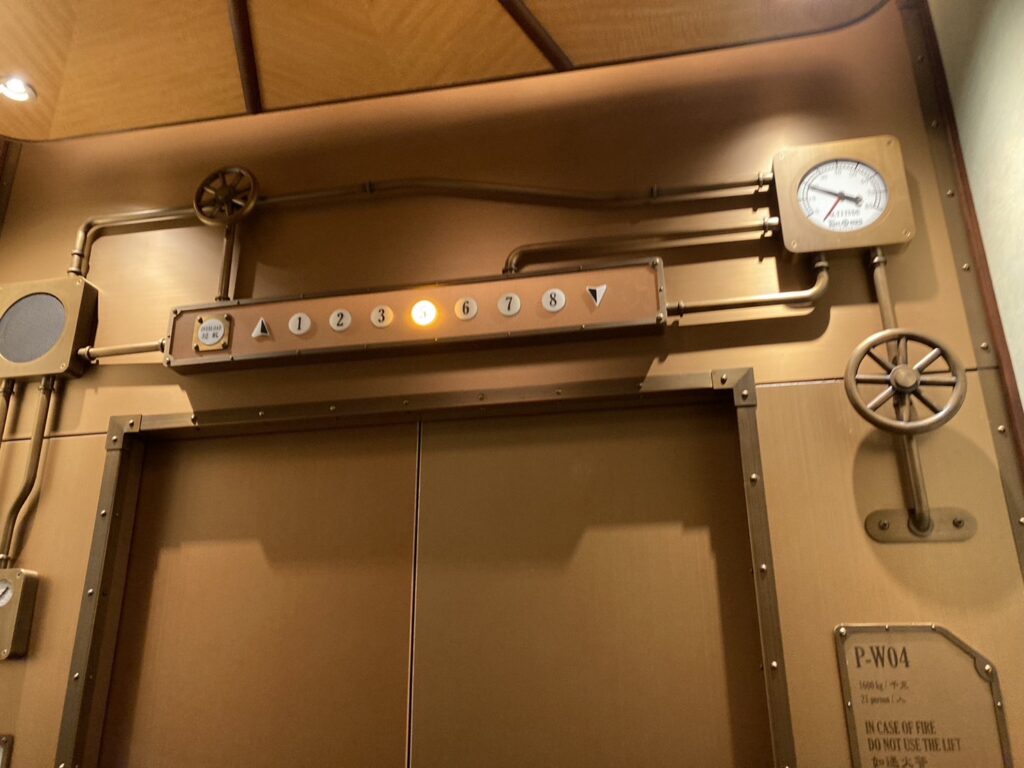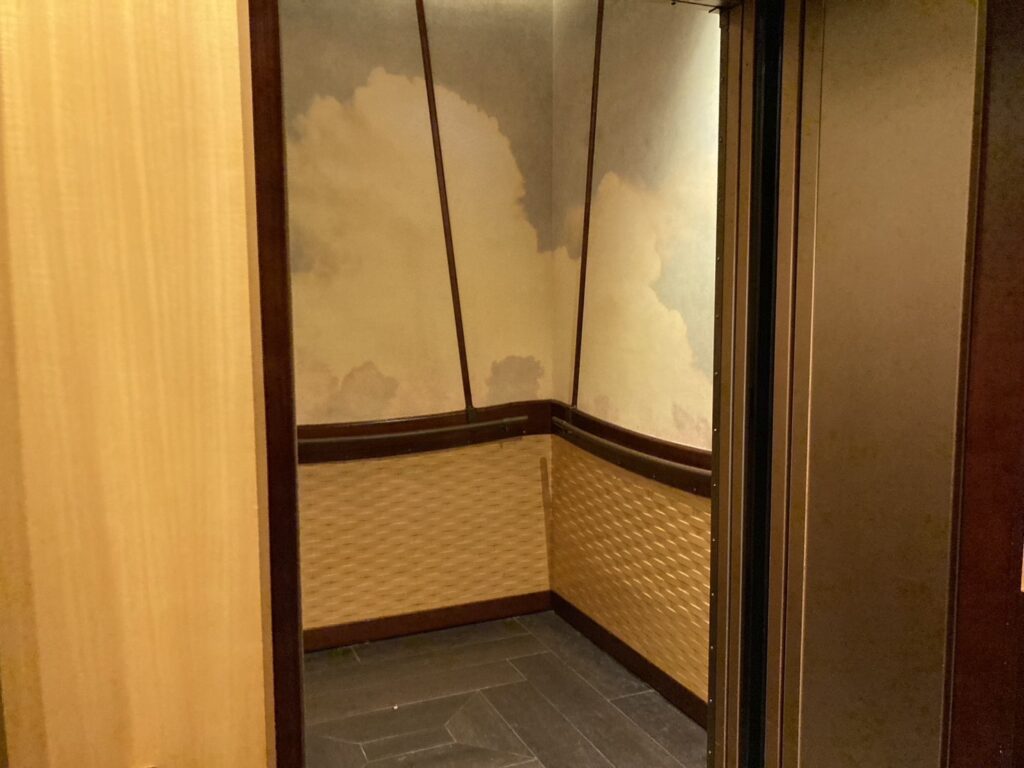 Let's Enter the Room!
Here is the "Sea View Room" that I booked.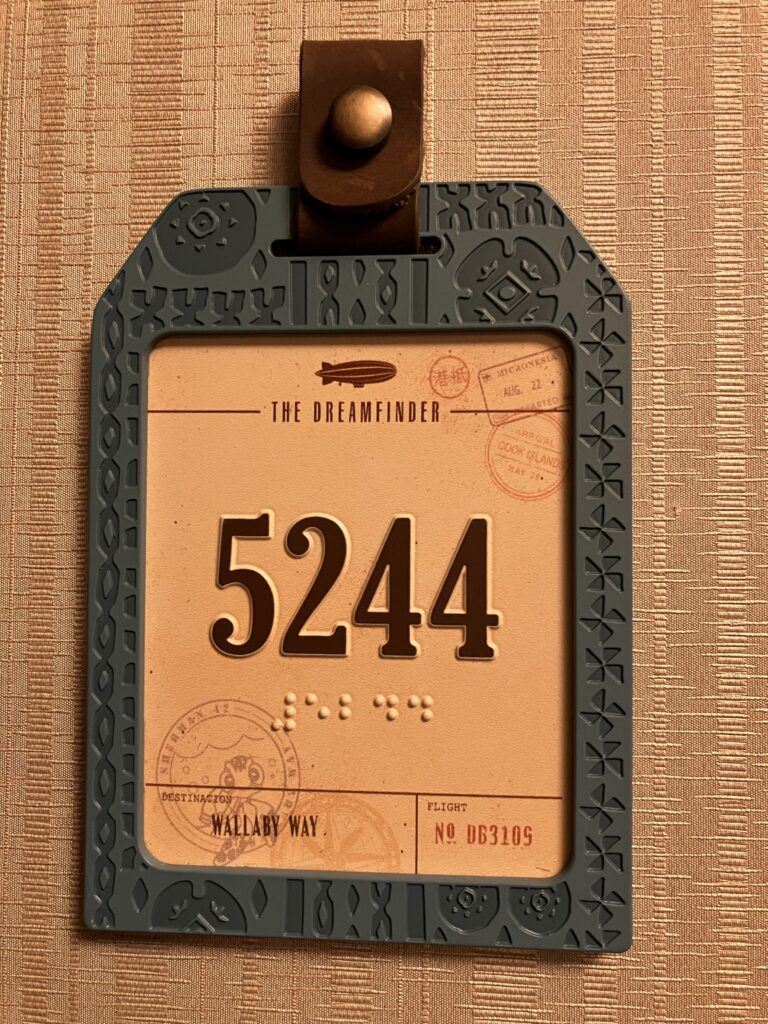 The part where you touch the card key is also Mickey-shaped. It gets you even more excited, doesn't it?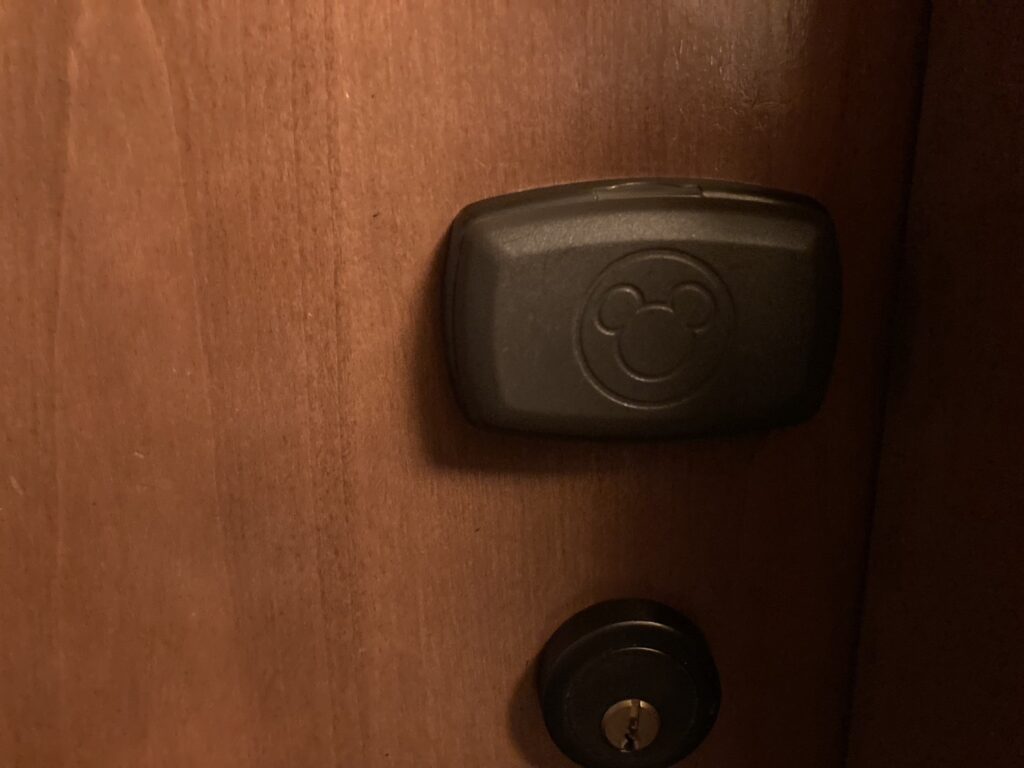 As you open the door, you are greeted by a dazzling light! The room had excellent natural lighting and was spacious and open.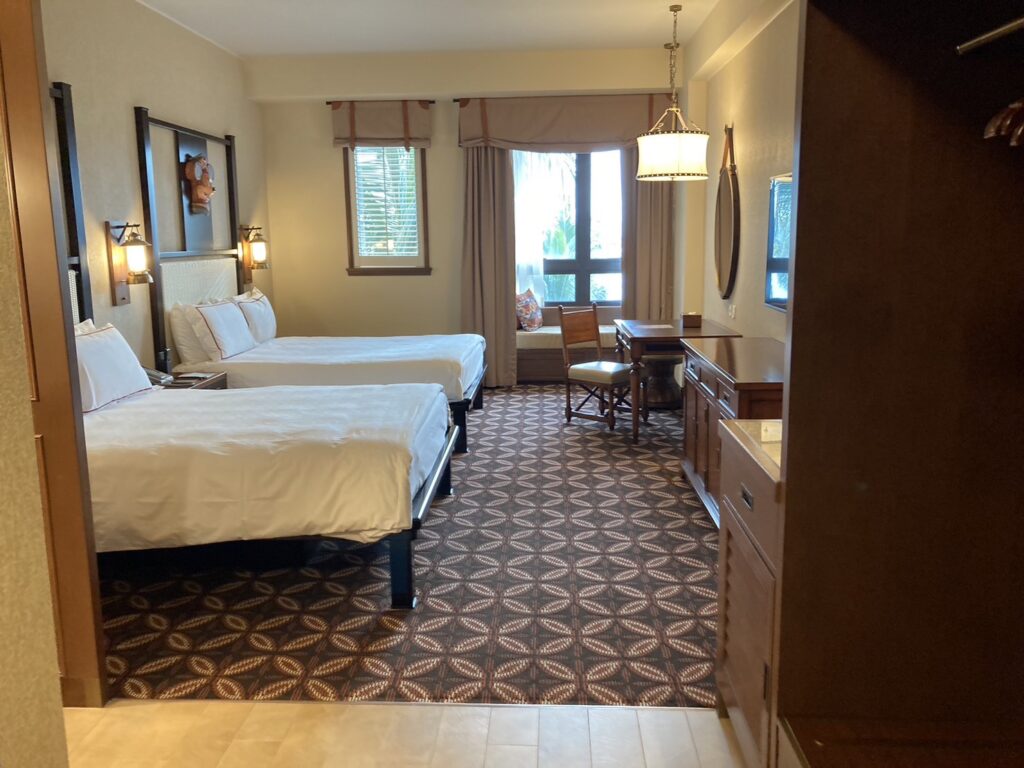 Bedroom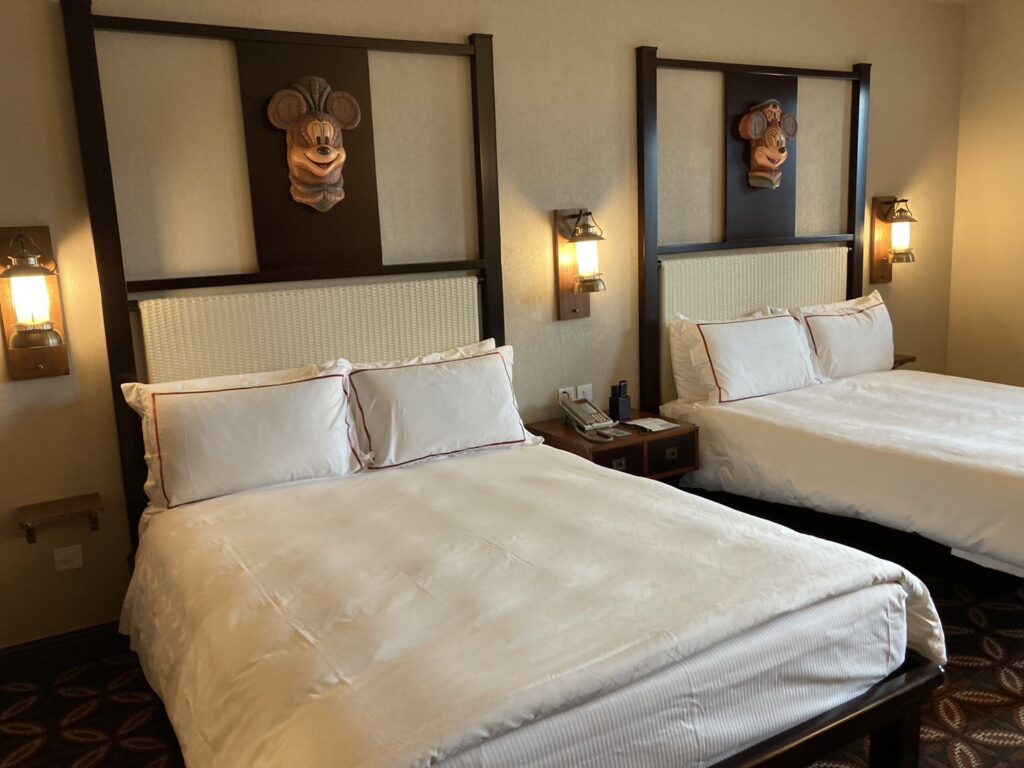 There are Mickey and Minnie figurines on the bed.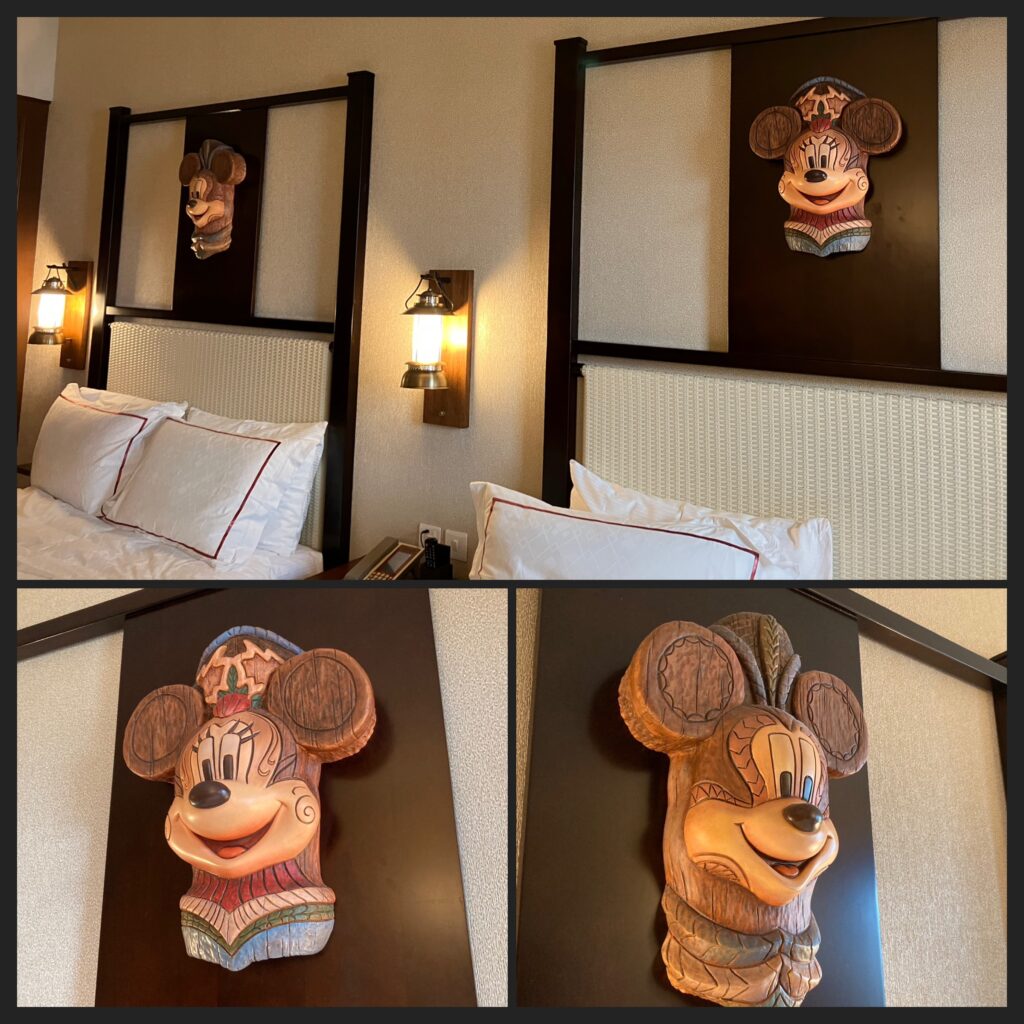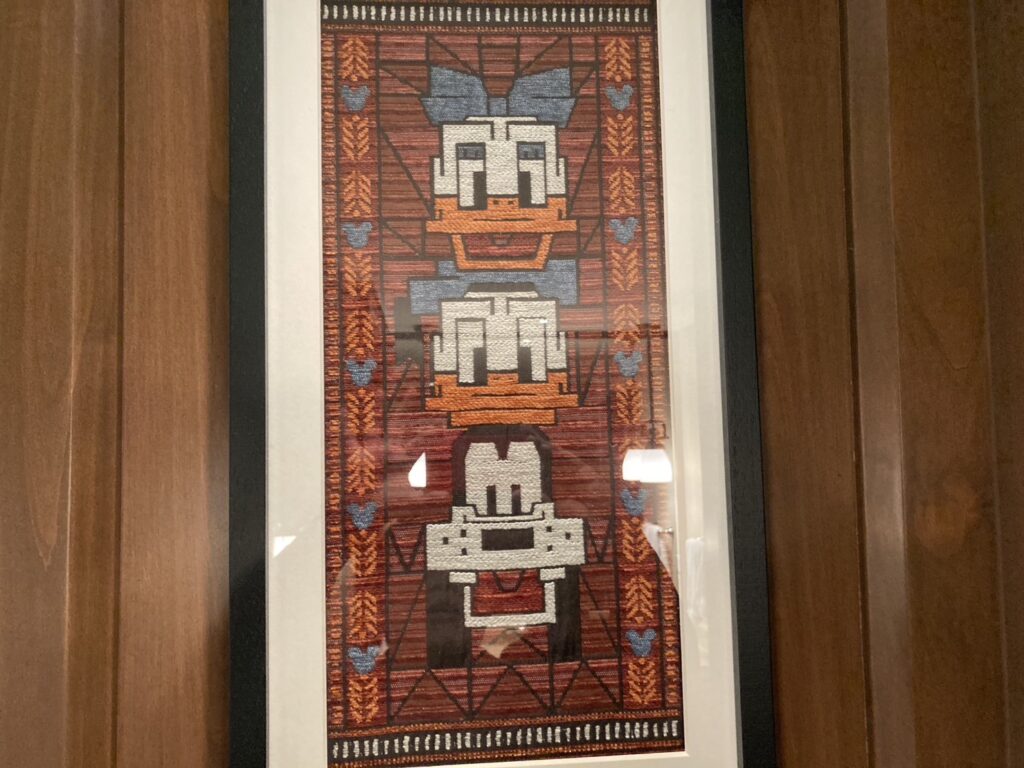 There is a side table next to the bed. It's convenient to have a charging port for your smartphone.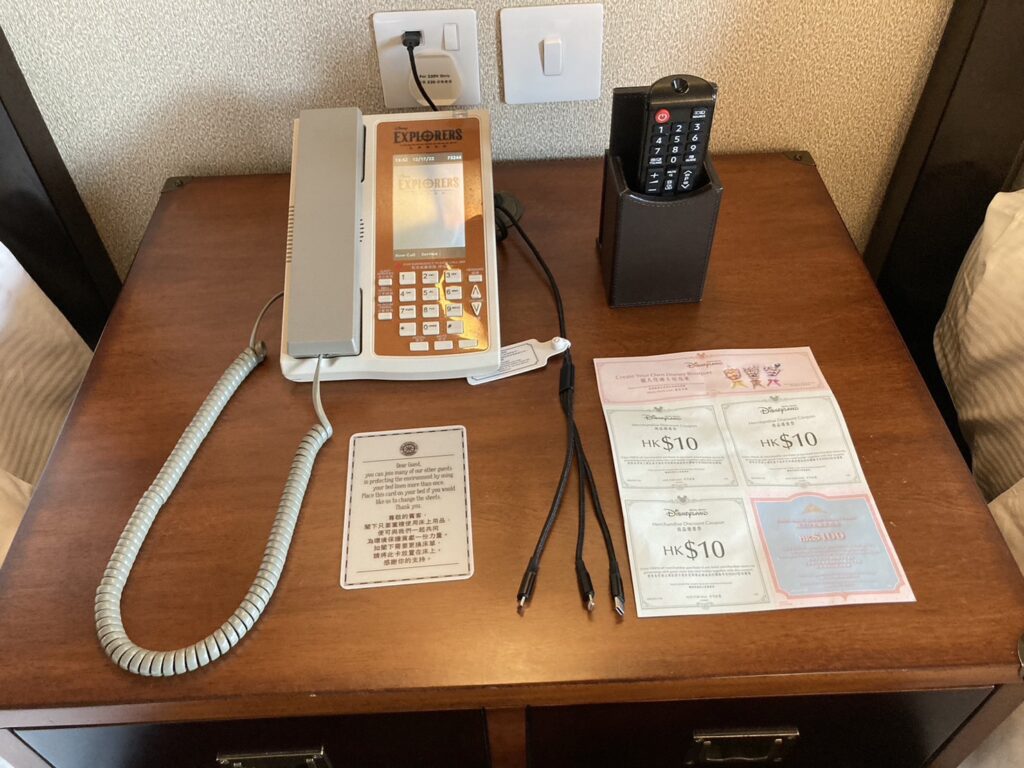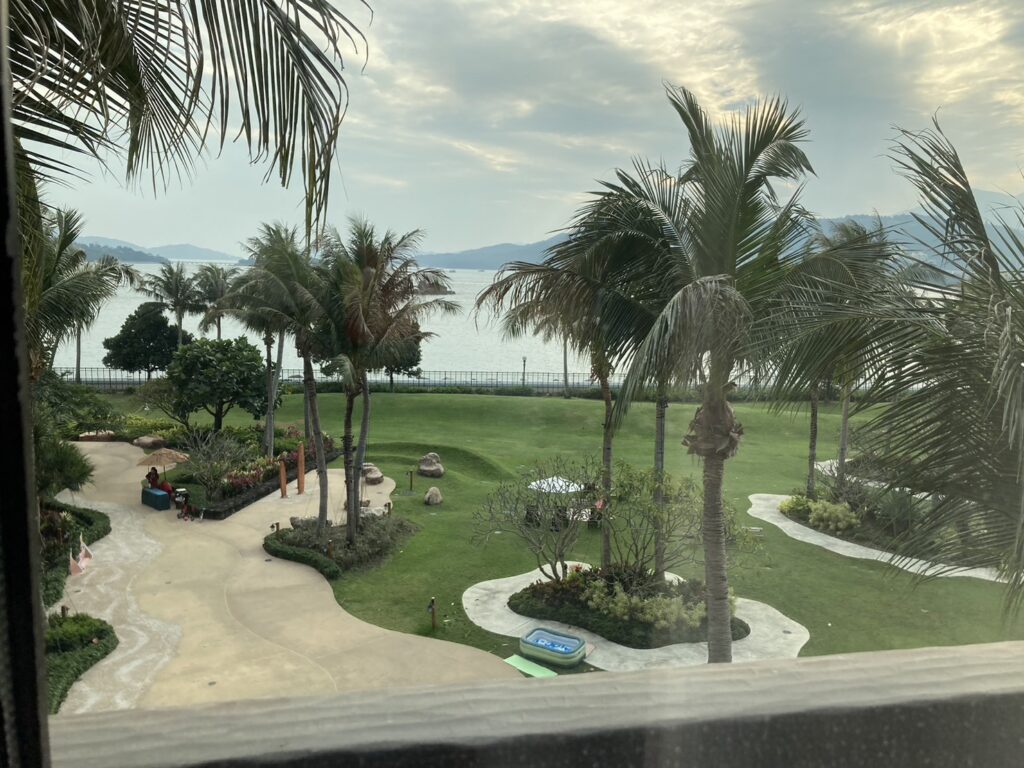 A spacious table. My son used it for drawing.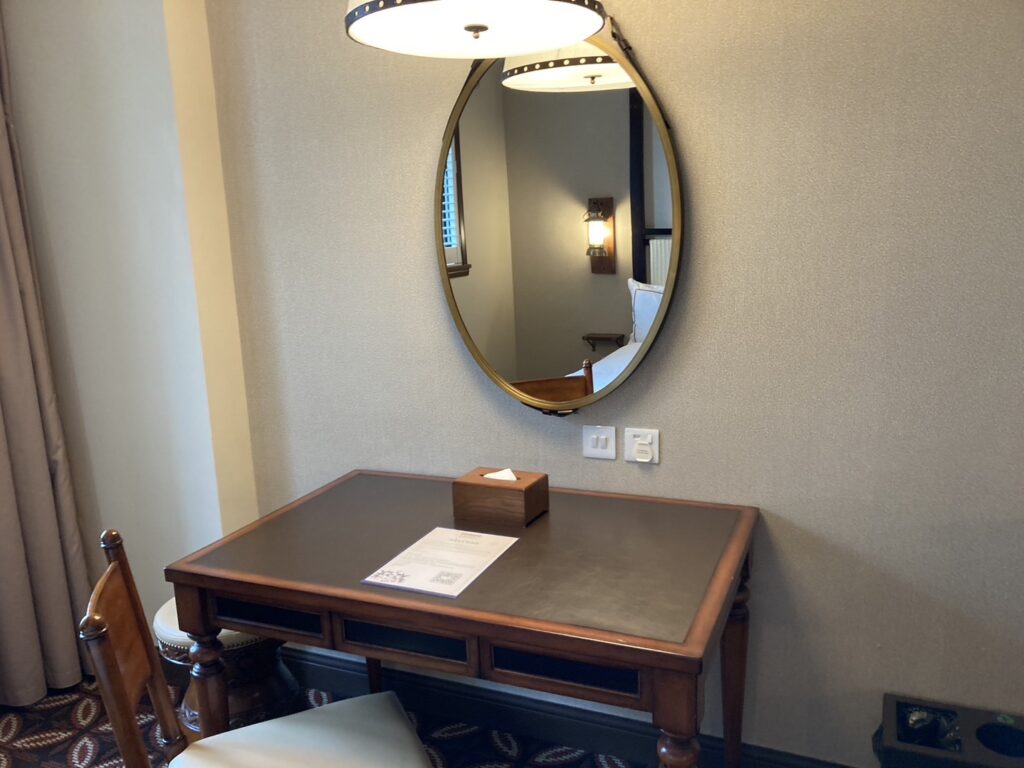 There are power outlets near the table. However, since they have three prongs, you will need a plug adapter from Japan.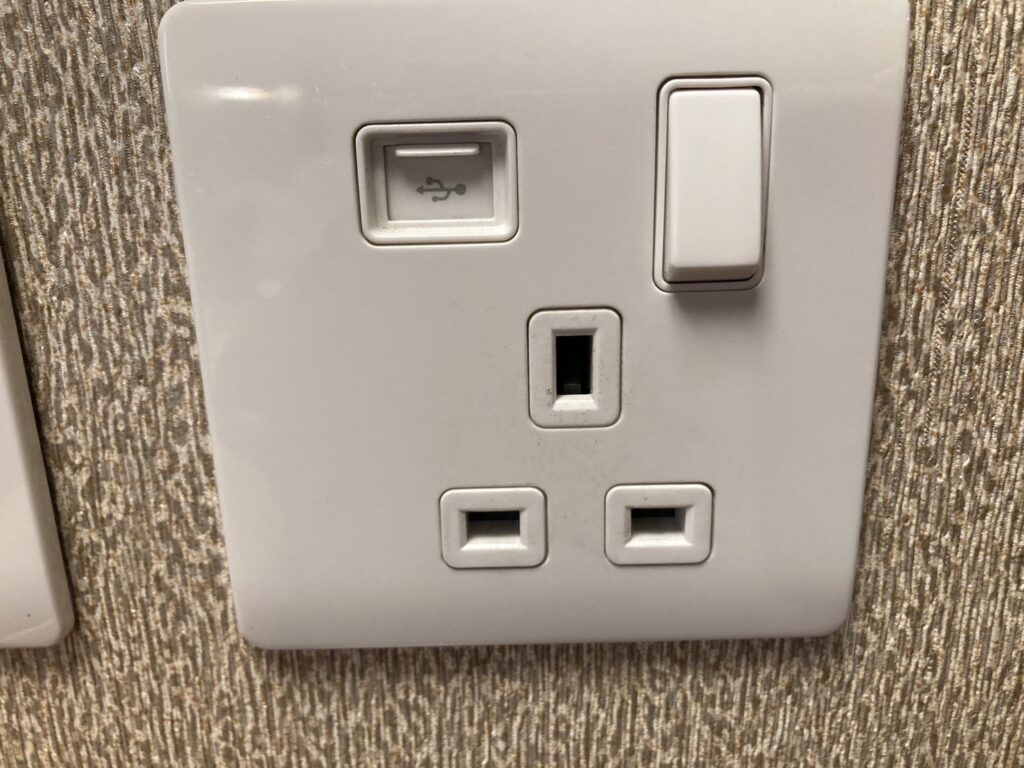 There is a security box under the TV.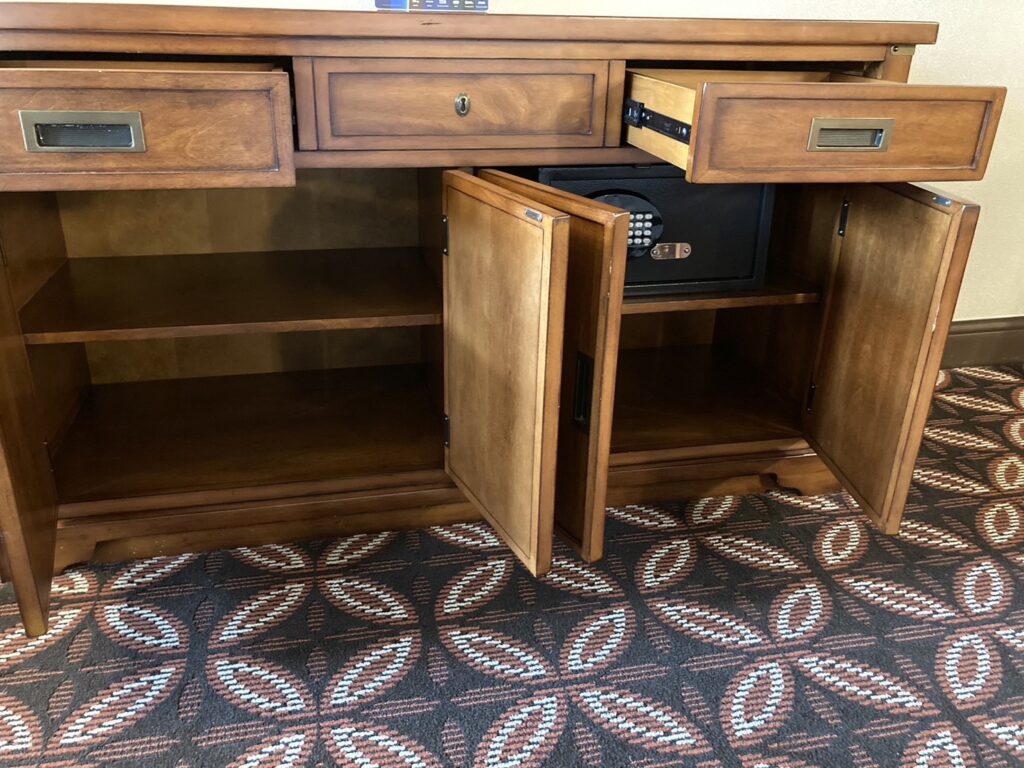 They apparently refill the PET bottles depending on the length of stay. It's appreciated since the water inside the park is expensive.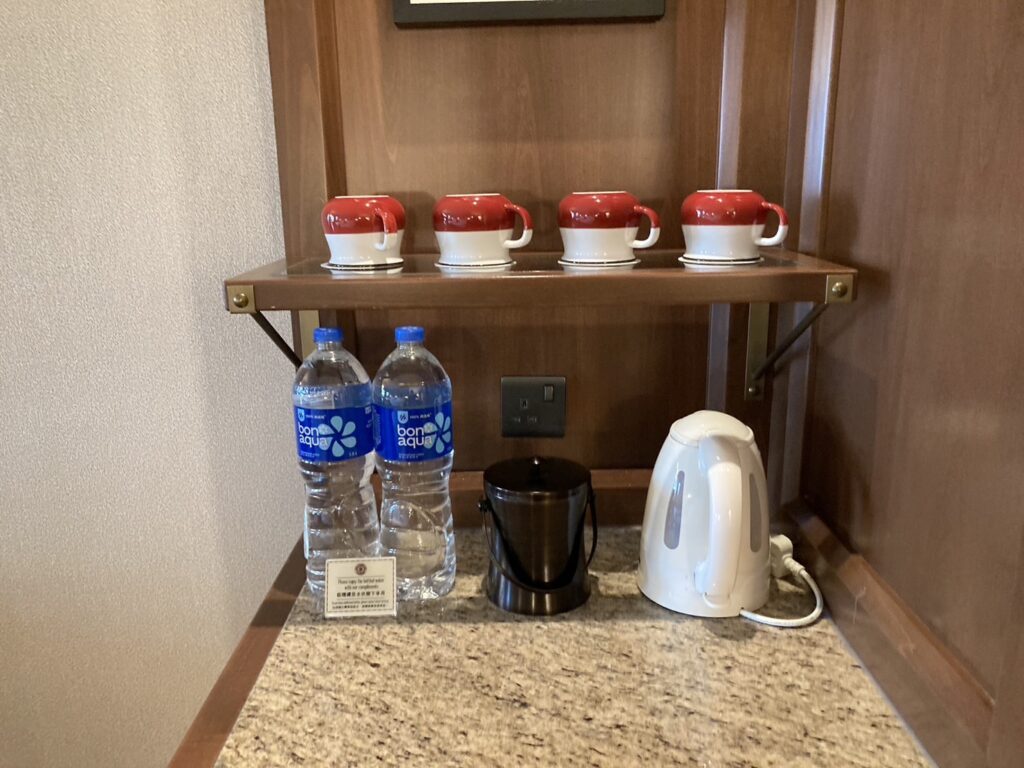 You can take the cups with you as amenities. Enjoy tea and coffee in your room.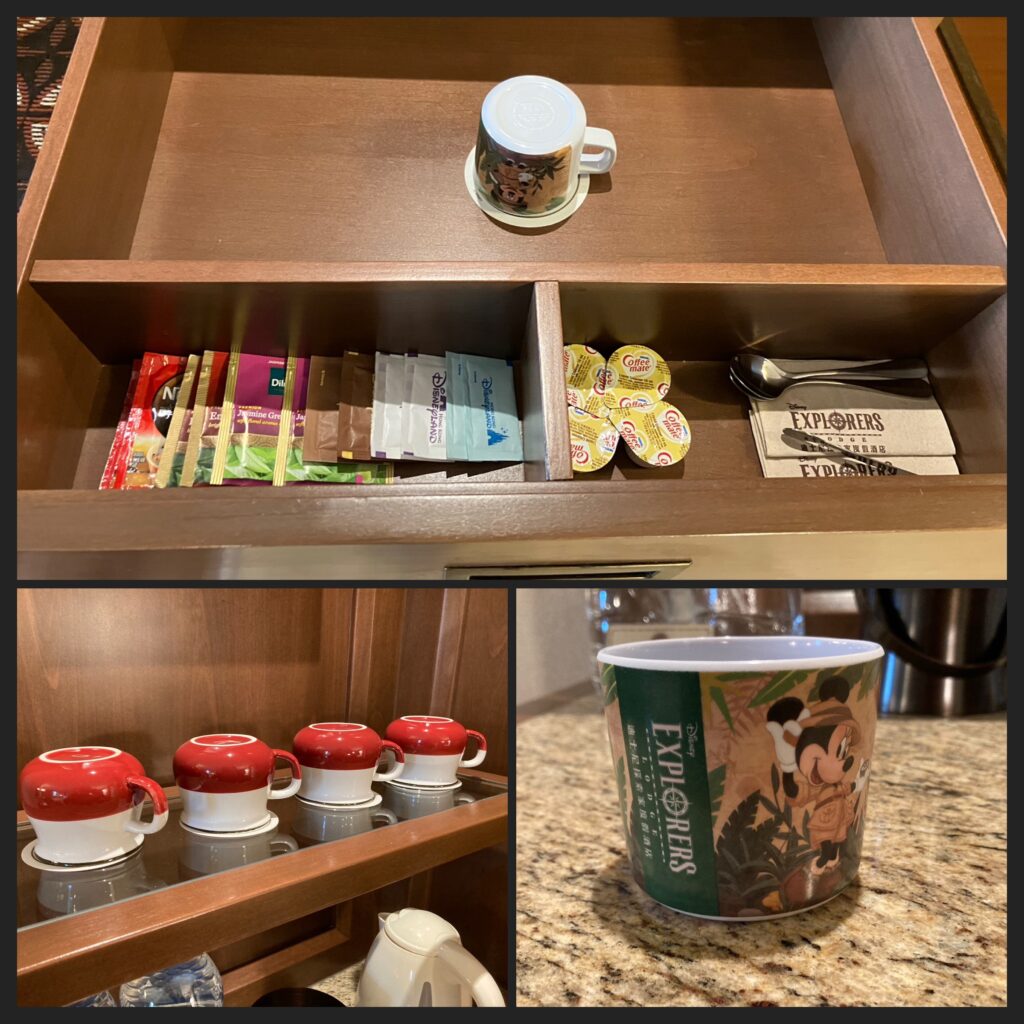 The refrigerator is empty, but you can purchase snacks and drinks (at a high price).
There is ample space for hangers and luggage storage.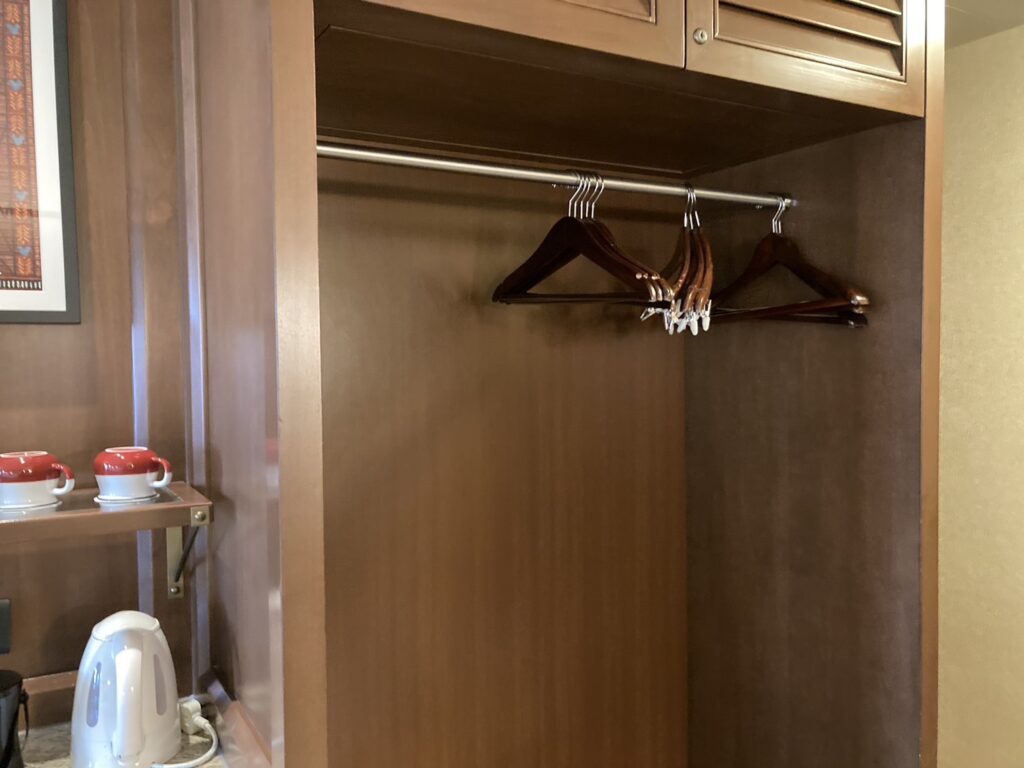 Slippers and pajamas are provided. However, there are no small sizes for children, so it's recommended to bring your own.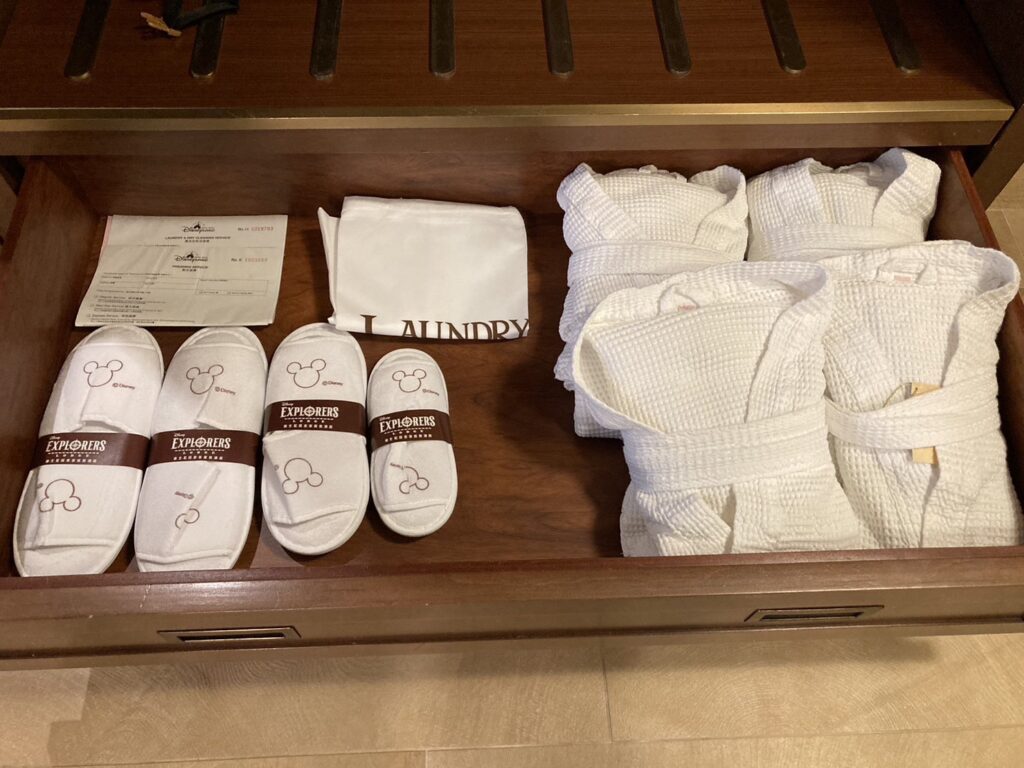 Bathroom
There is a washbasin in front of the bathroom, and behind the door, there is a toilet and a shower room.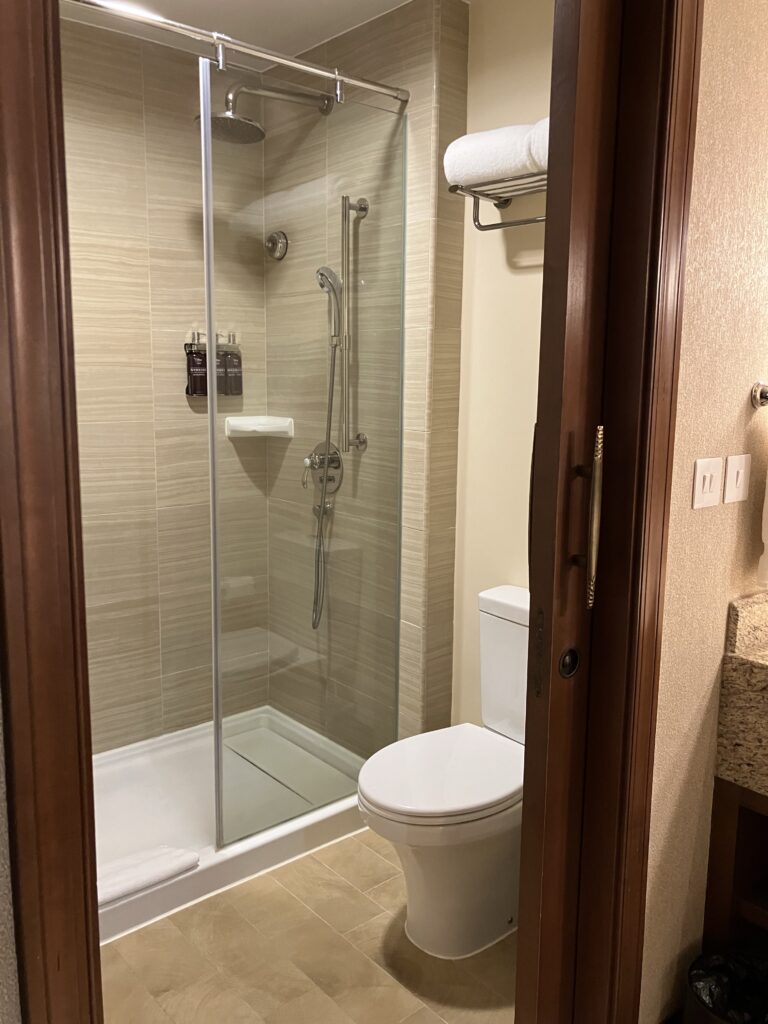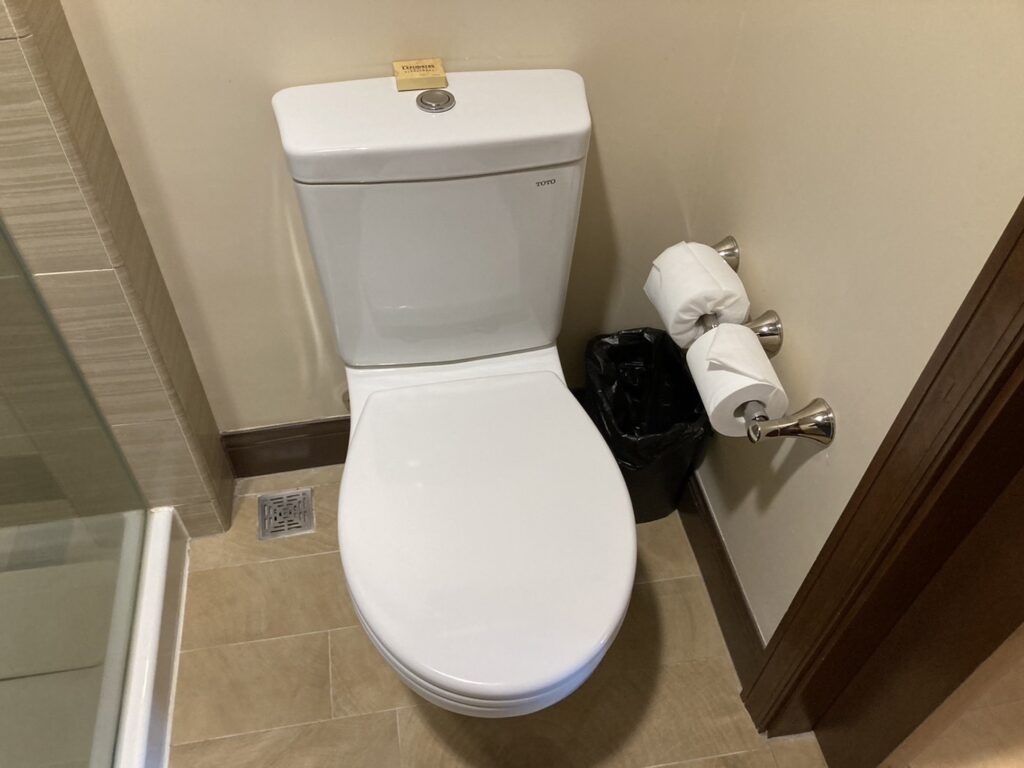 There is no bathtub, but it is spacious enough to bathe with a child. There are two types of showers: fixed and adjustable height. The bathroom is larger than our home (in Hong Kong) and the water pressure is strong, which was pleasing.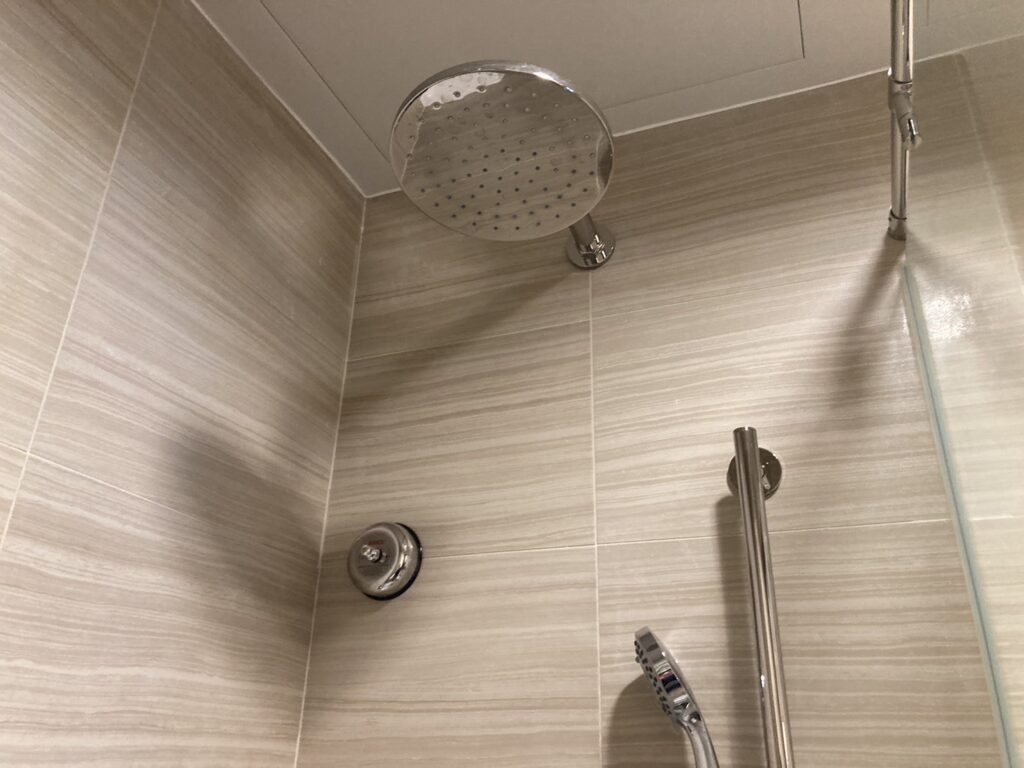 The body soap, shampoo, and conditioner are provided. We had no issues using the popular H2O+ products commonly found in overseas Disney resorts.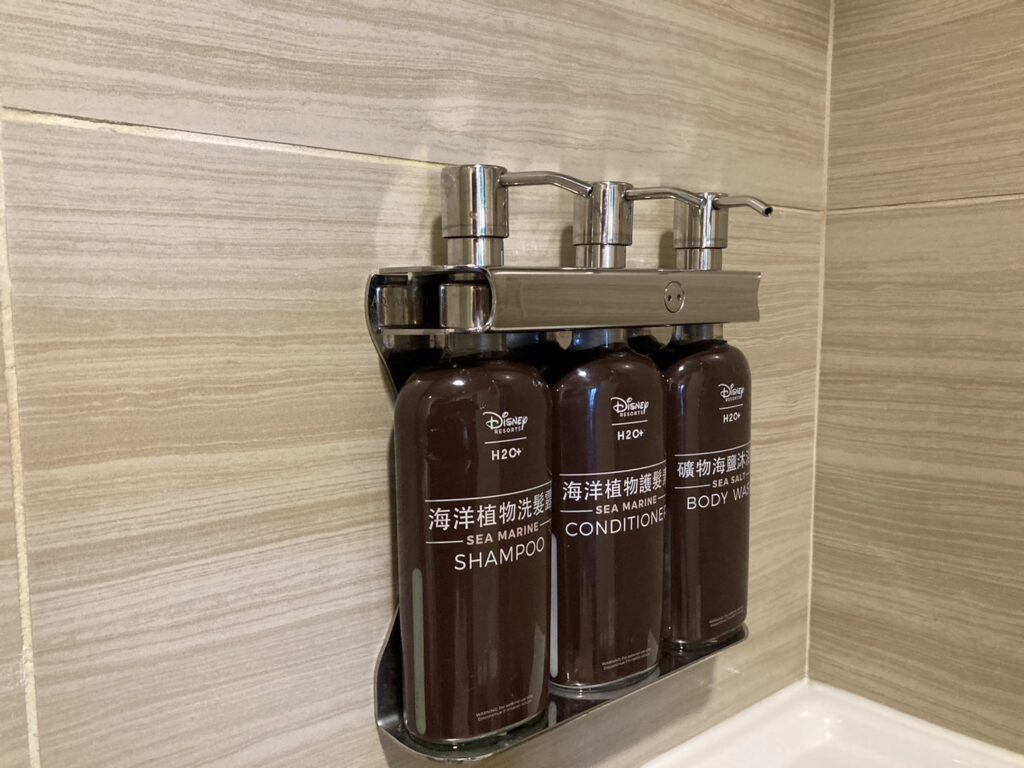 The contents of the souvenir cans that you can take home are: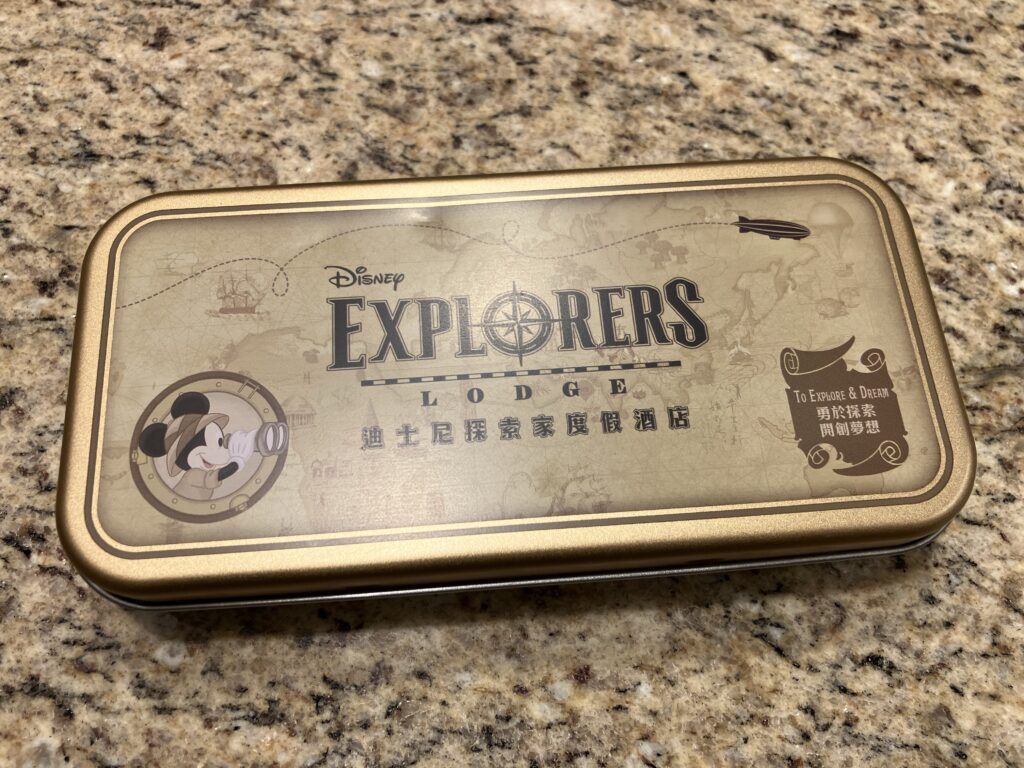 They include toothbrushes, razors, and combs!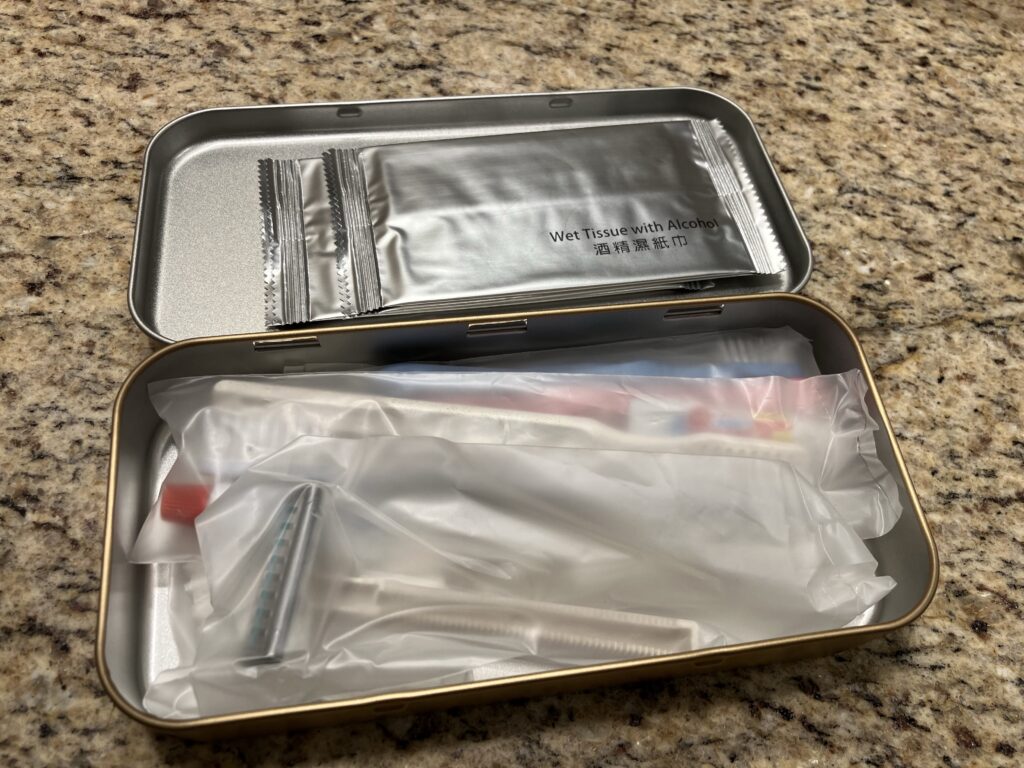 The washstand is equipped with a cup and soap.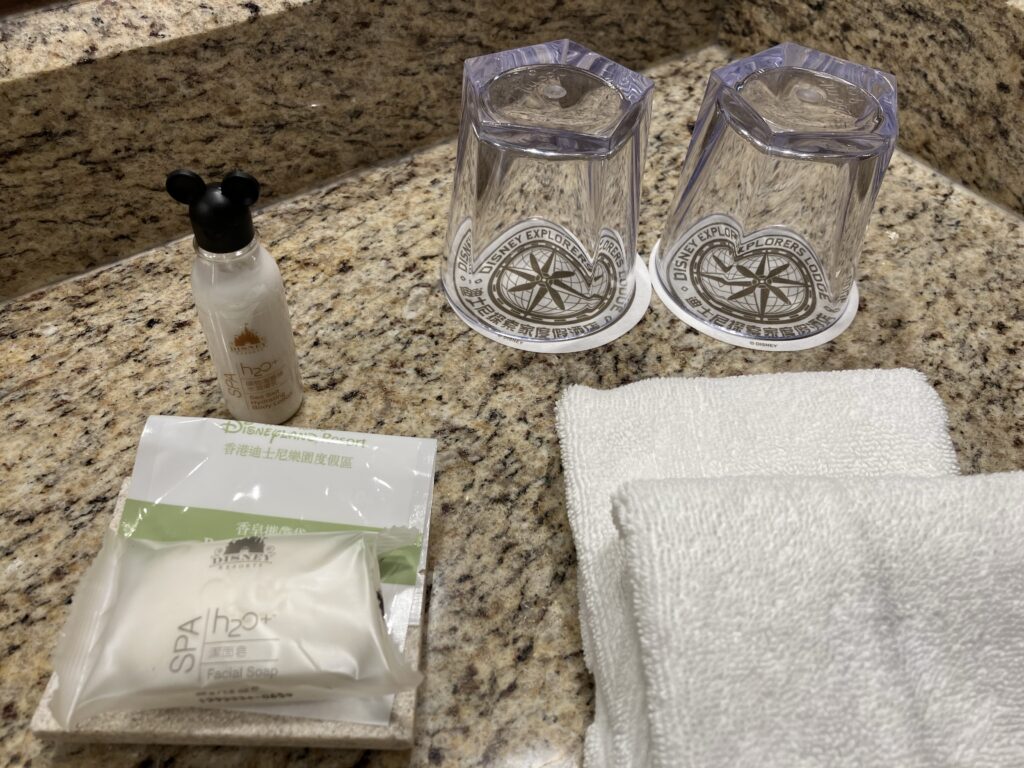 They also provide a bag for taking home this Mickey soap.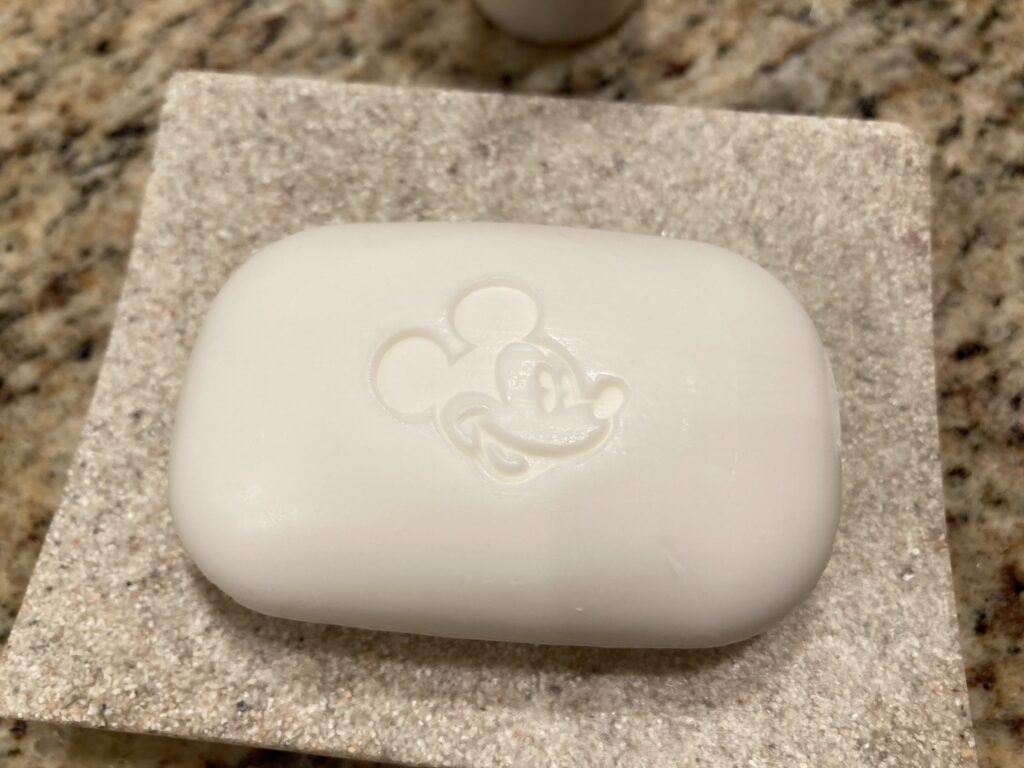 The hairdryer had good air pressure.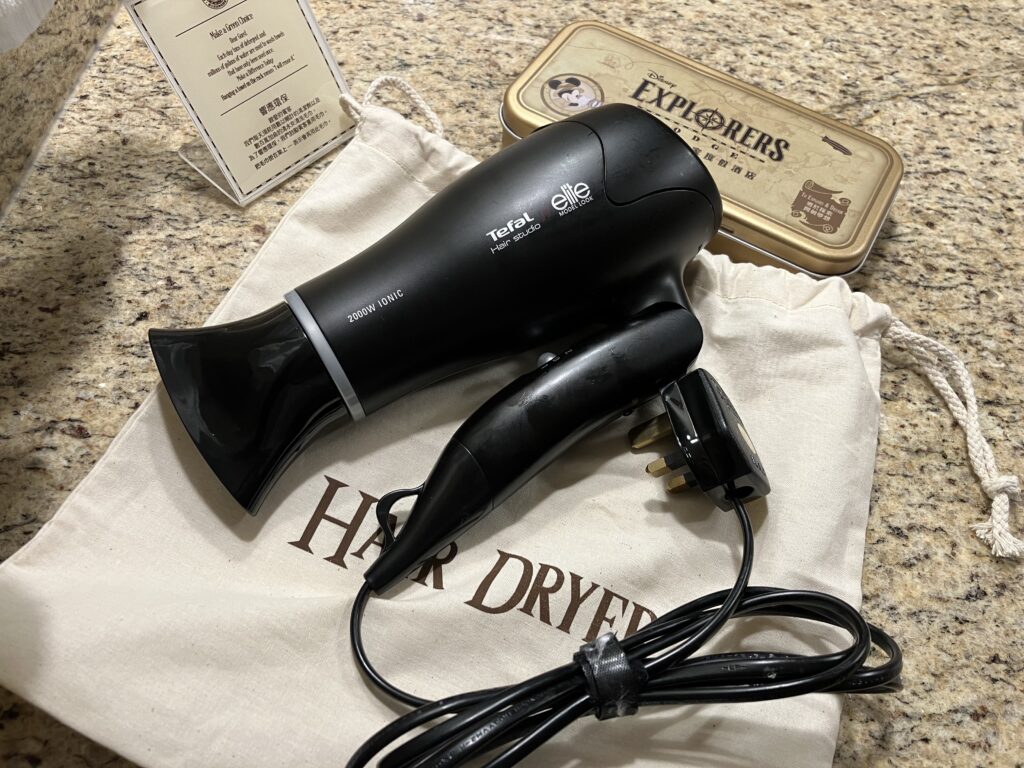 Summary
It's a beautiful hotel, and everything was comfortable. The room was spacious, with enough space to open about three suitcases. Since I couldn't write everything at once, I would like to report on the hotel facilities and activities at a later date.
Thank you for reading!
Book Now – Disney Explorers Lodge