Hello.
I am writing a series of stay reports for Disney Explorers Lodge, and today's topic is about the activities exclusively available to hotel guests. Please join me if you are interested.
Book Accommodation 👉 Disney Explorers Lodge
Click here for past articles.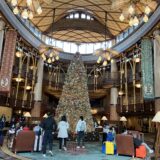 【Hong Kong Disneyland Hotel】Staying at "Disney Explorers Lodge" – Entrance and Room Tour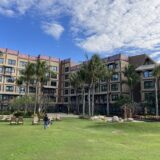 【Hong Kong Disneyland Hotel】Staying at "Disney Explorers Lodge" – Hotel Exploration Edition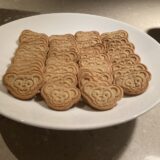 【香港ディズニーホテル】「Disney Explores Lodge」に泊まってみた〜朝食編〜
What are Hotel Recreation Activities?
Guests staying at Hong Kong Disneyland hotels can participate in various activities held at each hotel's facilities. From free activities to paid ones! The activities offer enjoyment for both adults and children, although some activities have age restrictions, so please be aware of that.
Check the activities for the day posted in the lobby.
Activities that require advance registration can be arranged at the front desk.
The content of the activities may vary depending on the season, weather, and day of the week. When I stayed, the activities included the following: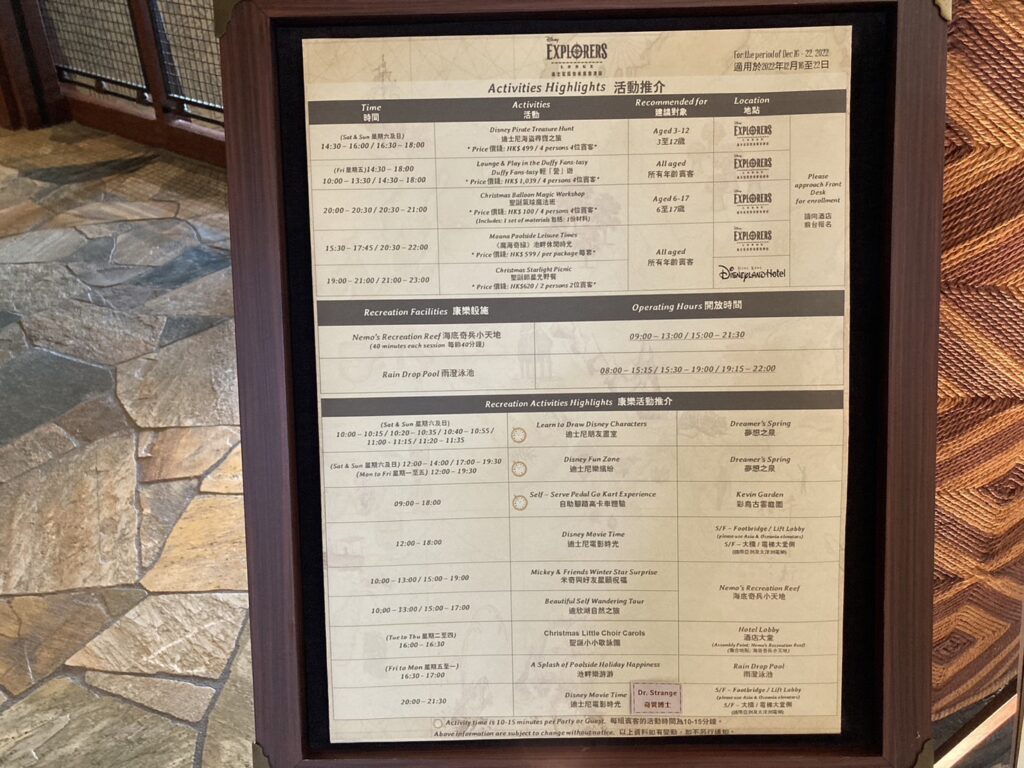 You can scan the posted QR code to see more detailed information.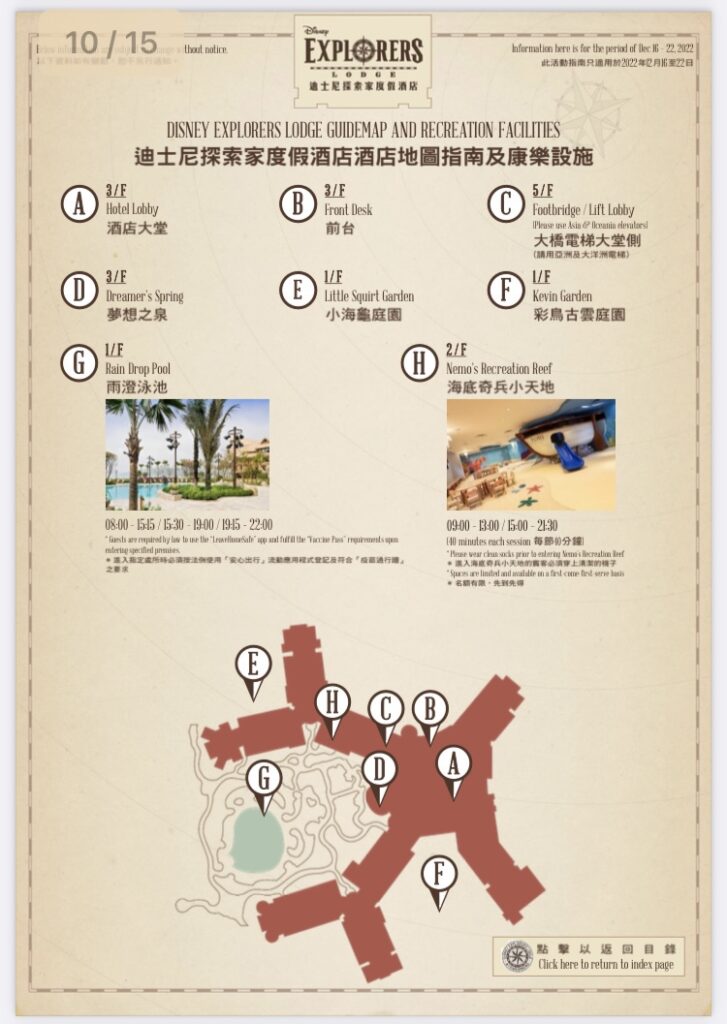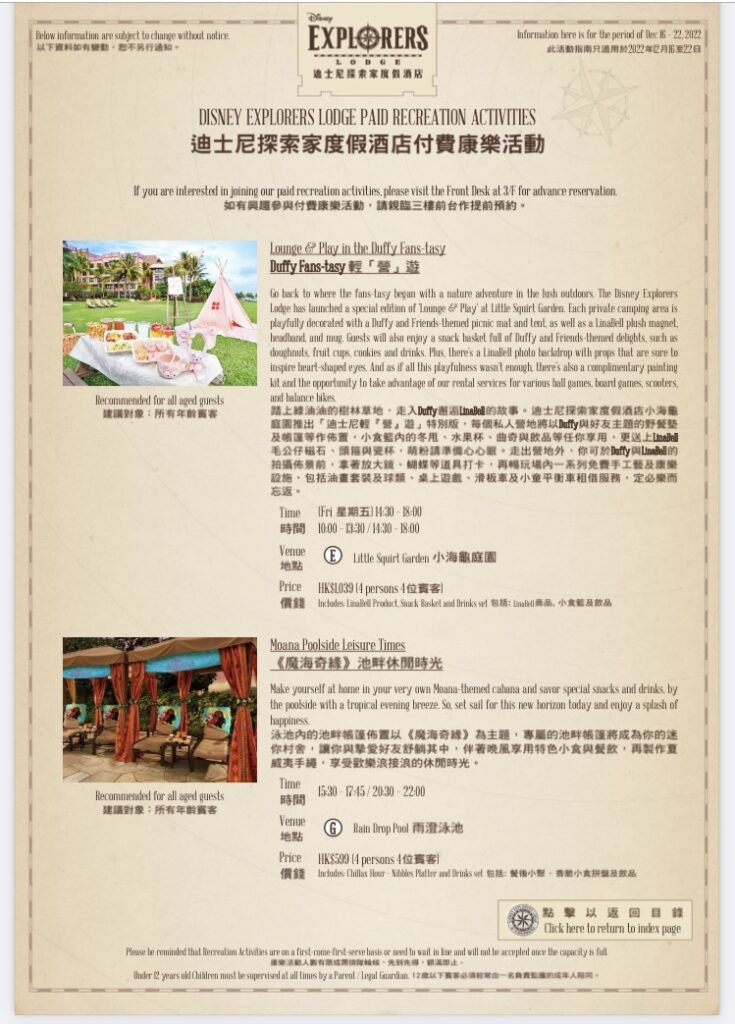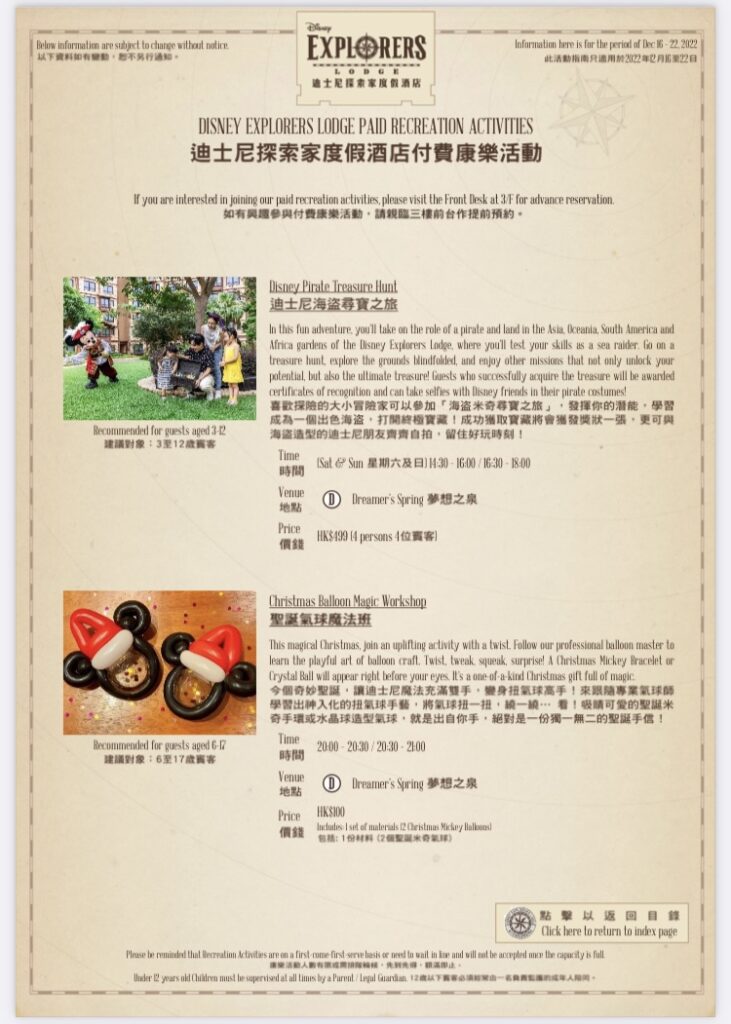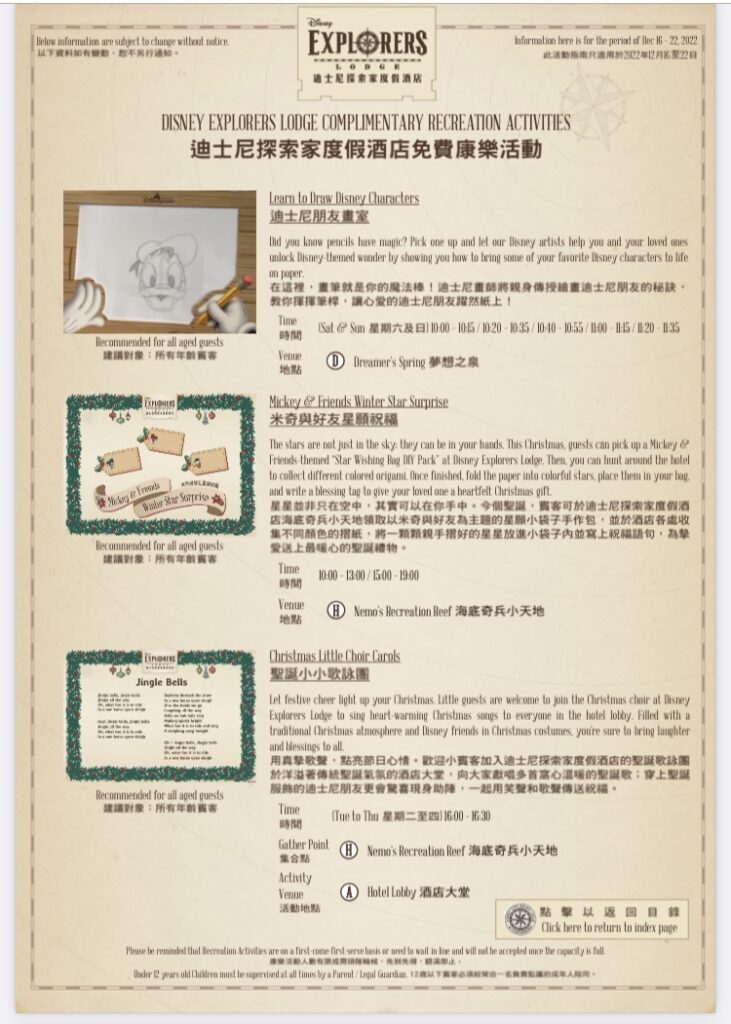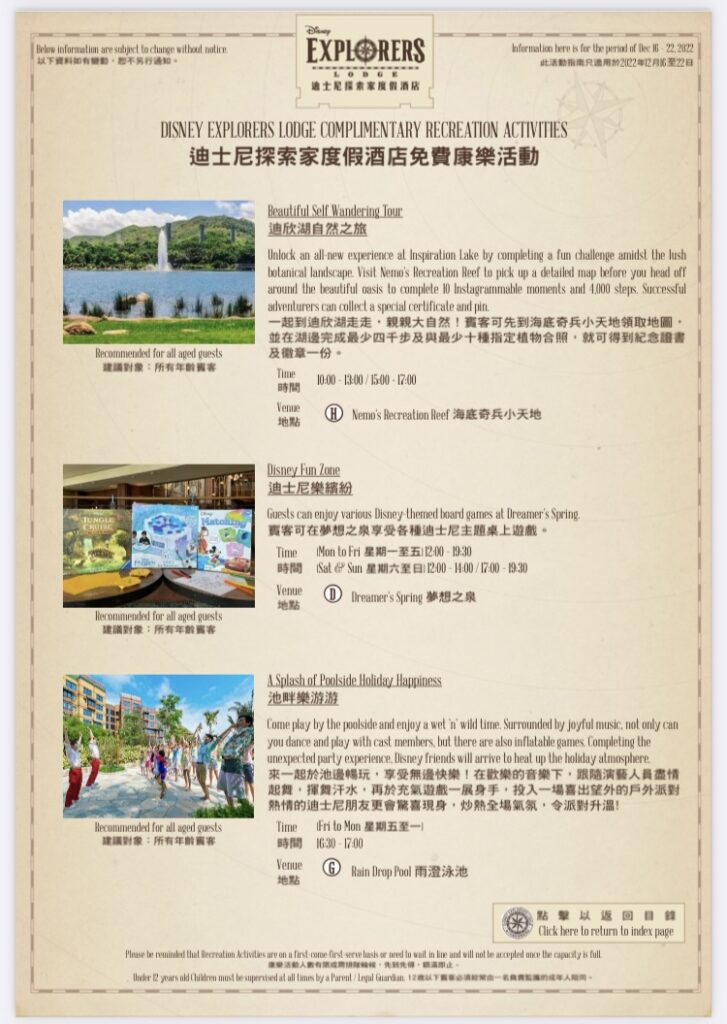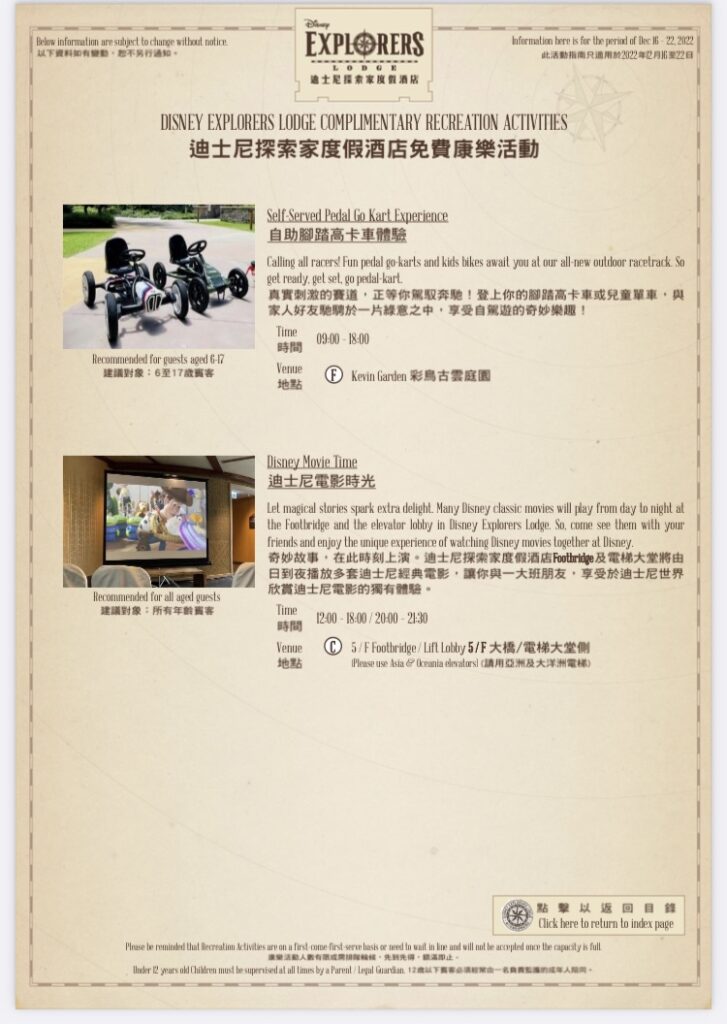 Participating in the Beautiful Self Wandering Tour
We participated in this activity!
Activity Details
It's a free activity where you need to find and take photos of 10 specified plants at Inspiration Lake (officially known as "The Inspiration Lake Recreation Center") in the Disney Resort. At the end, you will receive a special certificate and pin.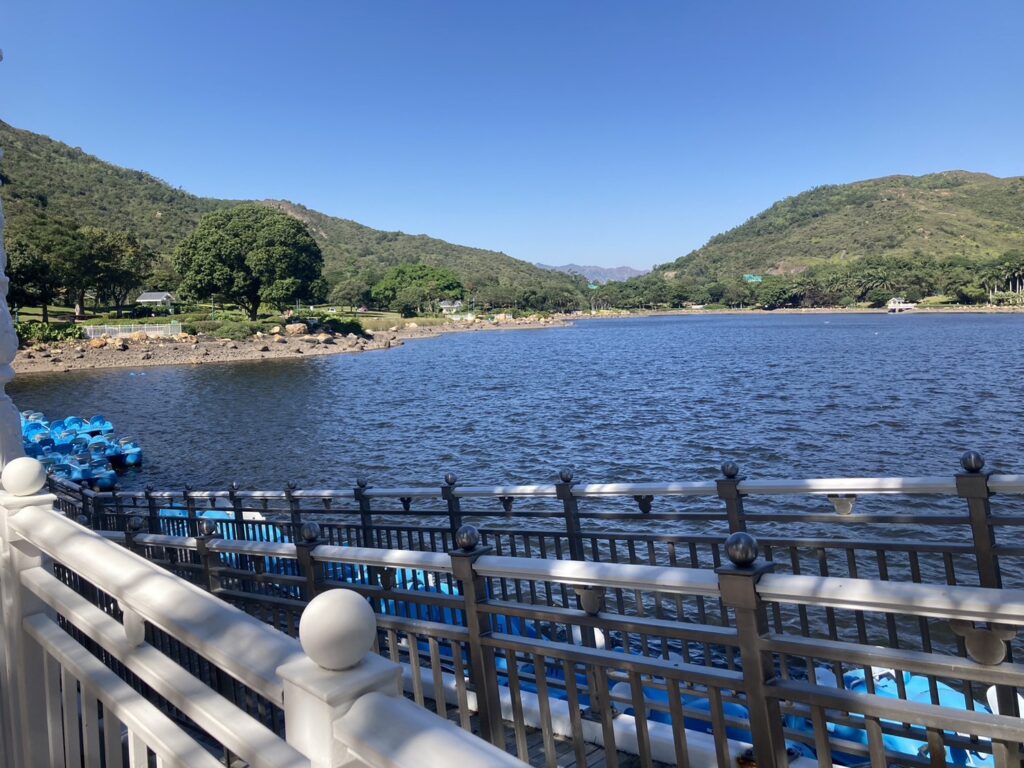 ①Participating in the Mission
When you inform them of your participation at "Nemo's Recreation Reef," you will be given a mission sheet. It contains photos of the 10 specified plants, and the mission is to take photos of them.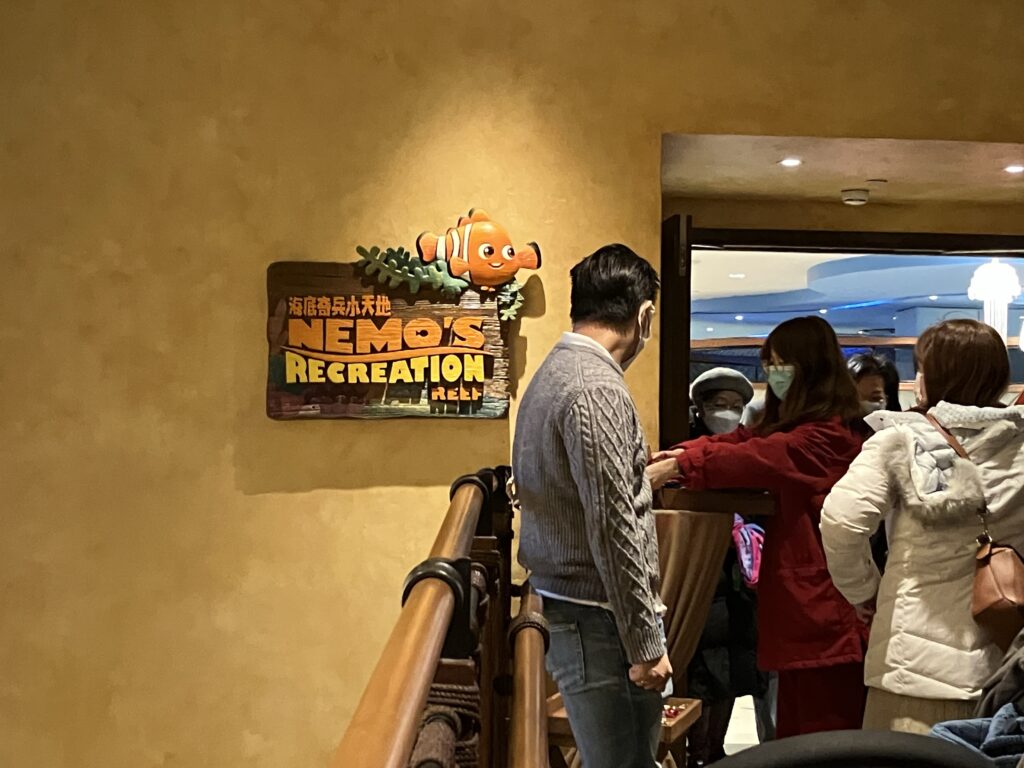 ②Heading to Inspiration Lake
The area within the Disney Resort is very large, as you can see from the map!
I didn't realize that the lake was so far away, so I immediately felt rushed…
Not only that, but there are specific time slots: 10:00-13:00 and 15:00-17:00, within which you need to complete the mission.
I couldn't find the location of Inspiration Lake and got lost right away. I received a map from the doorman and managed to start!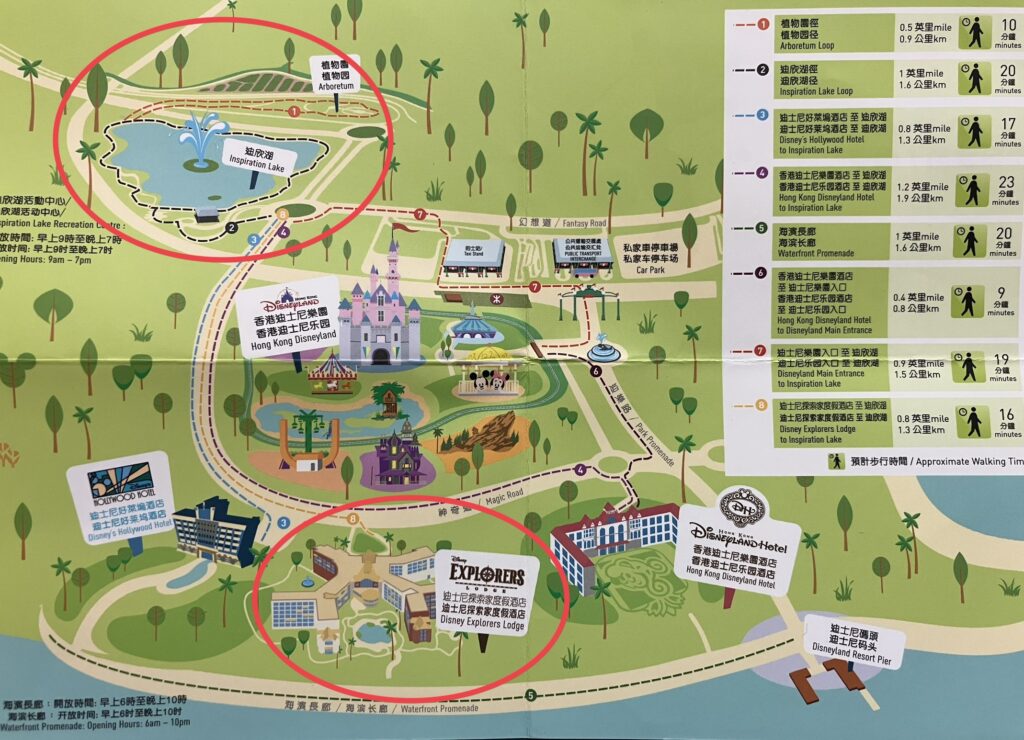 As you can see from the map, it's quite a distance from the hotel to the lake, about a 15-minute walk. There are no buses stopping near the lake, so it seems the only way to go is by foot unless you use a taxi.
※ It seems you can take a bus called R8 from the bus terminal near Disneyland station!! (Added in May 2023)
There are signs along the way, so you can easily find your way by following them.
③Arriving at Inspiration Lake
Entry to this place is free, so there were people jogging, taking walks, and children playing in the play area.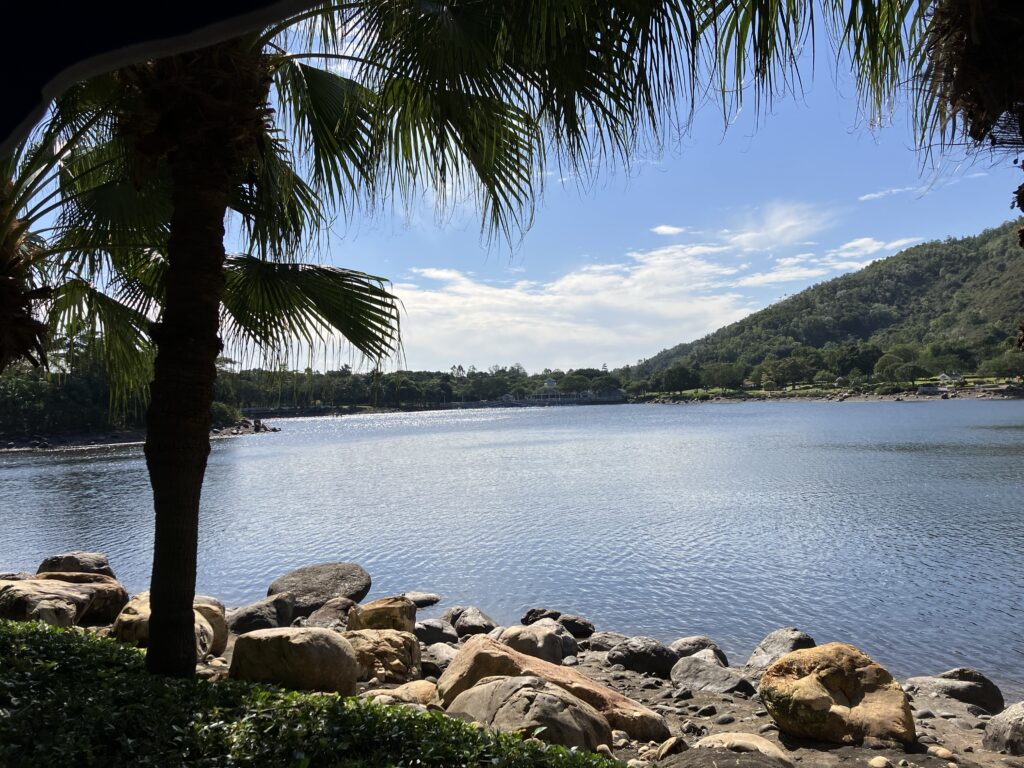 There is a play area next to the entrance.
It's a beautiful park with a 12-hectare man-made lake on a 30-hectare site.
Inside the park, there is a 7-Eleven (9:30-18:45) and restrooms available.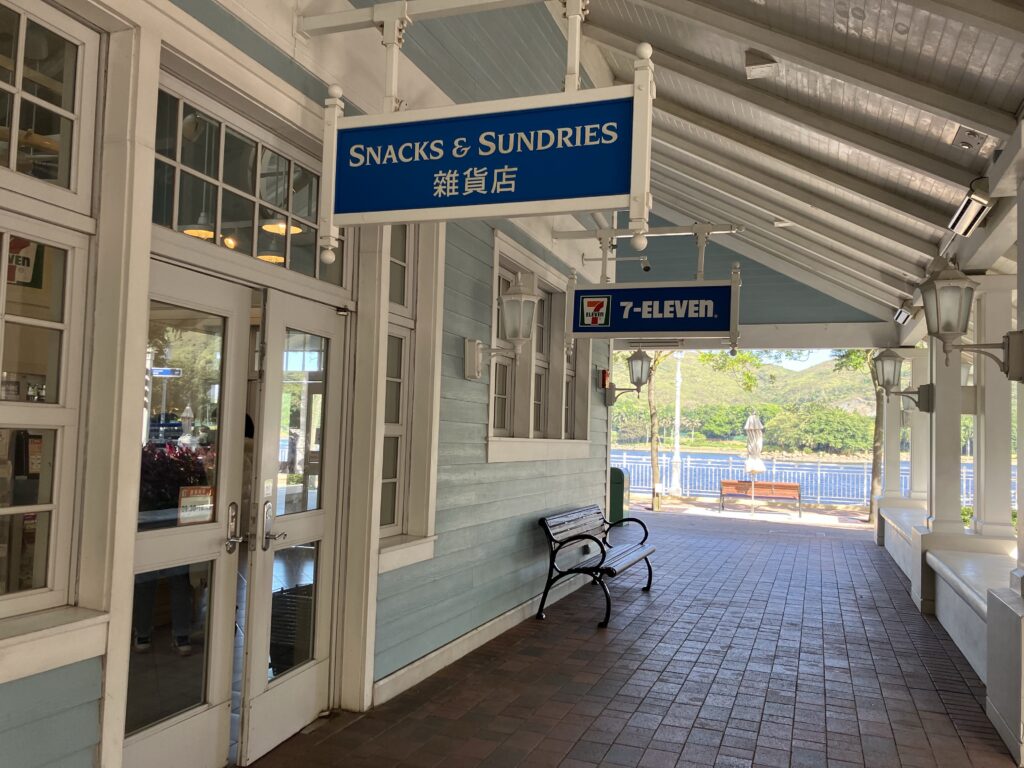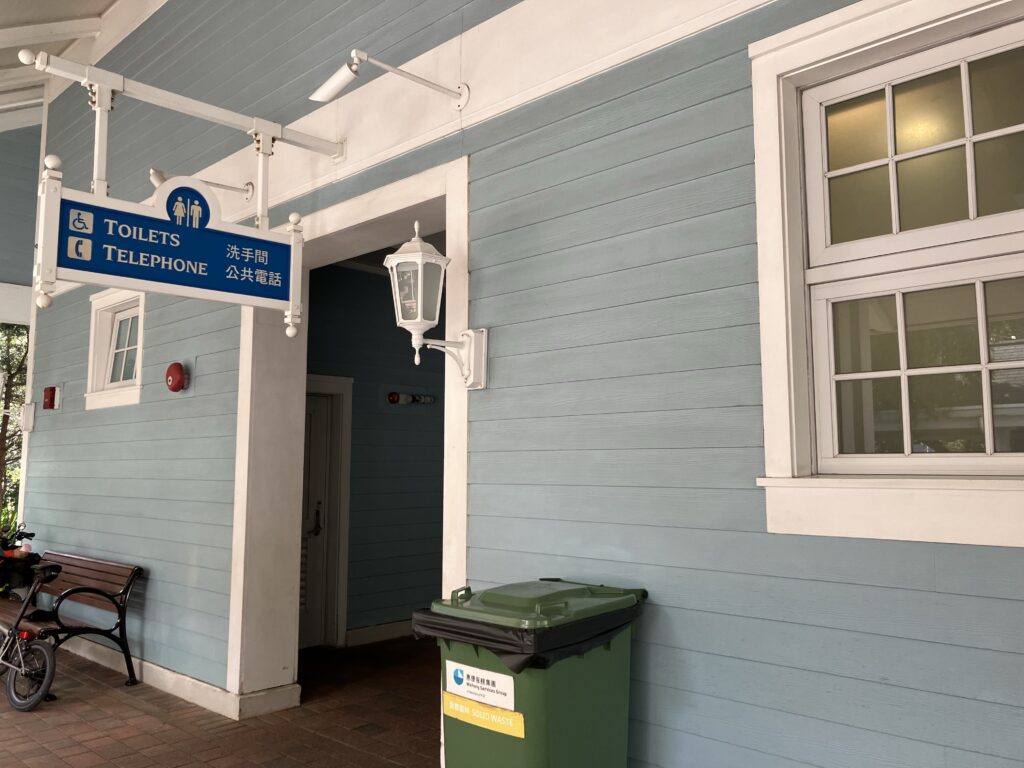 We decided to rent bicycles (10:00-16:30) at the entrance! It's my first time riding a bicycle since coming to Hong Kong.
Boat rentals (10:00-16:30) were suspended due to strong winds.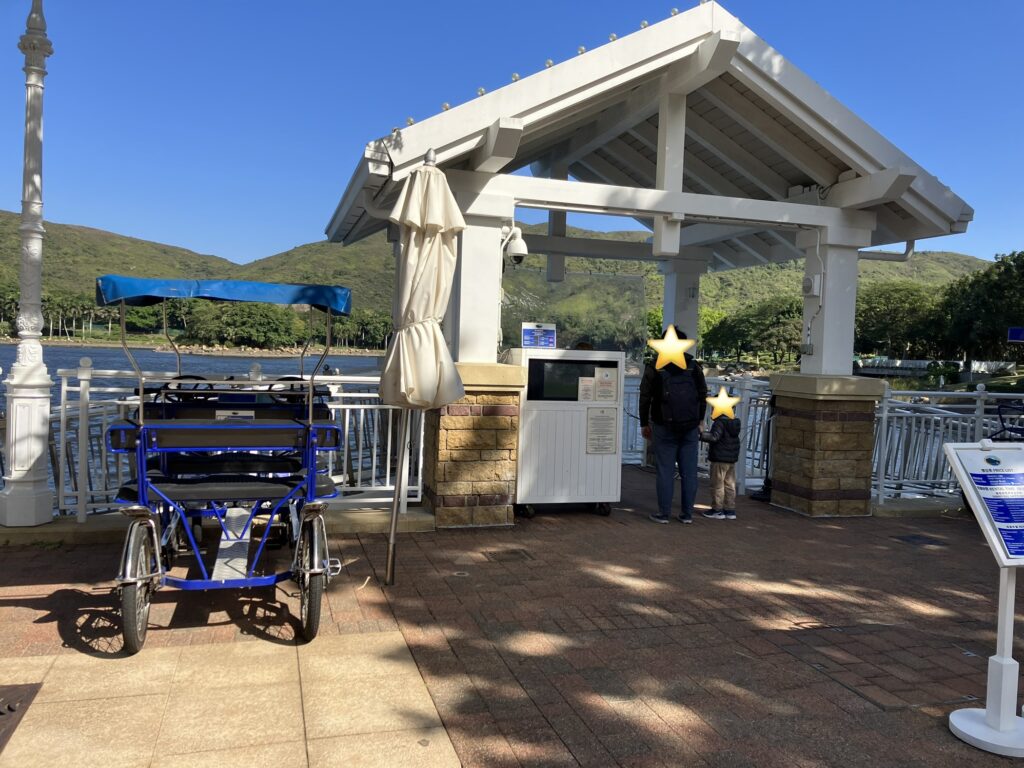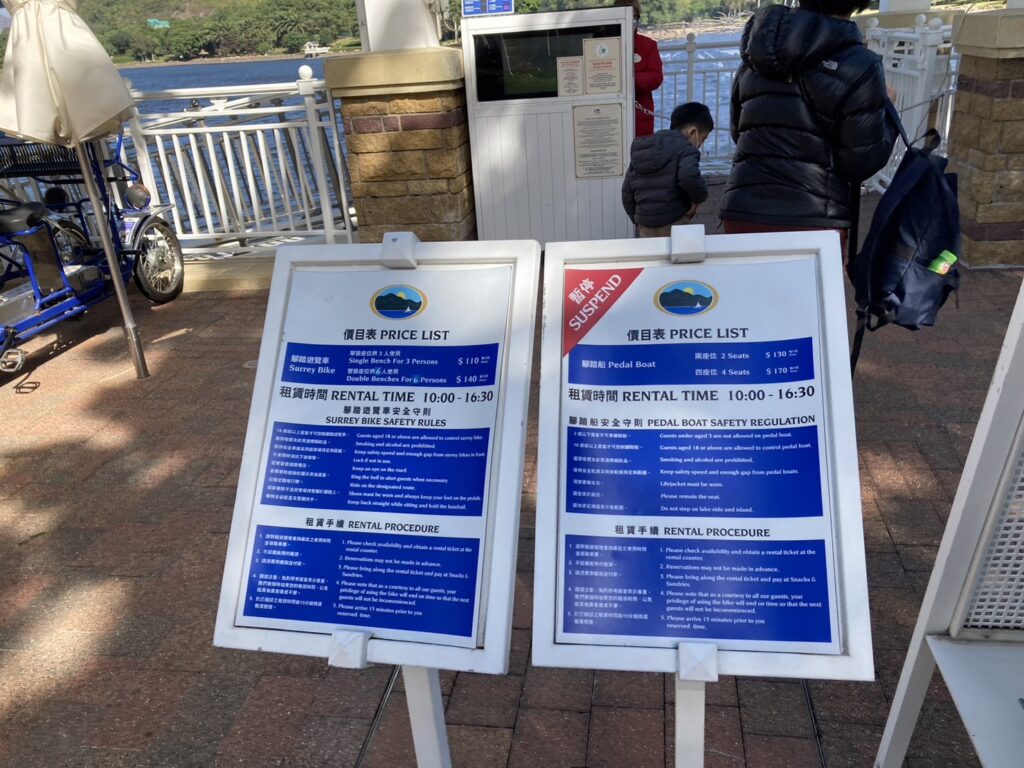 We rented a three-seater bicycle (HKD110). In addition to the three-seater, there was also a six-seater (HKD140). There were only about two of each available.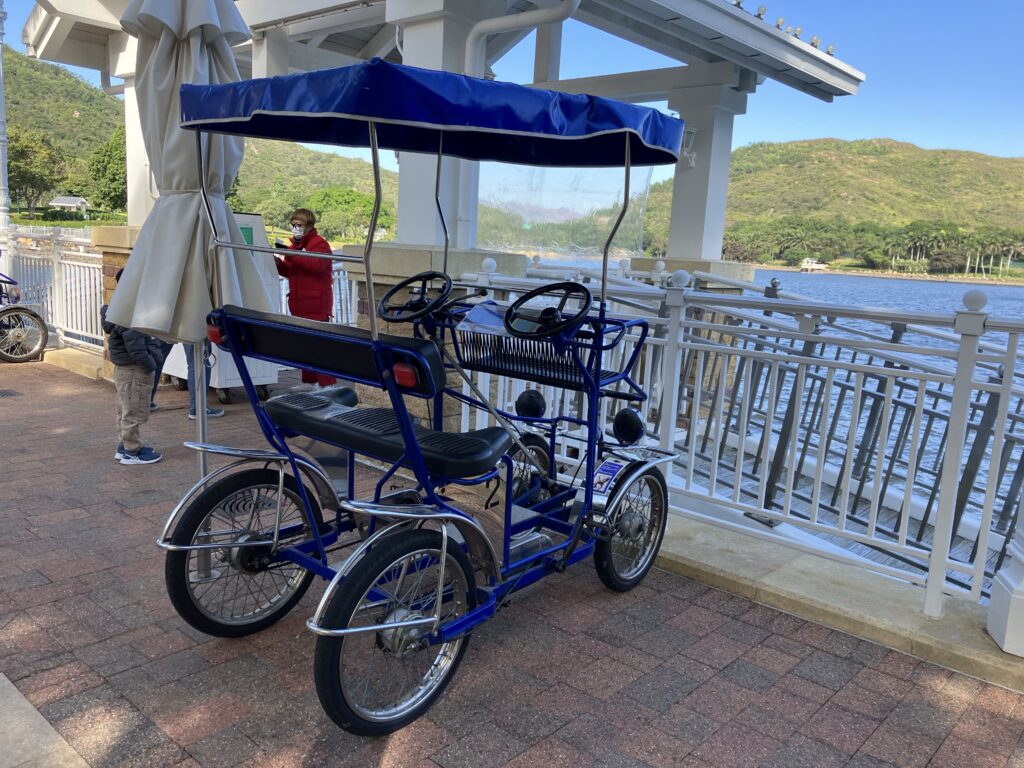 We informed the staff of our rental and paid right next to the 7-Eleven.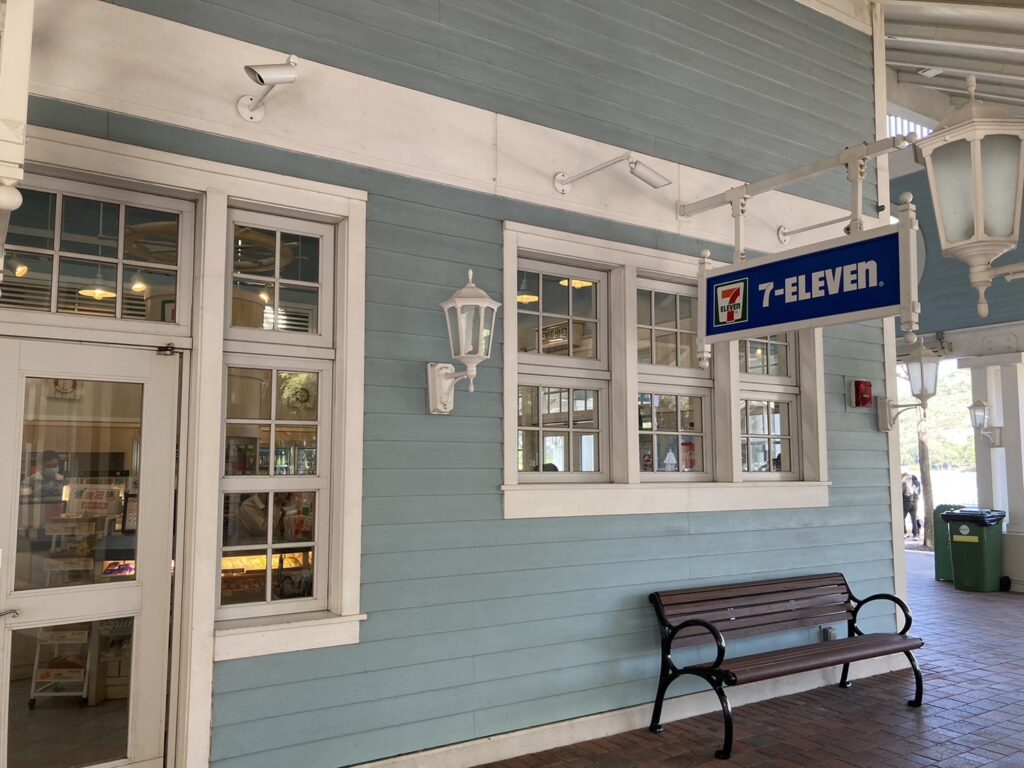 The inside of the 7-Eleven is the same as usual. It's not Disney-priced. The store closes at 18:45, but it's a good place to stock up on snacks and drinks for long stays.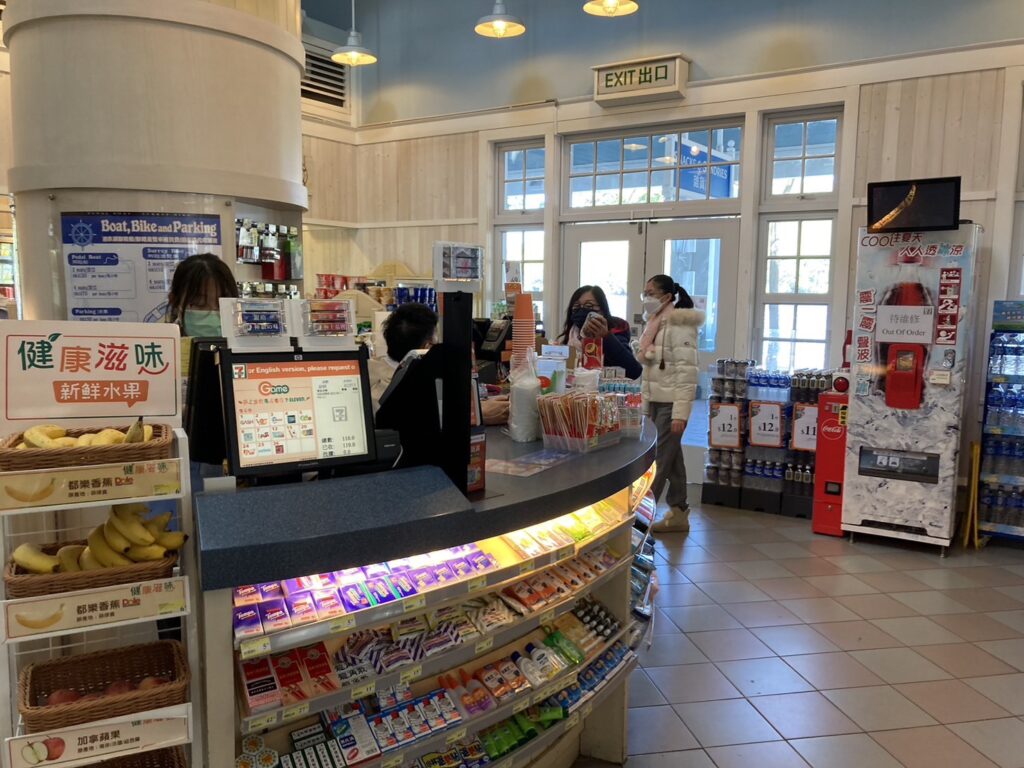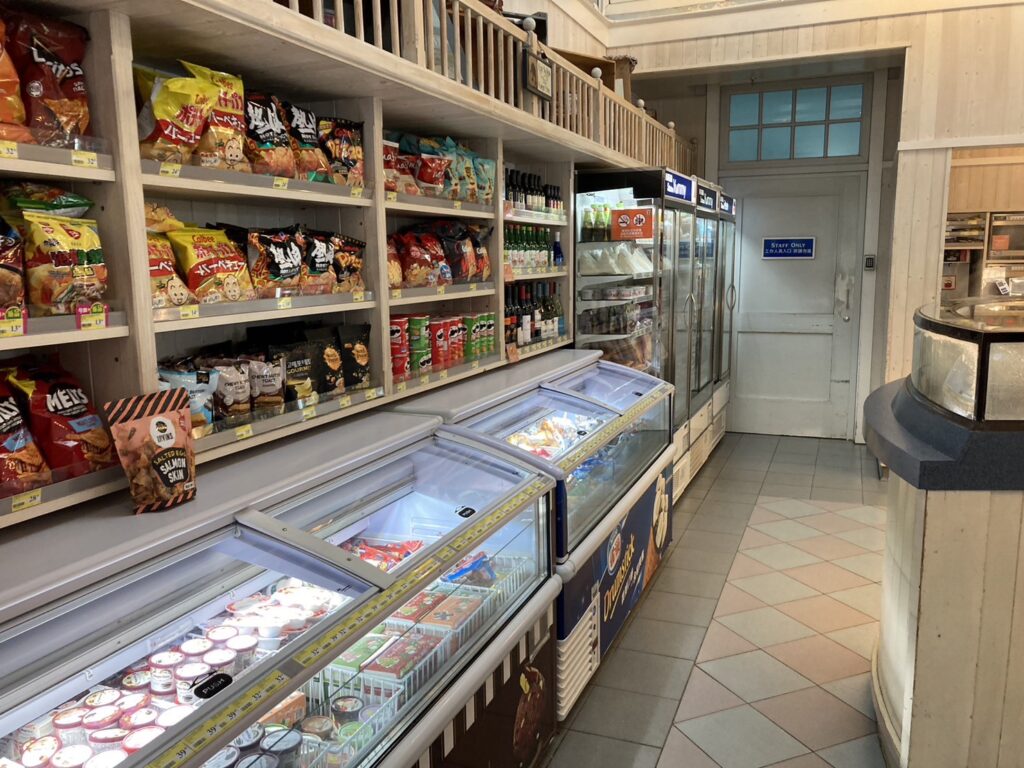 ④Starting the Search for 10 Plant Species
It was a chilly day, but the sun was shining, making it perfect weather for cycling.
Since we had children with us, renting bicycles was the right choice! It takes quite some time to go around the lake.
Moreover, it was difficult to find the plants. The park is filled with trees, making it quite challenging. We relied on the mission map to search for them, but the way the leaves were growing differed depending on the season, making it uncertain whether it was the same plant or not. Despite my skepticism, we managed to take photos of all 10 species after an hour.
Along the way, we saw friends taking photos, having picnics, and little kids roller skating. It seems like everyone simply enjoys the park for its recreational purposes.
It was such a beautifully lush space that I would love to visit if I lived nearby.
The mission sheet. We searched for the plants shown in the photos.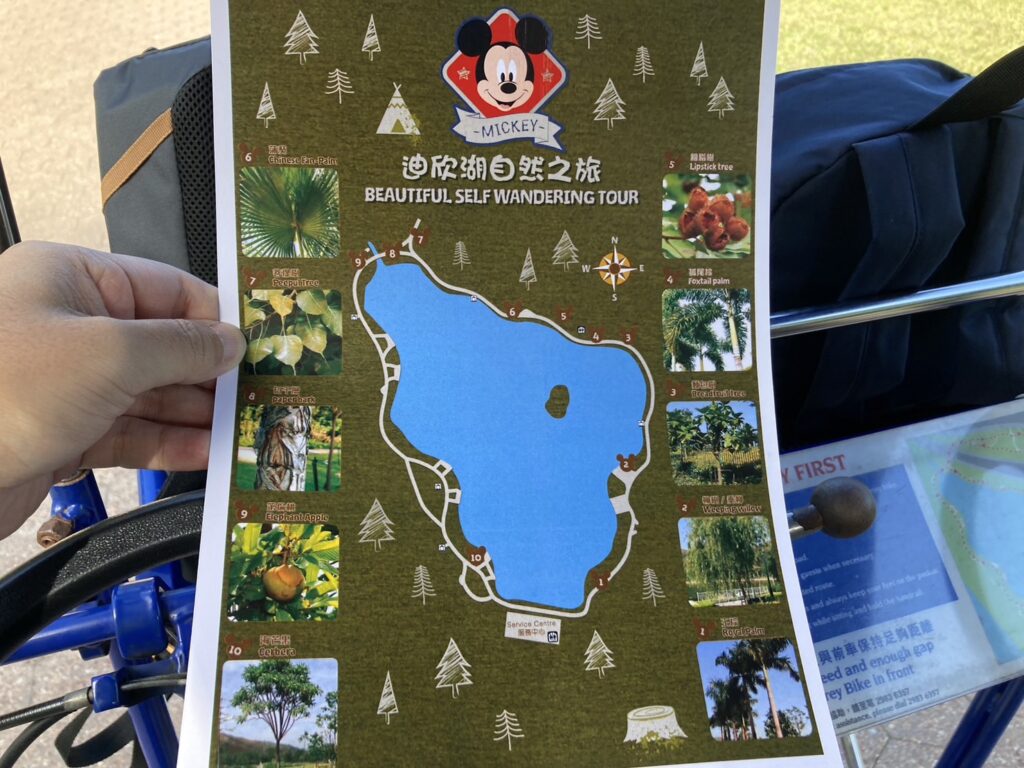 It's difficult to find the plants since there are no descriptions or labels.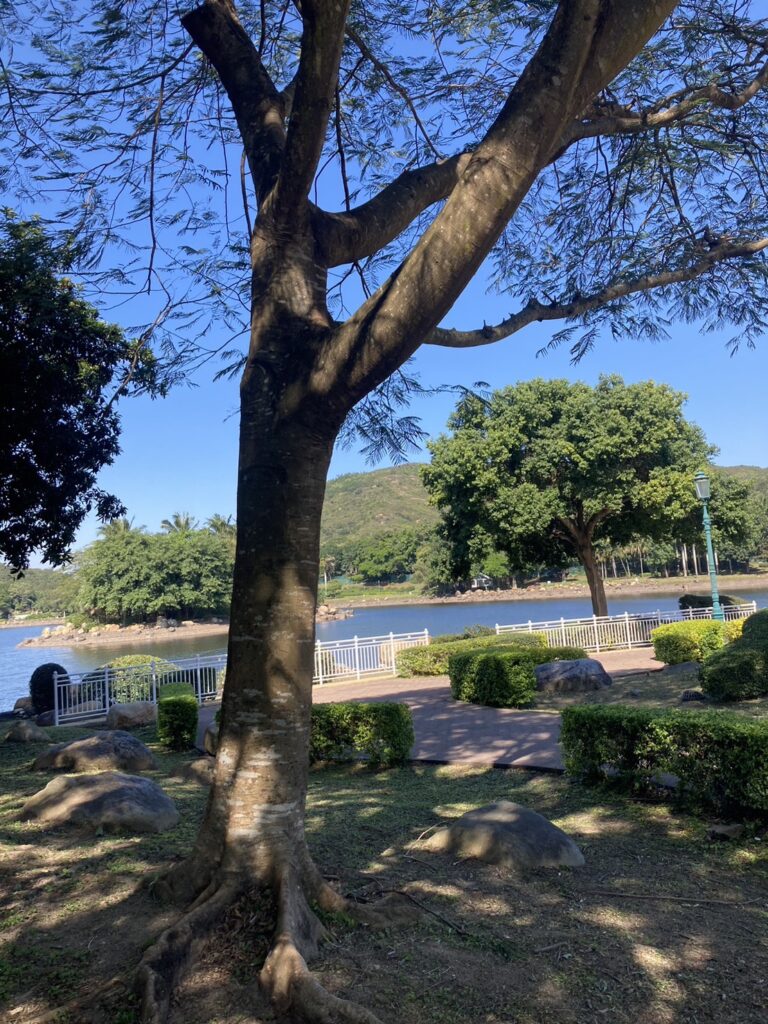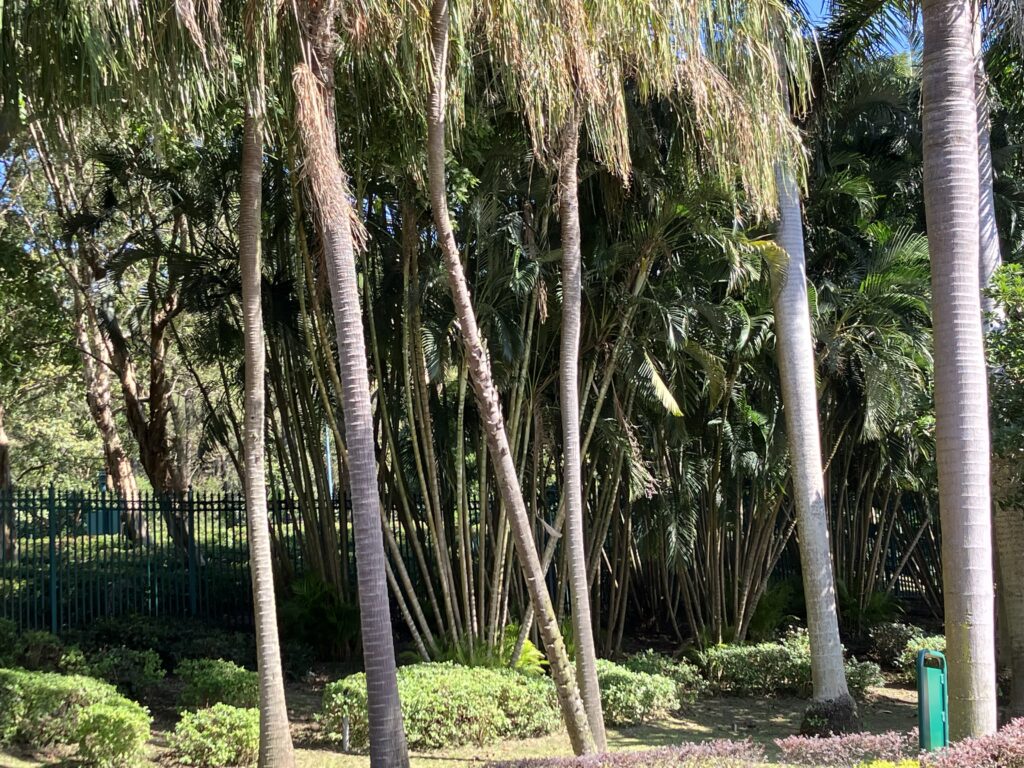 The view was amazing!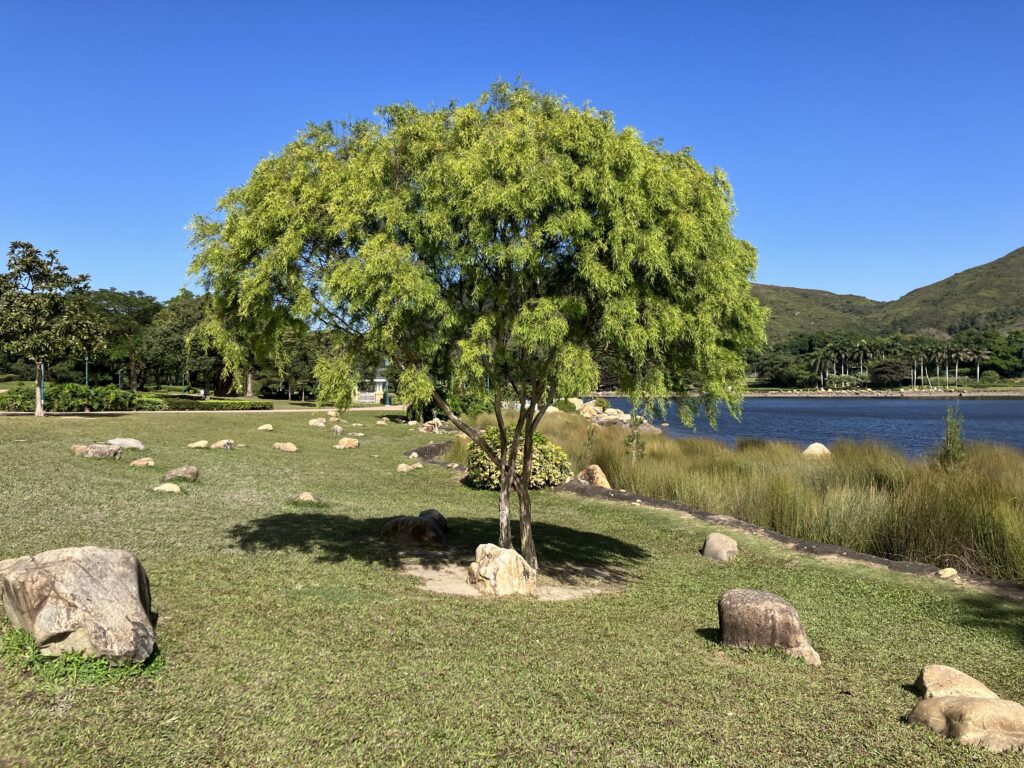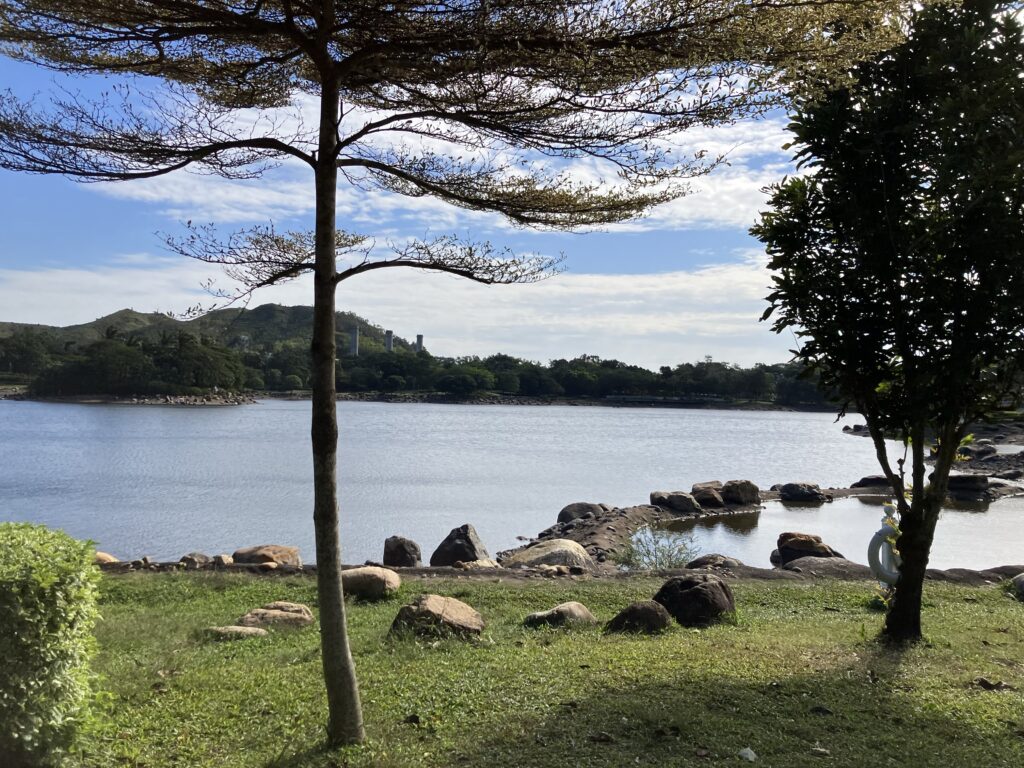 We continued riding our bikes, getting on and off, and searching for the plants.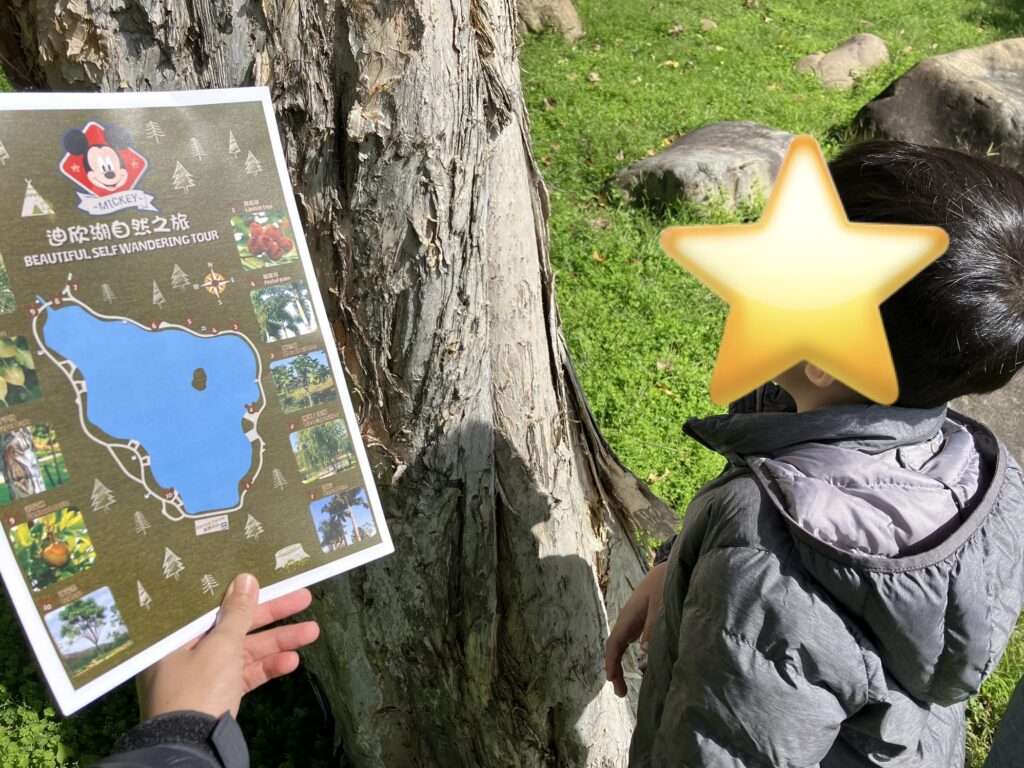 We took photos once we found them, and repeated the process.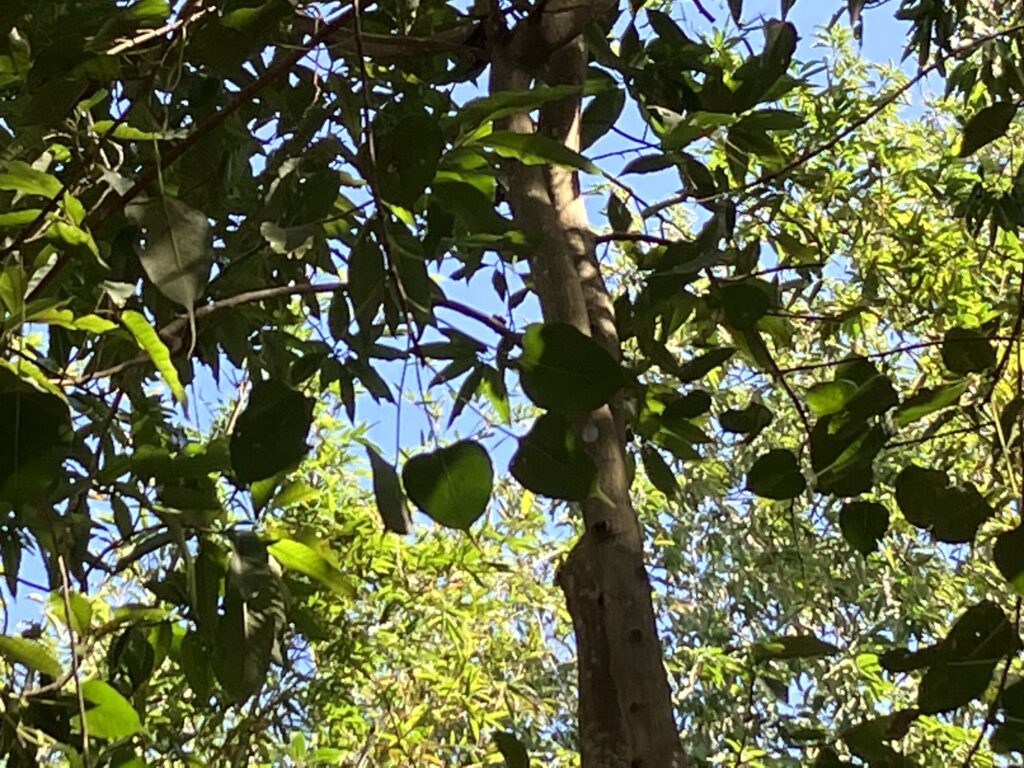 ⑤Reporting Mission Completion and Reward!
We managed to return to the hotel within the designated time. We went to "Nemo's Recreation Reef" to have our photos checked.
I thought it would be a simple verification, but the cast member checked it thoroughly and attentively… They tilted their head a few times, but eventually gave us the OK! Phew…! (I wonder what would have happened if we had taken completely different photos…?)
We received the certificate and pin as our reward. Jiminy Cricket is quite stylish! Also, although it wasn't mentioned, we also received a Minnie Mouse water bottle! The mission was more challenging than we expected, but it became a fun and memorable experience.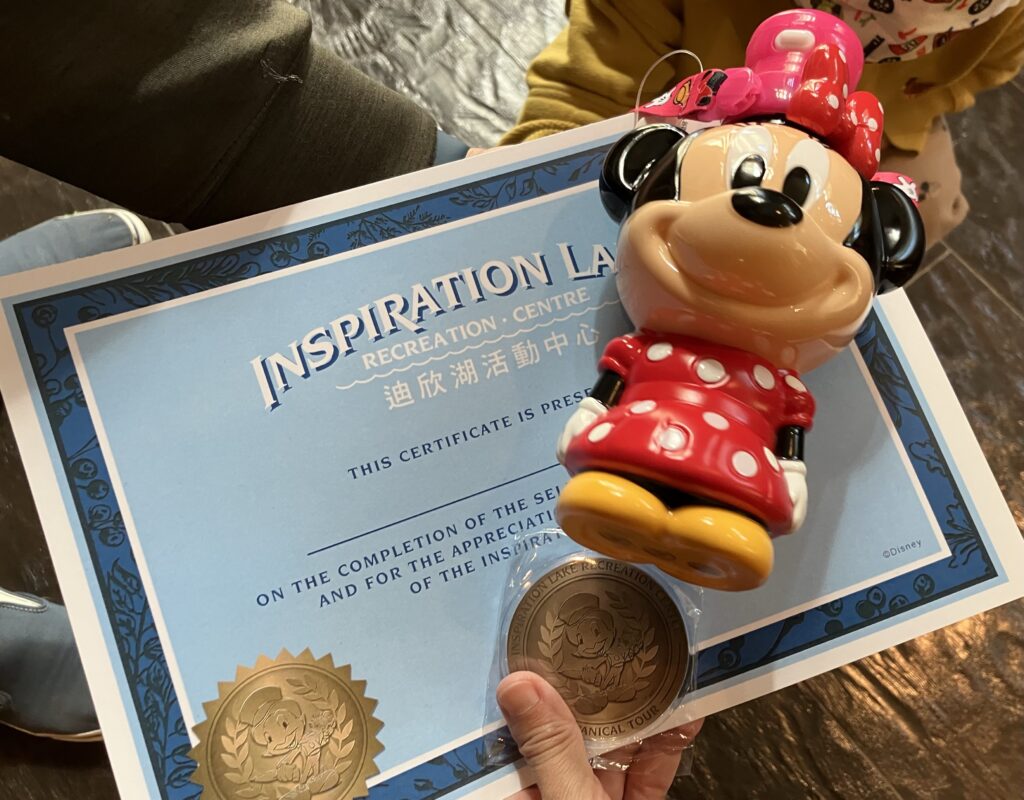 Conclusion
When reporting the mission, I caught a glimpse of a paper with the names of the participants, but besides us, there was only one other group listed. Perhaps there weren't many participants for this activity, haha.
It seems like this activity is for those who have some extra time on their schedule (it still takes about 2 hours), and it's limited to sunny days. It was a great opportunity to spend time in nature and I had a lot of fun. If you're interested, I highly recommend giving it a try.
Thank you for reading today!
Book Accommodation 👉 Disney Explorers Lodge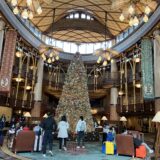 【Hong Kong Disneyland Hotel】Staying at "Disney Explorers Lodge" – Entrance and Room Tour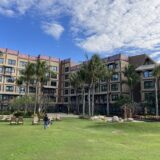 【Hong Kong Disneyland Hotel】Staying at "Disney Explorers Lodge" – Hotel Exploration Edition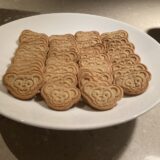 【香港ディズニーホテル】「Disney Explores Lodge」に泊まってみた〜朝食編〜