During the Christmas season, such a postbox appears inside Hong Kong Disneyland!
It's called "Holiday Wishes Mailbox."
【klook】Hong Kong Disneyland Park Tickets
【klook】Dining Offers at Hong Kong Disneyland Resort
What is the Holiday Wish Mailbox?
A special counter for writing letters is set up in front of the mailbox.
(Photo from Hong Kong Disneyland Official Instagram)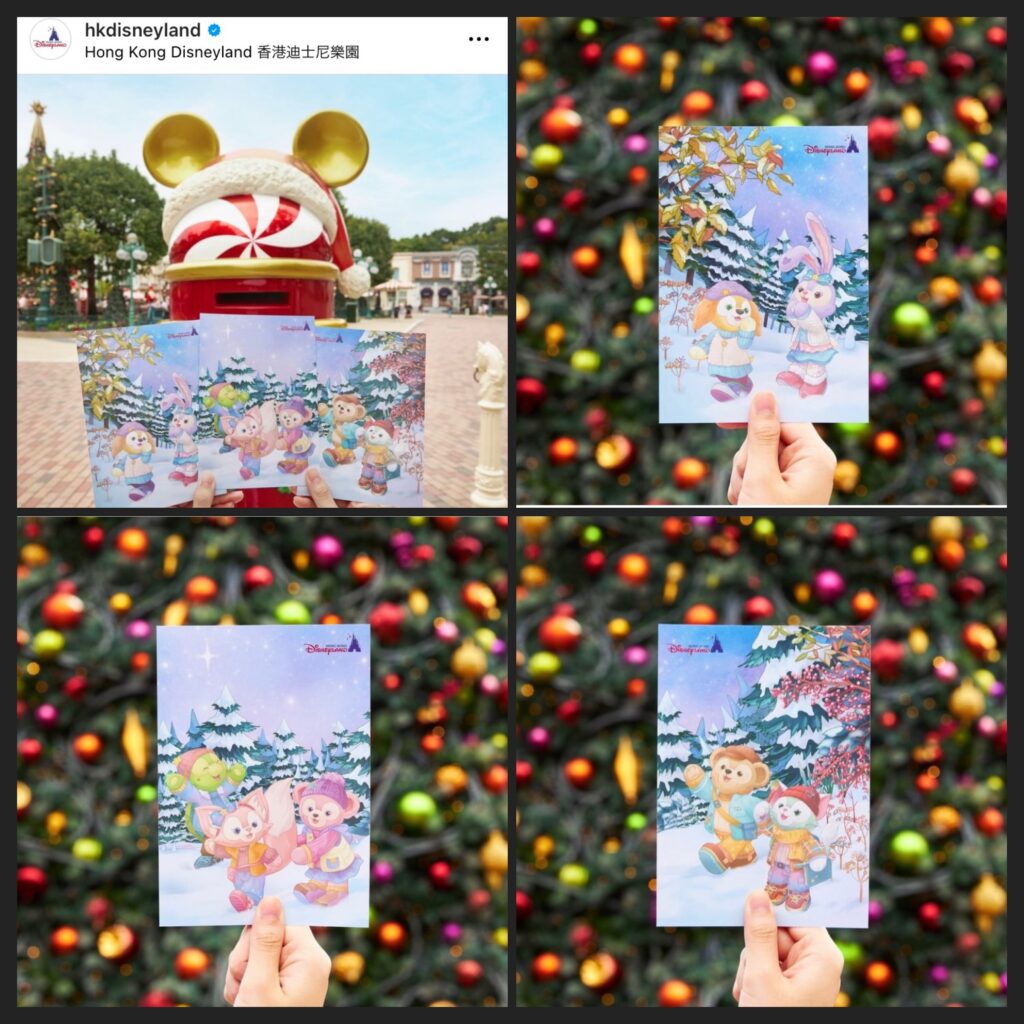 You can purchase designated postcards at the park and place them in this mailbox, and the letter will be sent to the address specified. Only postcards sold this year are eligible, and last year's cards are not included.
This incredible service allows you to send postcards not only within Hong Kong but also to Japan and overseas without stamps!! 
The cost of a postcard is HK$10. It is stated that all amounts except for the cost are donated to the following as charity:
Where Can You Buy Them?
There are two shops where you can purchase postcards! Both are located on Main Street, U.S.A. (the street lined with shops leading to the castle).
◎ "Emporium"
◎ "Marty's General Store"
Actually, cards were also available at other shops on Main Street.
The locations circled in red are the two shops mentioned above, and the position of the mailbox.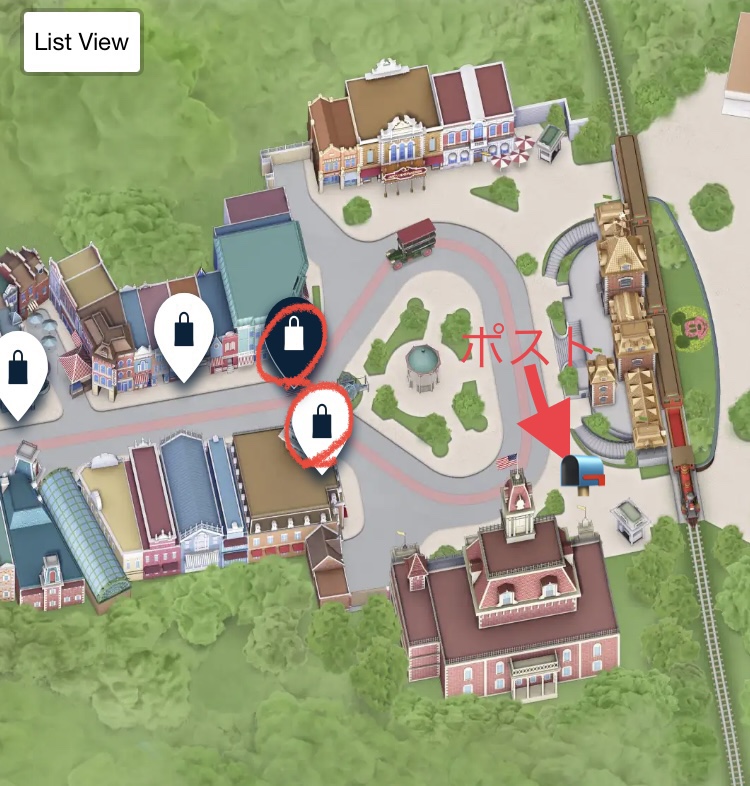 They were placed next to the cash register like this. 1 piece for HK$10.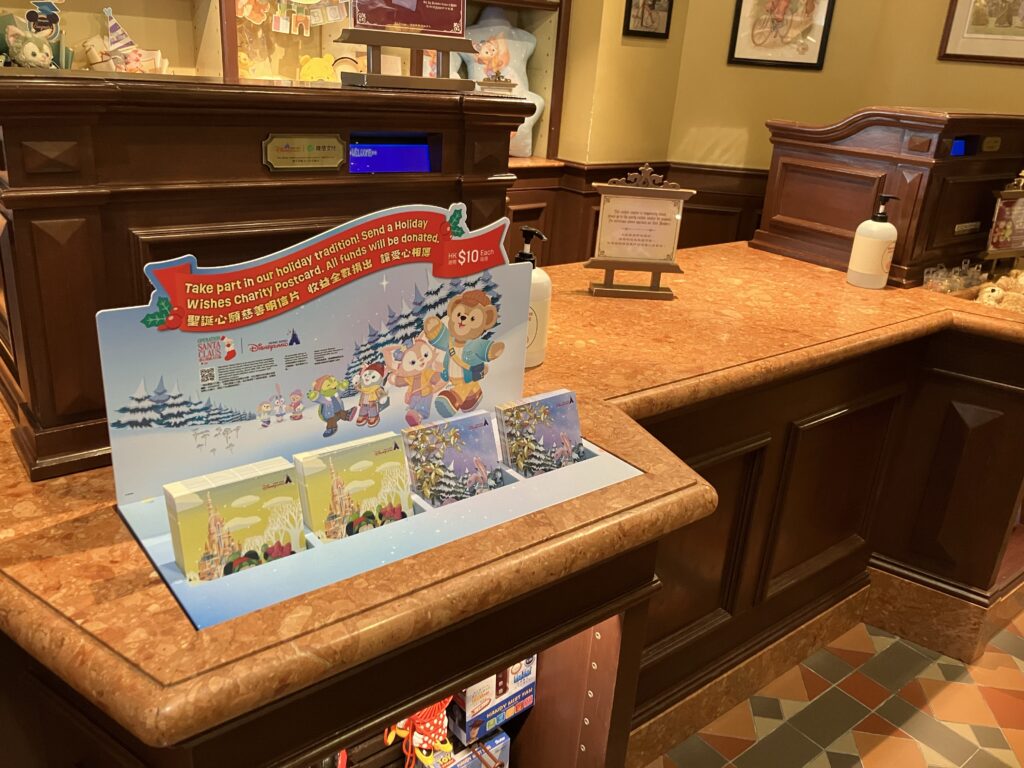 I checked out all the shops on Main Street, but at that time (early December), there were only these two designs available.
※ Update: In late December, all four designs were available.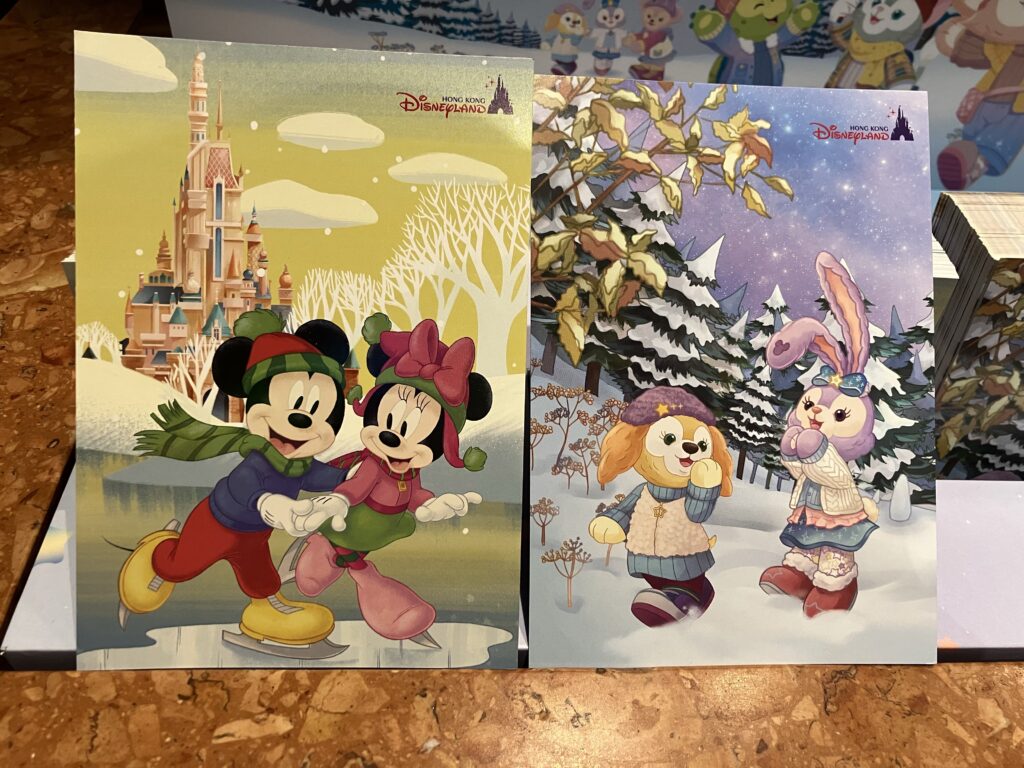 Let's Send It
A special counter for writing letters is set up in front of the mailbox.
(In addition to the special counter, there is also one next to Alice's attraction, the "Mad Hatter Tea Cups.")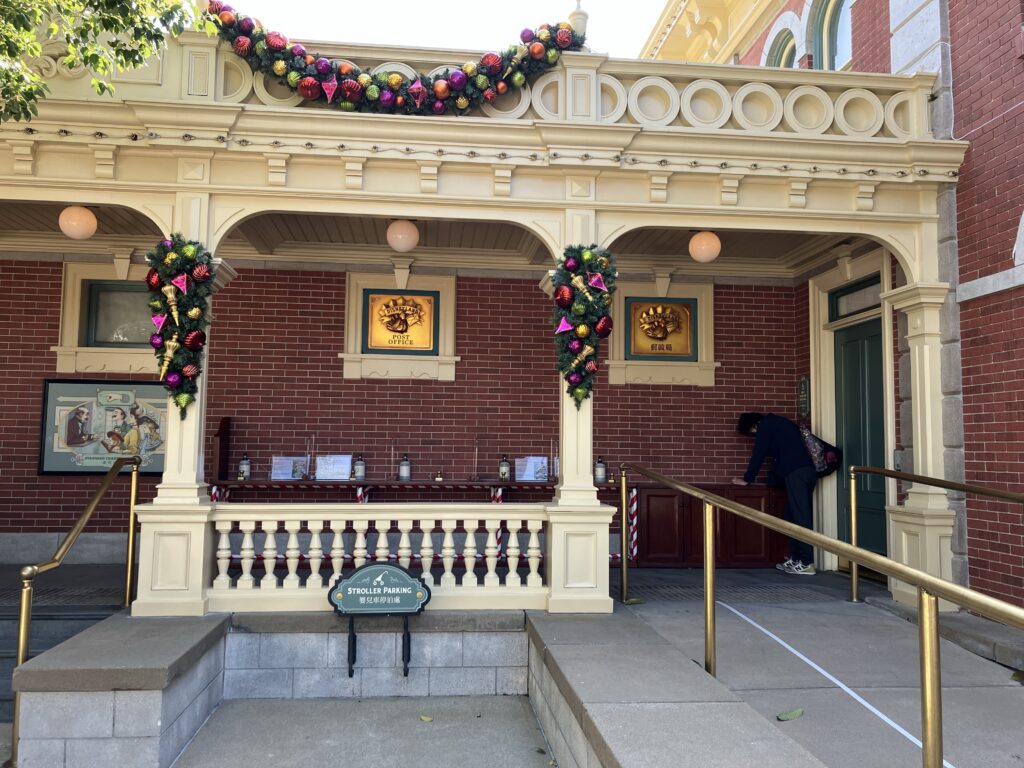 Pens are not provided. Please bring your own or purchase one!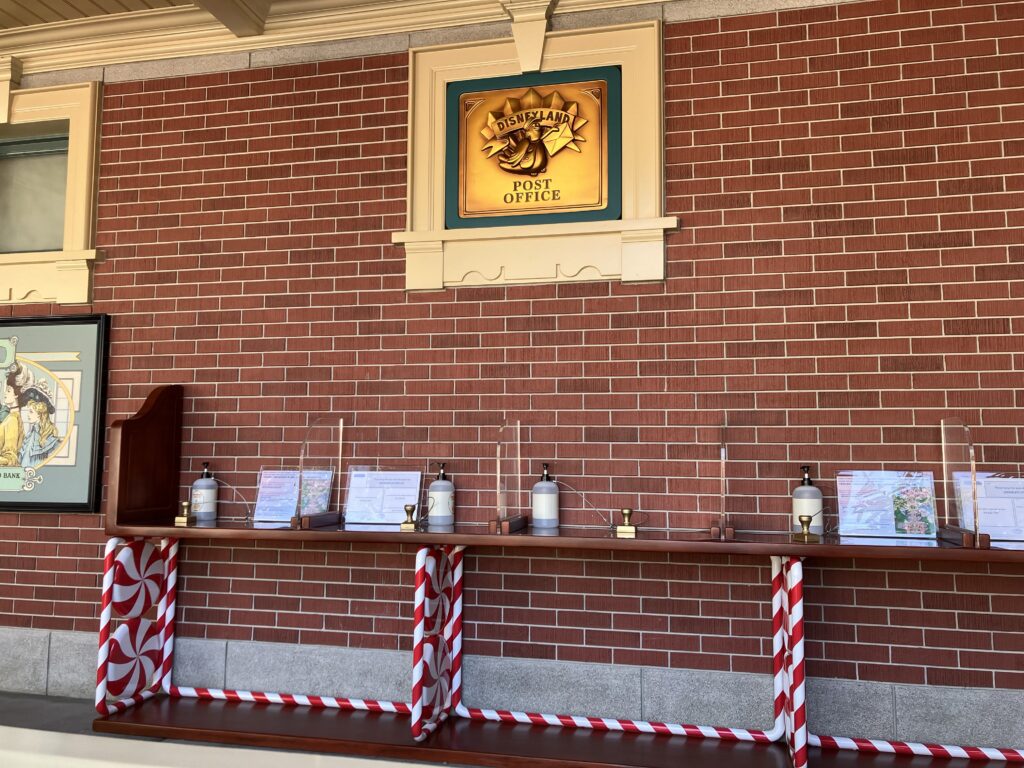 There are stamps that you can use freely. They feature a cute Mickey Santa!
It seems there are also stamps available at "Duffy and Friends Winter Wonderland" in Fantasyland. These stamps feature Duffy.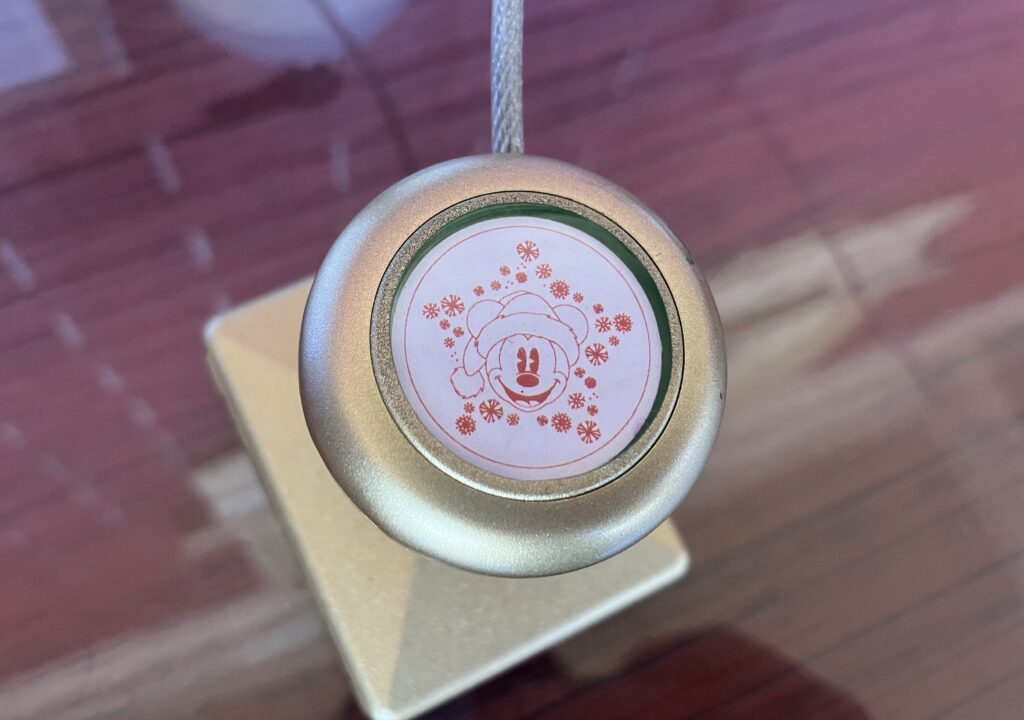 I immediately stamped the postcard I bought.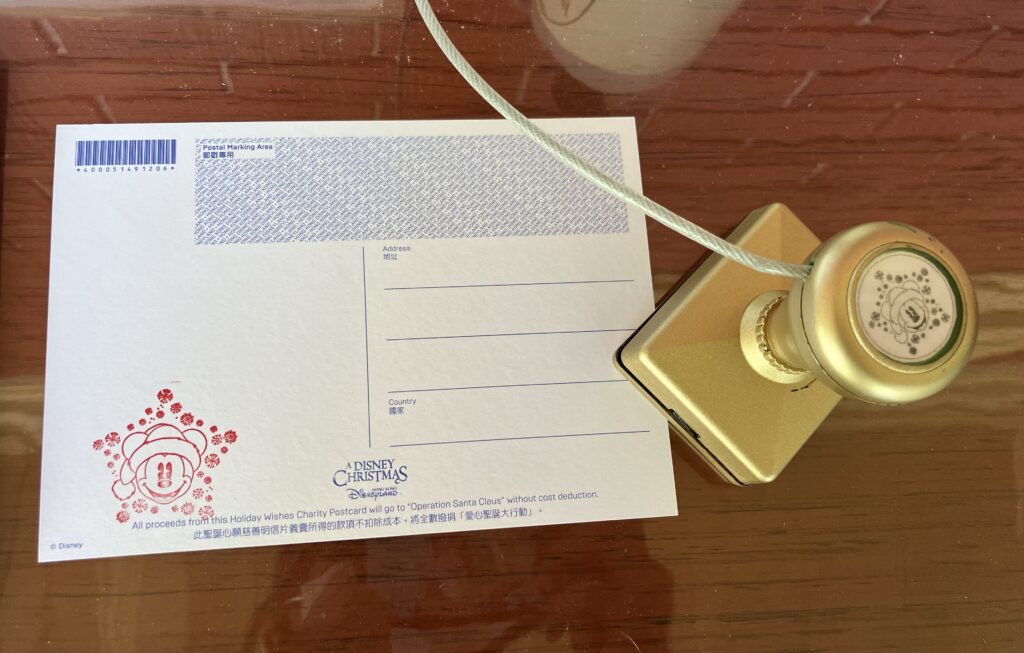 Since there's a designated area on the postcard for what to write, I'll use the board on the table as a reference.
● Top: Leave it blank.
● Bottom Left: Stamp location (include your message).
● Bottom Right: Recipient's address and country name.
If you're sending it to Japan, it's perfectly fine to write the address in Japanese! For the country name, write "JAPAN."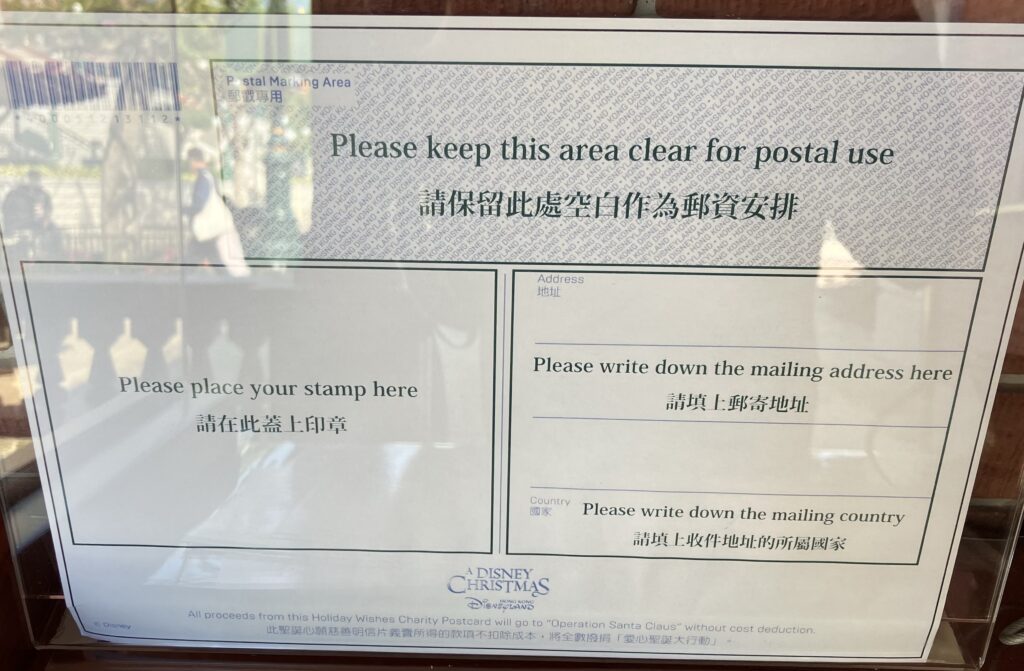 Once you're done, don't forget to drop it in the mailbox! The mailbox is available from November 18, 2022, to January 2, 2023!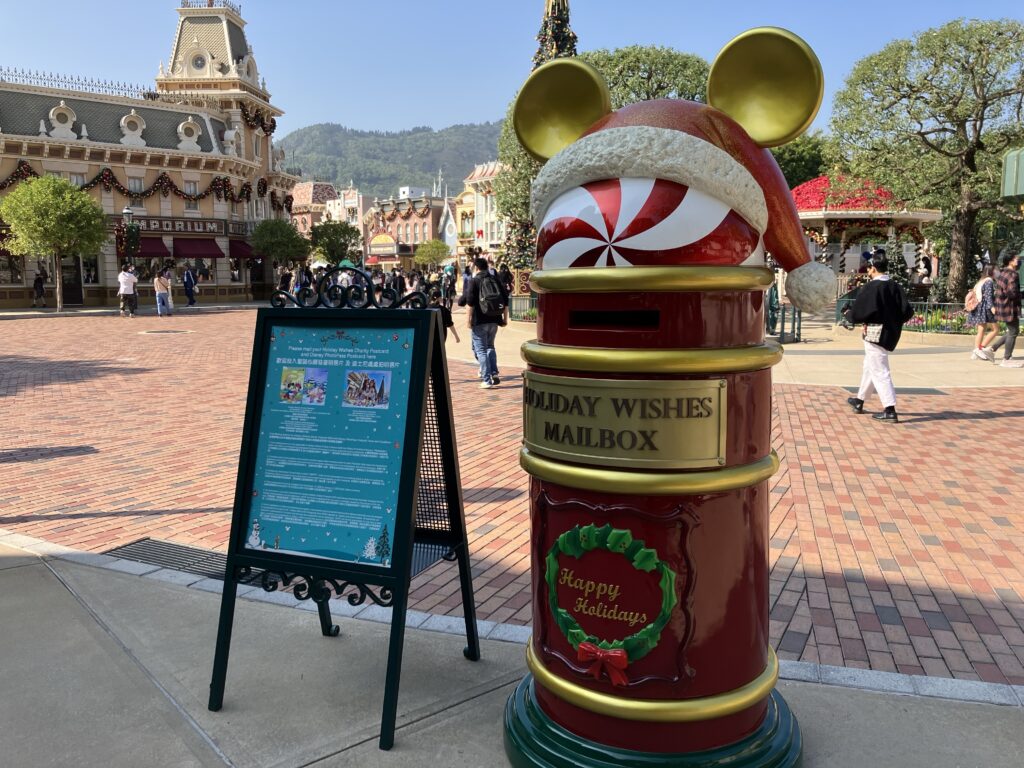 Summary
This is such an amazing service!
You can send messages to your friends or even send one to yourself! It could make a lovely Christmas present!
If you're visiting during this period, definitely give it a try!
Thank you for reading today!
【klook】Hong Kong Disneyland Park Tickets
【klook】Dining Offers at Hong Kong Disneyland Resort